Wanting to brighten up my office space, I knew I had to do something about my dark, dreary IKEA shelving.
One of the best discoveries I've made in the last few months is BEHR Alyd Semi-Gloss Enamel – that can be used to paint out IKEA furniture!  Yes, that's right, you can paint out your IKEA furniture!  It's relatively easy and can transform the look of your space.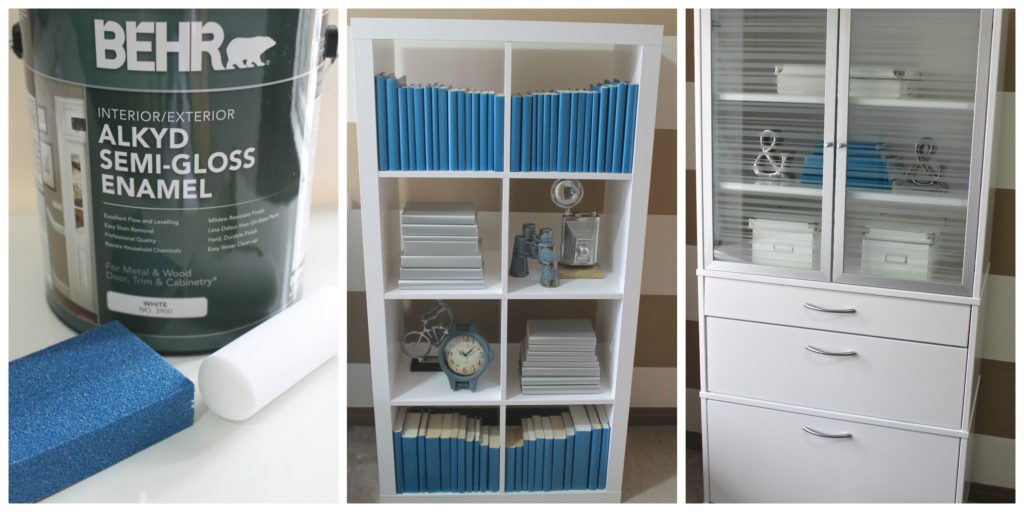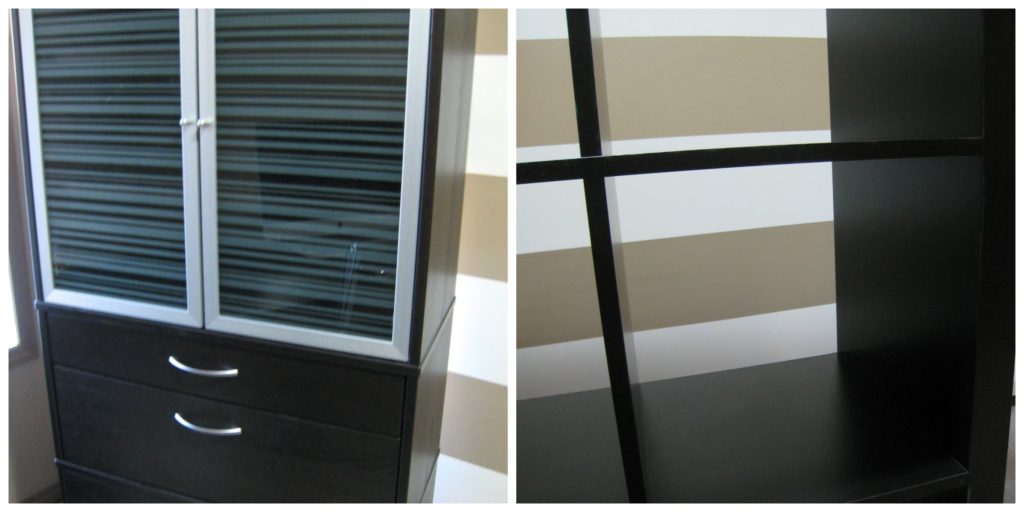 As with most things preparation is key.  In this case sanding and priming.  I used P120 grade sandpaper and just went to town on the shelves and cabinet.  This step roughs up the surface which allows the primer to better adhere to the shelf.  And it's a great arm workout!
Next step, prime.  I used the BEHR Premium Plus No. 75 All-In-One Primer & Sealer.  I found a 4-inch foam roller to be the best at applying the primer and the paint.  I used a high quality nylon brush to get in the corners, but the roller ensured a smooth finish.
Once primed, I allowed them to dry for 24 hours and then I was ready for the fun part – painting!  I decided to paint out one of my shelves and a cabinet a crisp, bright white.  I waited 24 hours between coats to allow the paint lots of time to cure.  Curing is incredibly important when painting out IKEA furniture, without adequate cure time, you'll find your paint isn't durable and chips with the slightest bump.  BEHR recommends waiting at least 7 days after the final coat before putting anything on the furniture, depending the temperature and humidity of where you live this may vary.  With it being winter in Calgary, my shelves probably didn't need the full 7 days, but I gave them that just in case!
To add some interest to my office, I painted out a third shelf a lovely greeny blue, Tornado Season to be precise.  It adds a great pop of color and works fantastically with everything else in the space.  Custom, cohesive, perfect!
The final product, is remarkably different from the what I started out with and dramatically brightens my space.