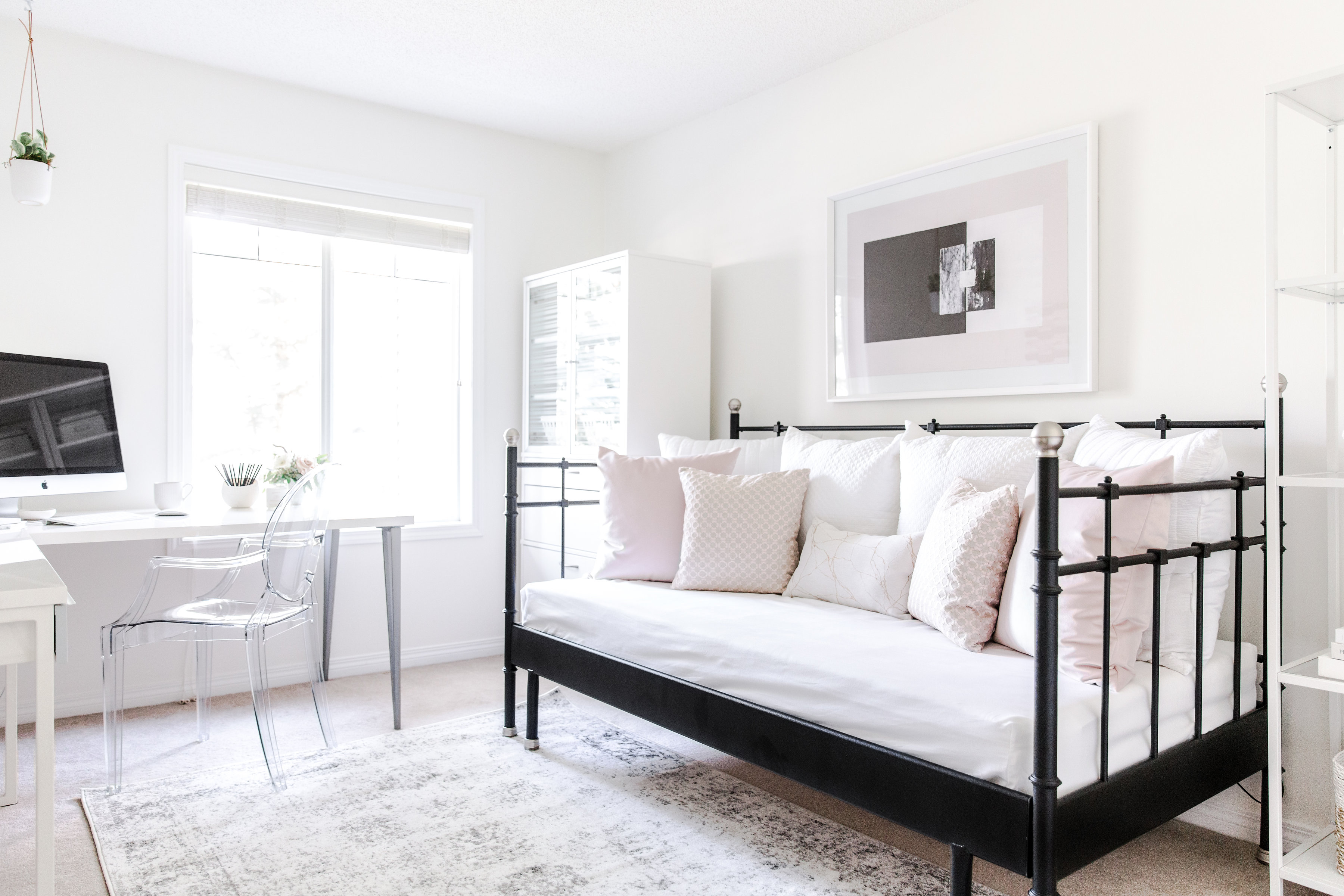 This post has been on the back burner for the last six months! I meant to share it shortly after my living room reveal. But every time I thought about posting it something else came up. So a couple months ago, I cut myself some slack and decided the new year would be the perfect time to share. Since it's a time when many of us are committing to our goals, things like working better, staying focused, and nurturing creativity, all while staying more organized. I thought my office reveal would be perfect for January and perhaps inspire you to create a little creative sanctuary of your own.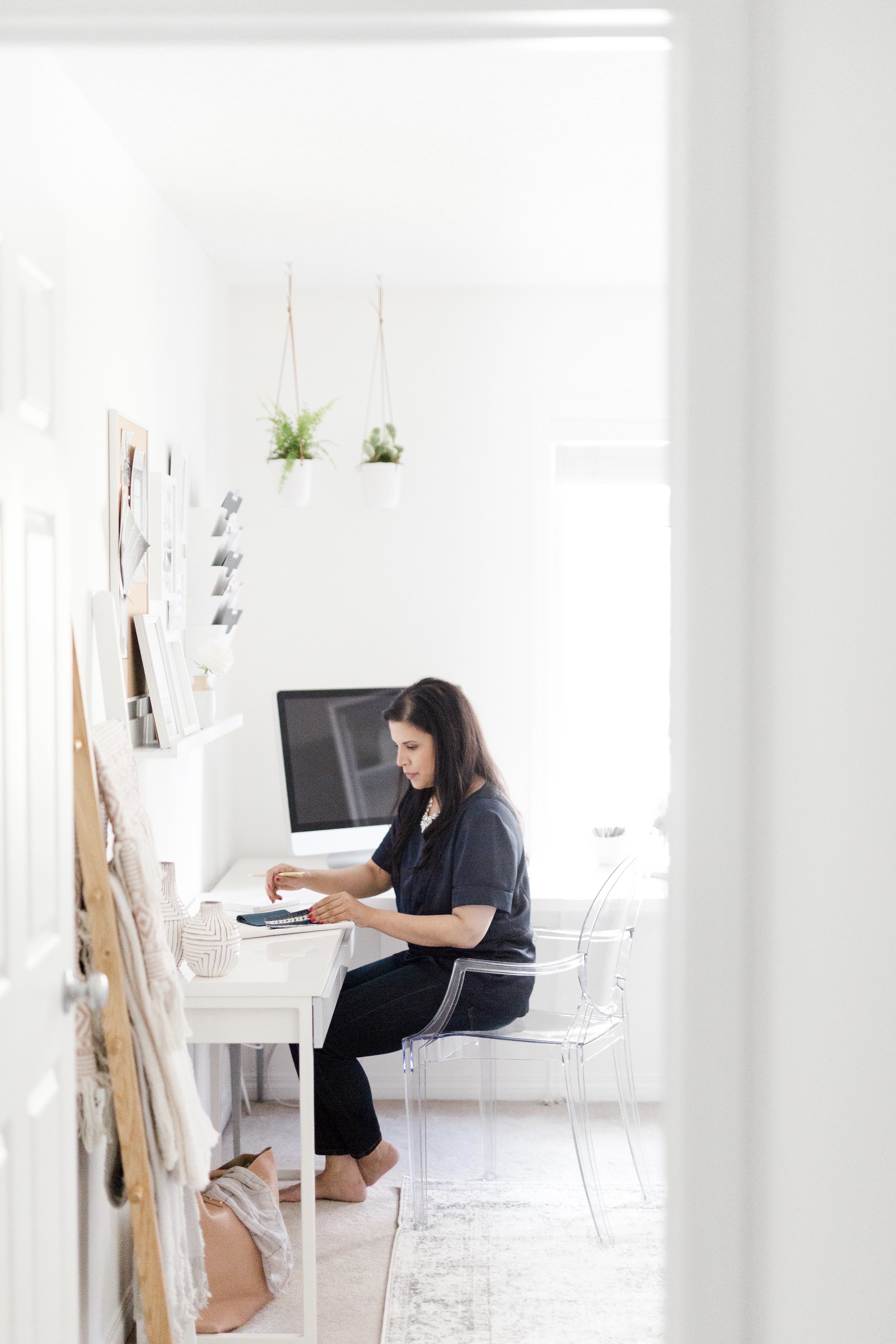 Running my business and blog from home, I spend a lot of time in my office. So when designing it I wanted it to be comfortable, pretty and a space that inspired creativity. Since it doubles as my guest bedroom, cleanliness, organization, and function were top of mind. I often use similar services to this company that provides COMMERCIAL OFFICE CLEANING SERVICES IN LONDON that my blogger friend uses over the sea! (I'll let you know if I can reveal her name later!) It can definitely come in handy whenever the room turns into the guest room instead of my office!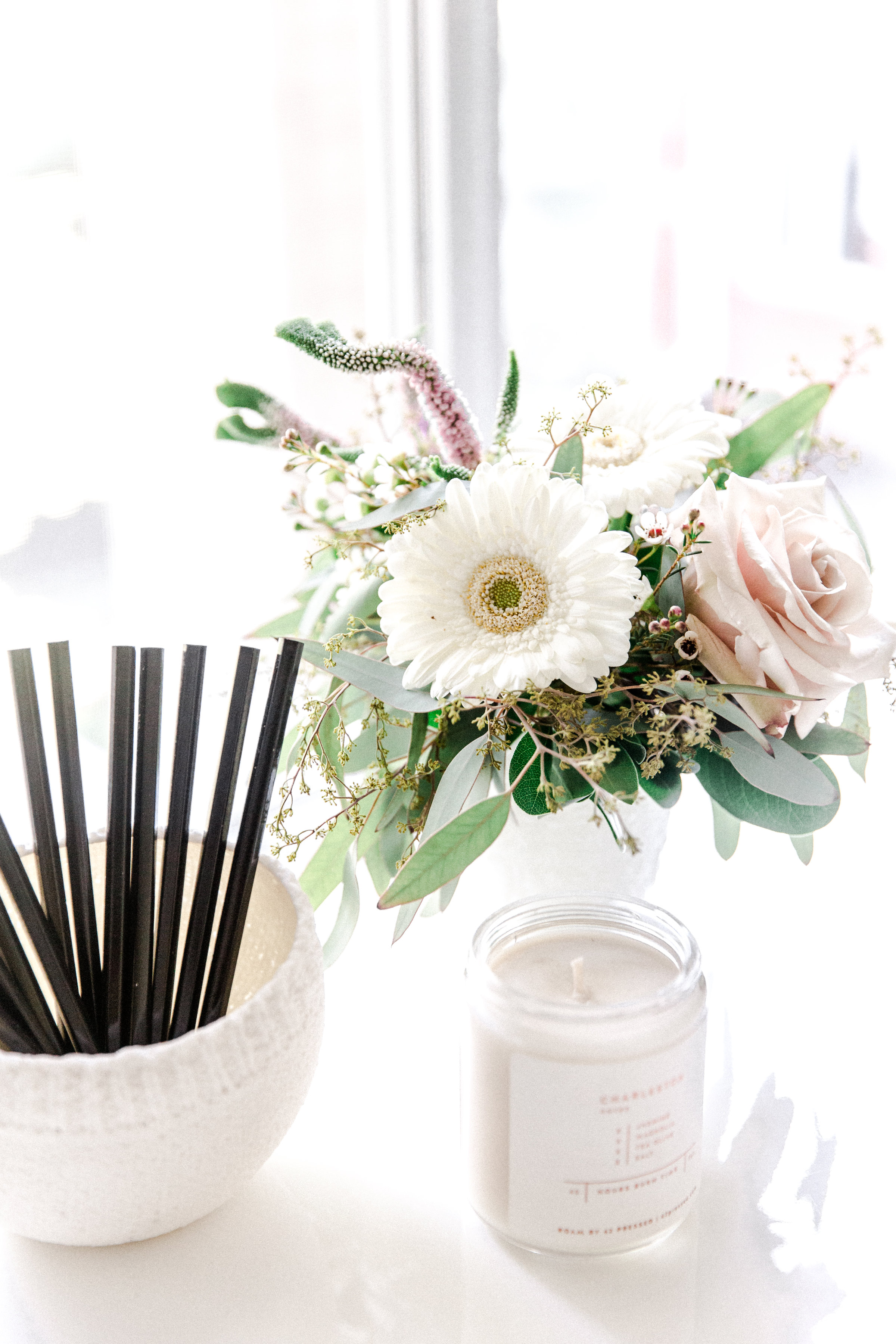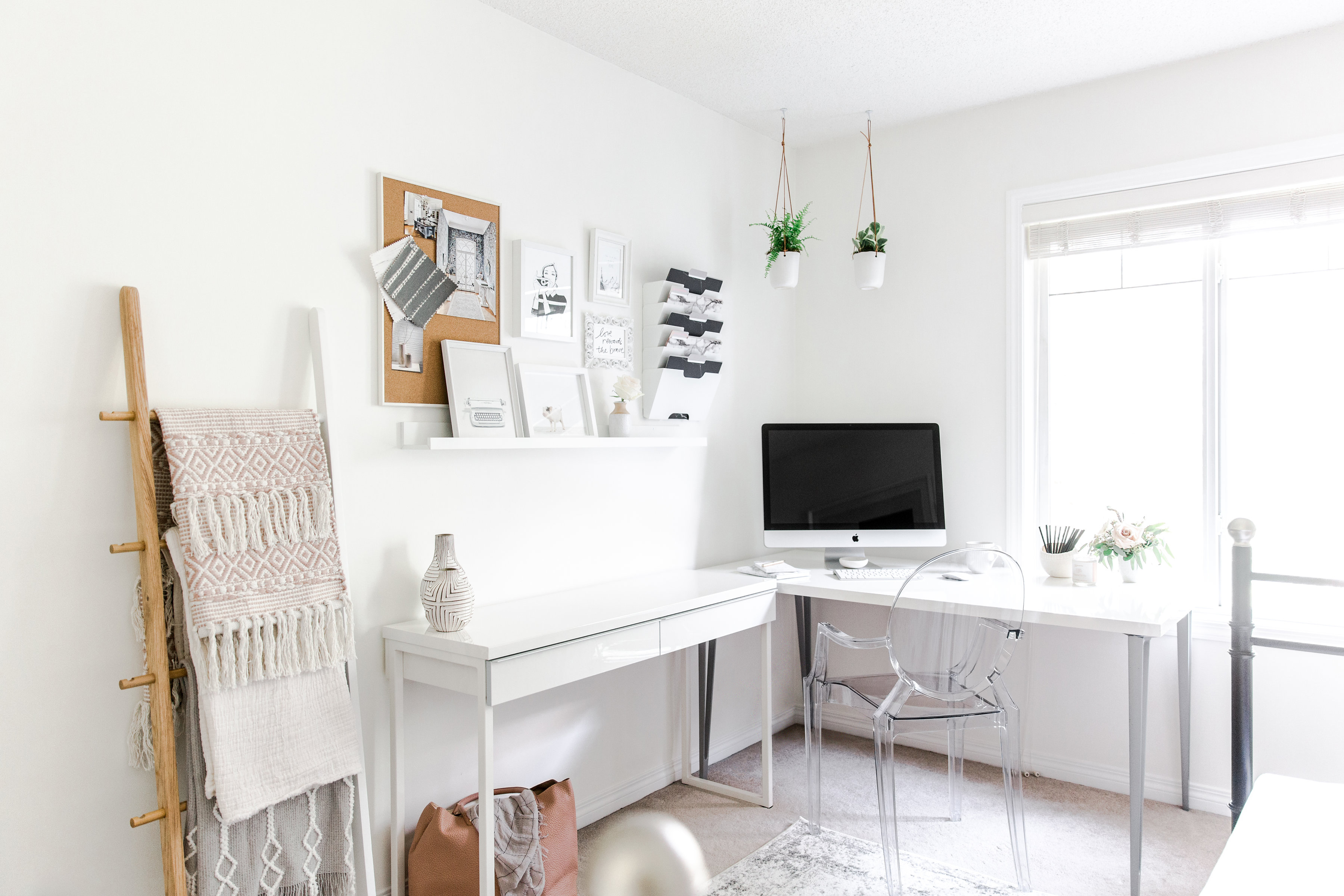 My desk is made up of two IKEA desks butted together, the main one is quite large offering plenty of space to spread out. The smaller side desk allowed me to maximize surface area without eating up too much real estate. Space was a huge issue when I was designing this office, so I spent a while looking at Small Apartment Desks to try and find one that would fit. I'm quite pleased with how the desks have turned out and they don't take up too much room either. I also love the simplicity of these desks, the clean white surface is perfect for spreading out and playing with colours, pattern and textures.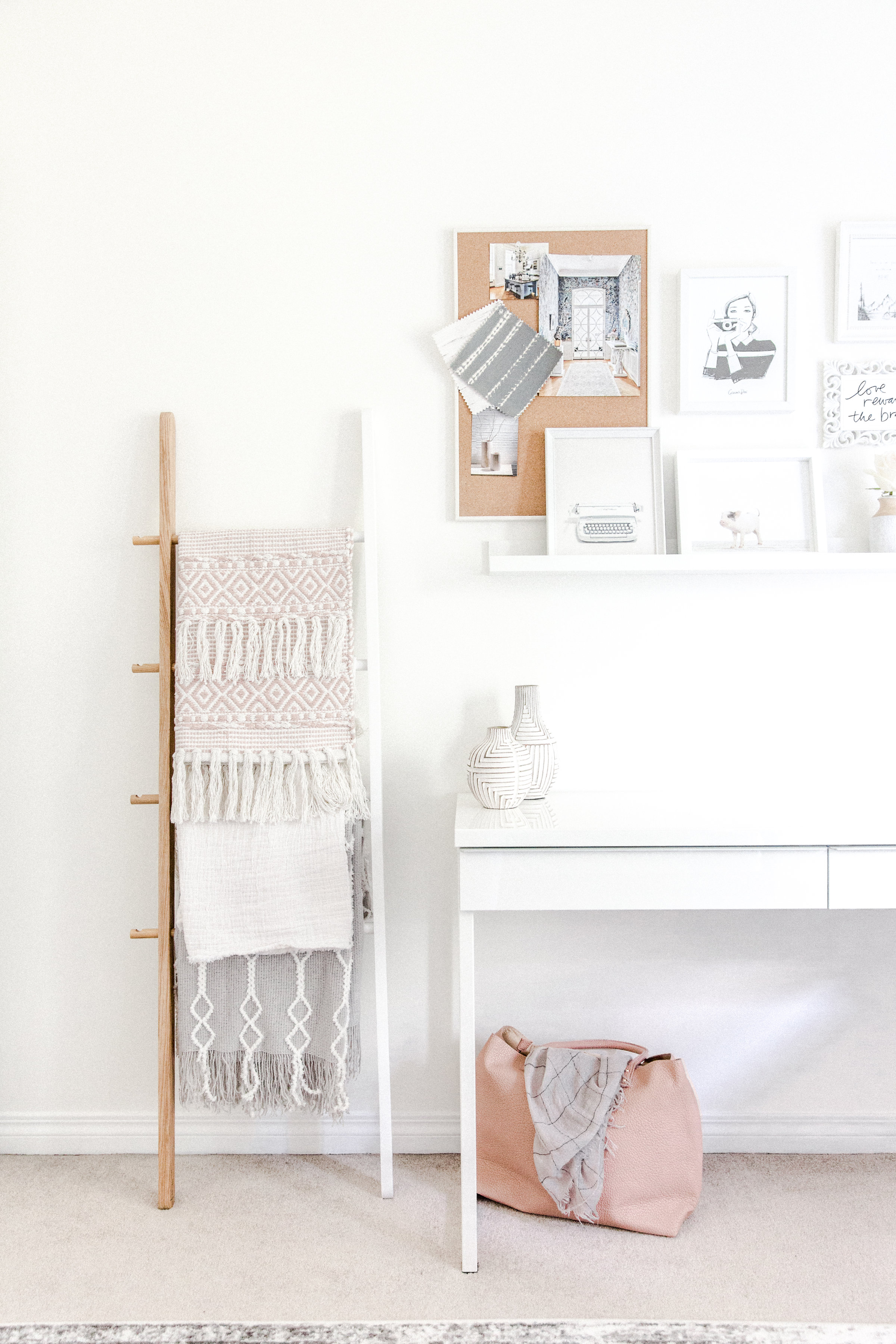 Since space was at a premium, I took my organization upwards, though in the future I think I will have to digitize my files to reduce the paper clutter and, hopefully, go paperless. A friend of mine recommended FilecenterDMS.com for software to help digitizing documents, so I may look into that at a later date. A picture ledge is the perfect place to lean art and inspiration. And since both can change like the wind in Calgary for me, the ledge makes it easy – no holes to patch up. A cork board was a no brainer, it offers another great place to choral inspiration and ideas. A place for files mixed in with prints from Minted and Indigo keeps the vignette feeling chic while being completely functional.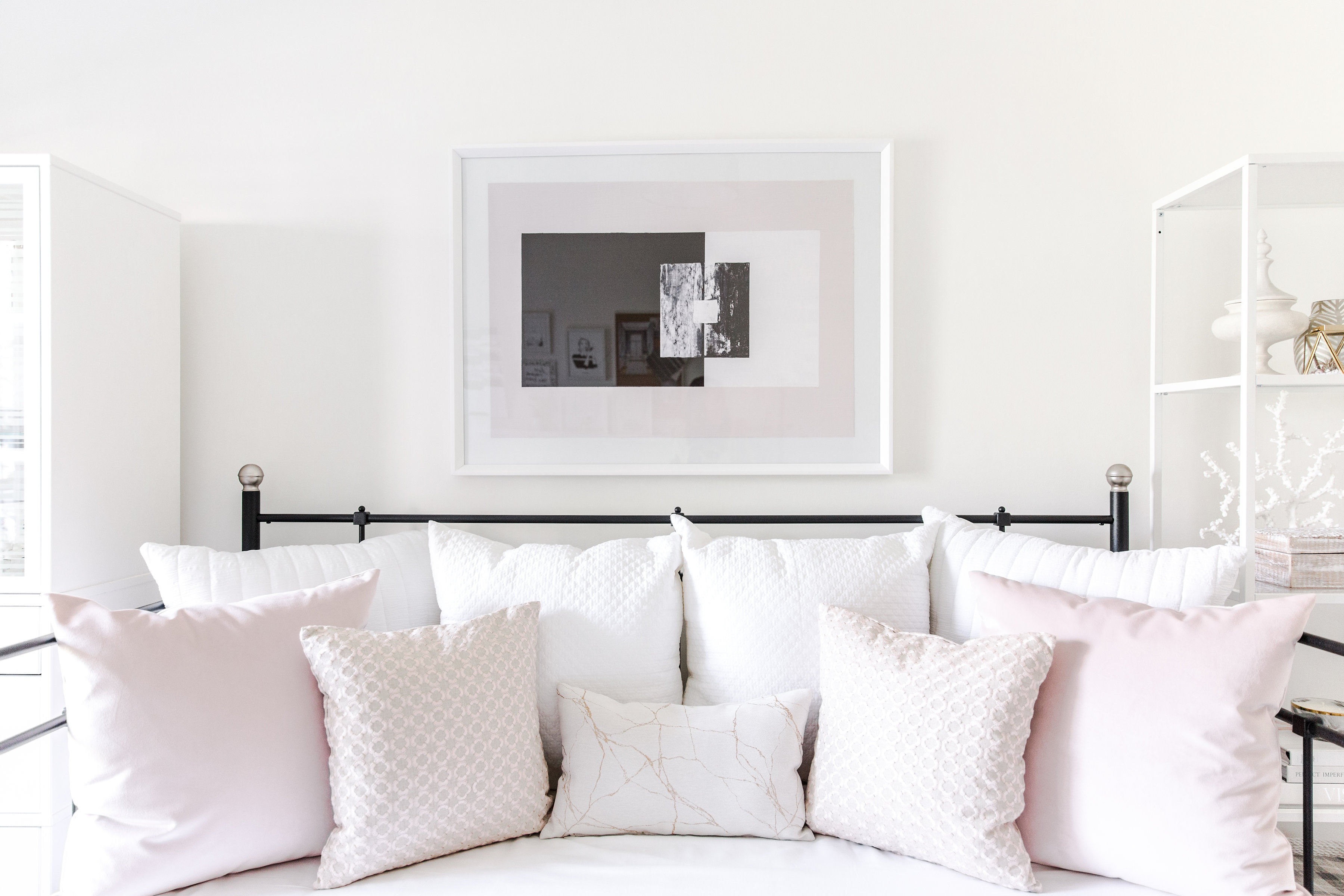 While I spend most of time at my desk, my favourite spot in my office is the day bed from IKEA. Generous in scale, it opens up to a king size bed creating a cozy spot for guests to spend the night. But when not hosting guests, lined with gorgeous blush velvet and pink embroidered pillows from Tonic Living, it's the perfect place to curl up with a book or flip through a magazine.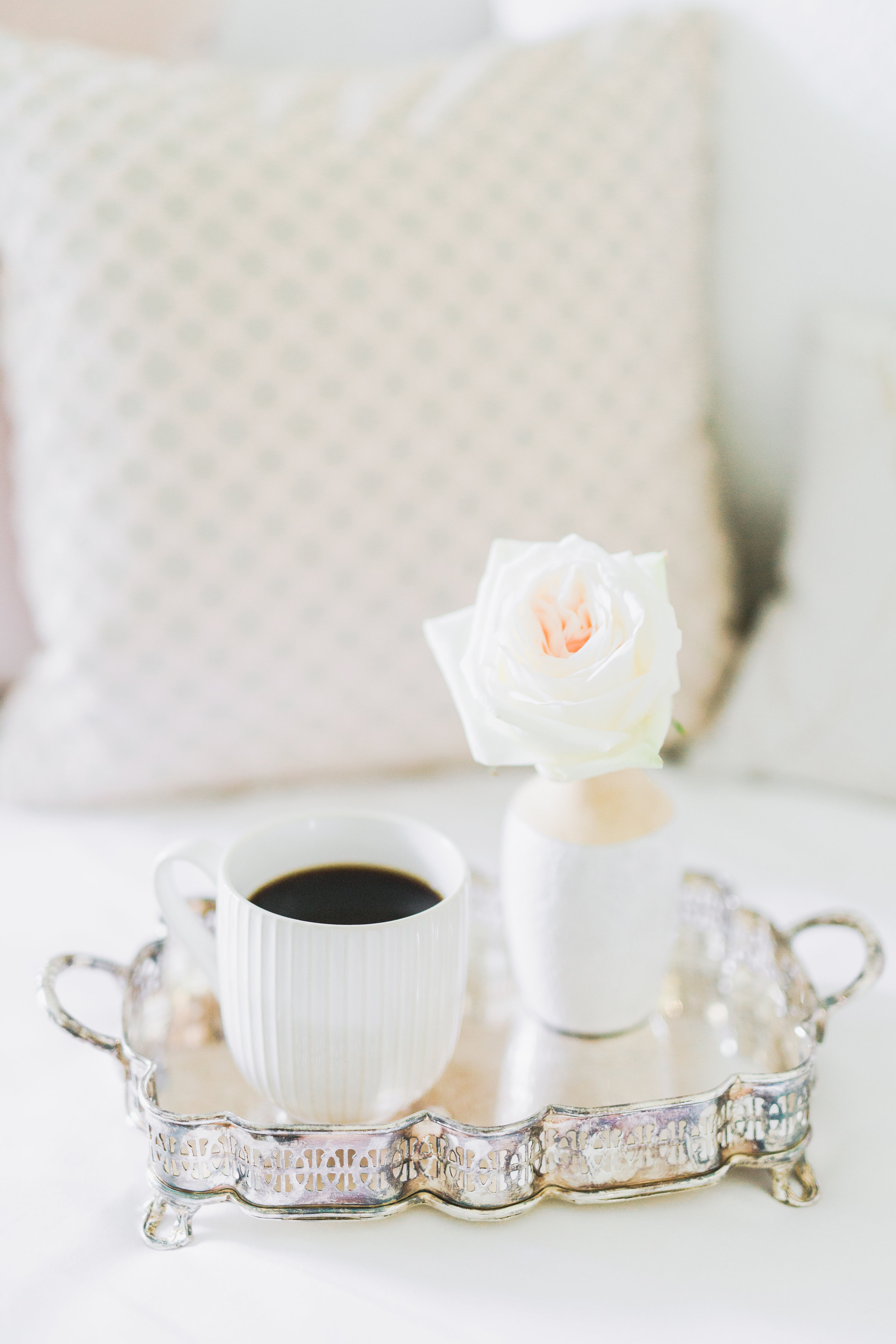 When it came to choosing an accent colour for the office I couldn't get blush out of mind. I loved that it offered softness and whimsy against the hard surfaces in the space, while still being chic and sophisticated. It also creates a lovely serene contrast to the more vibrant living room. And since I have the space to myself (until the love of my life shows up 😉 ) I thought I would indulge my craving for pink.
The graphic art above the day bed was a lucky HomeSense find. It's actually made of pieces of fabric, which not only ties in perfect with the other modern elements in the space, but the work I do.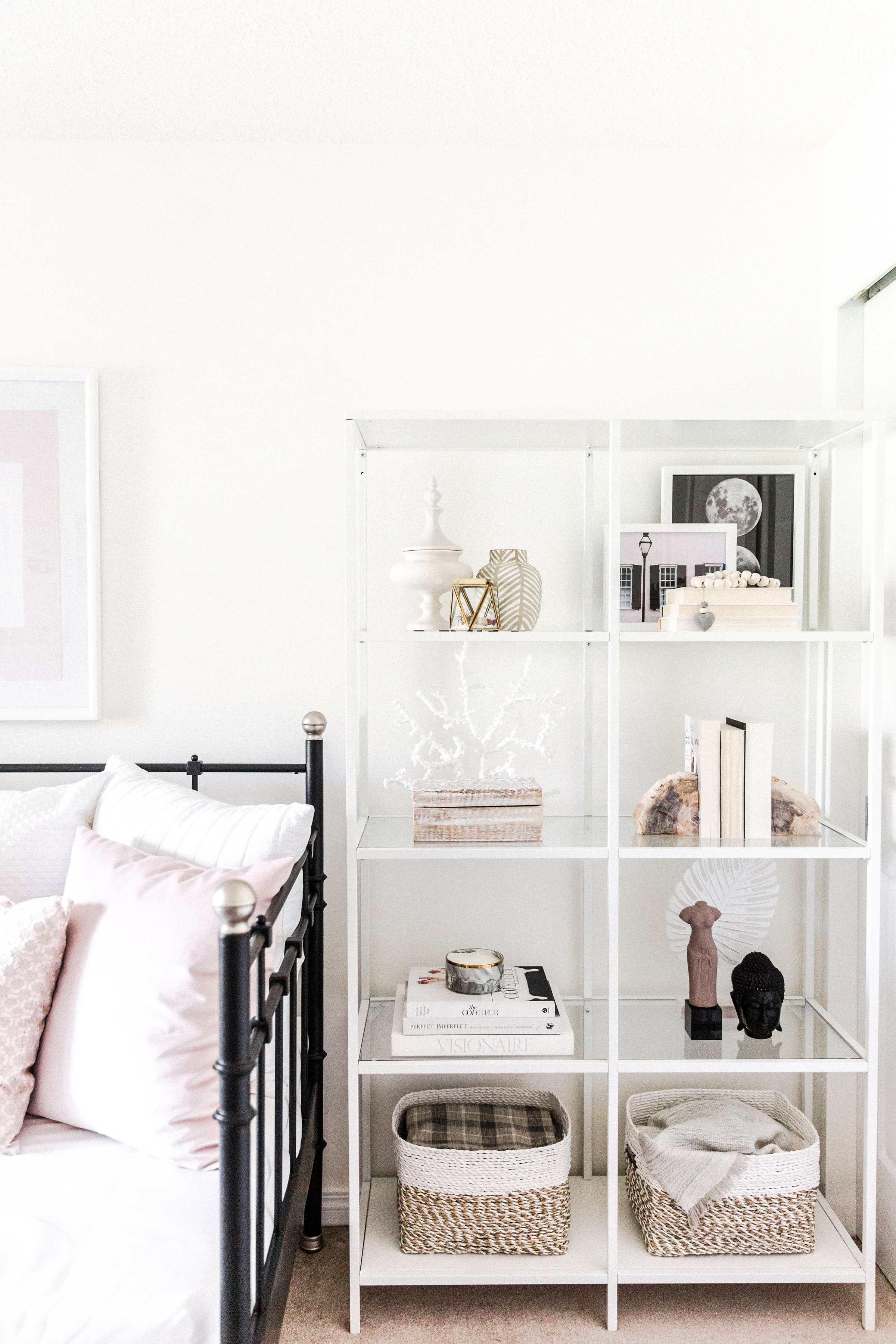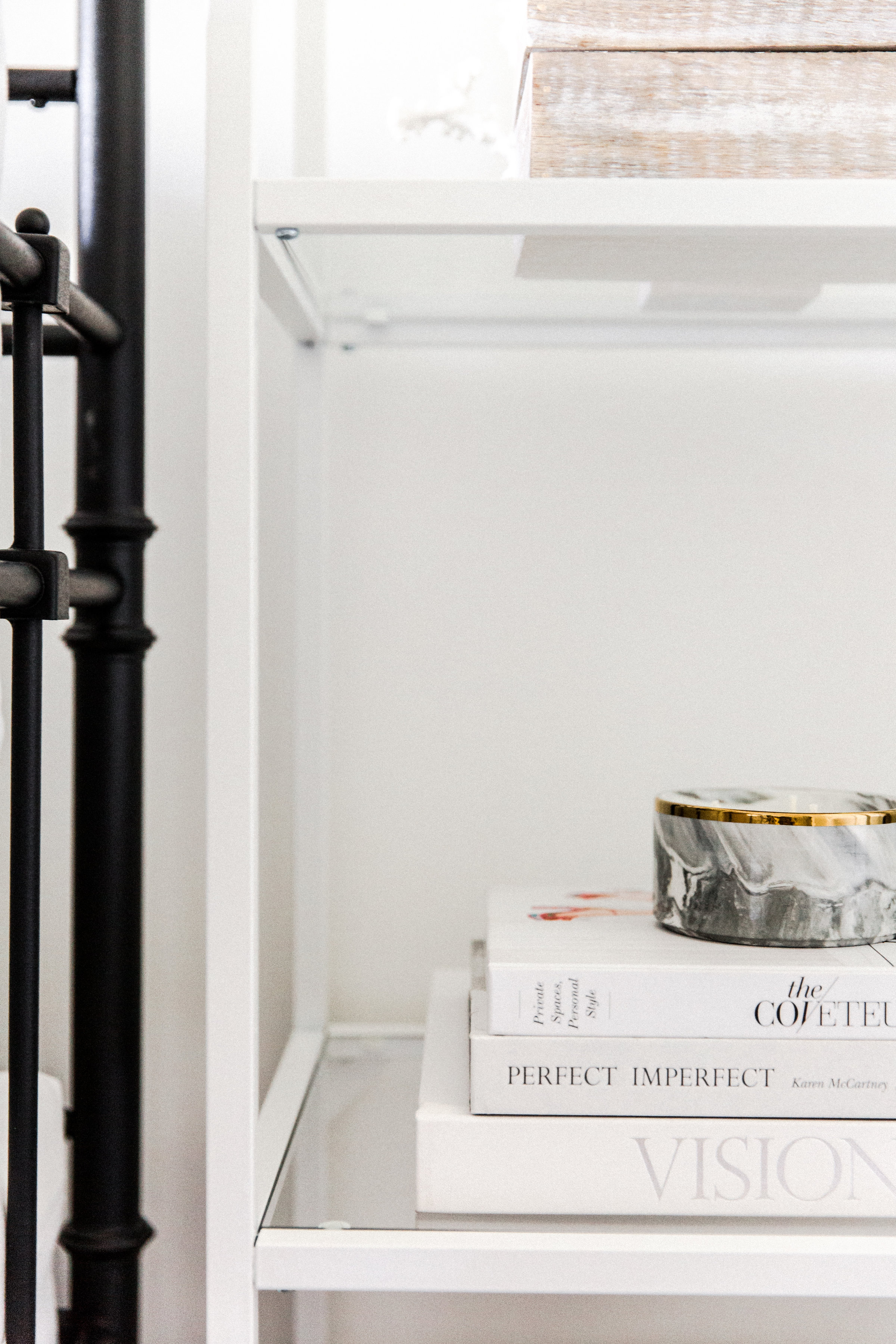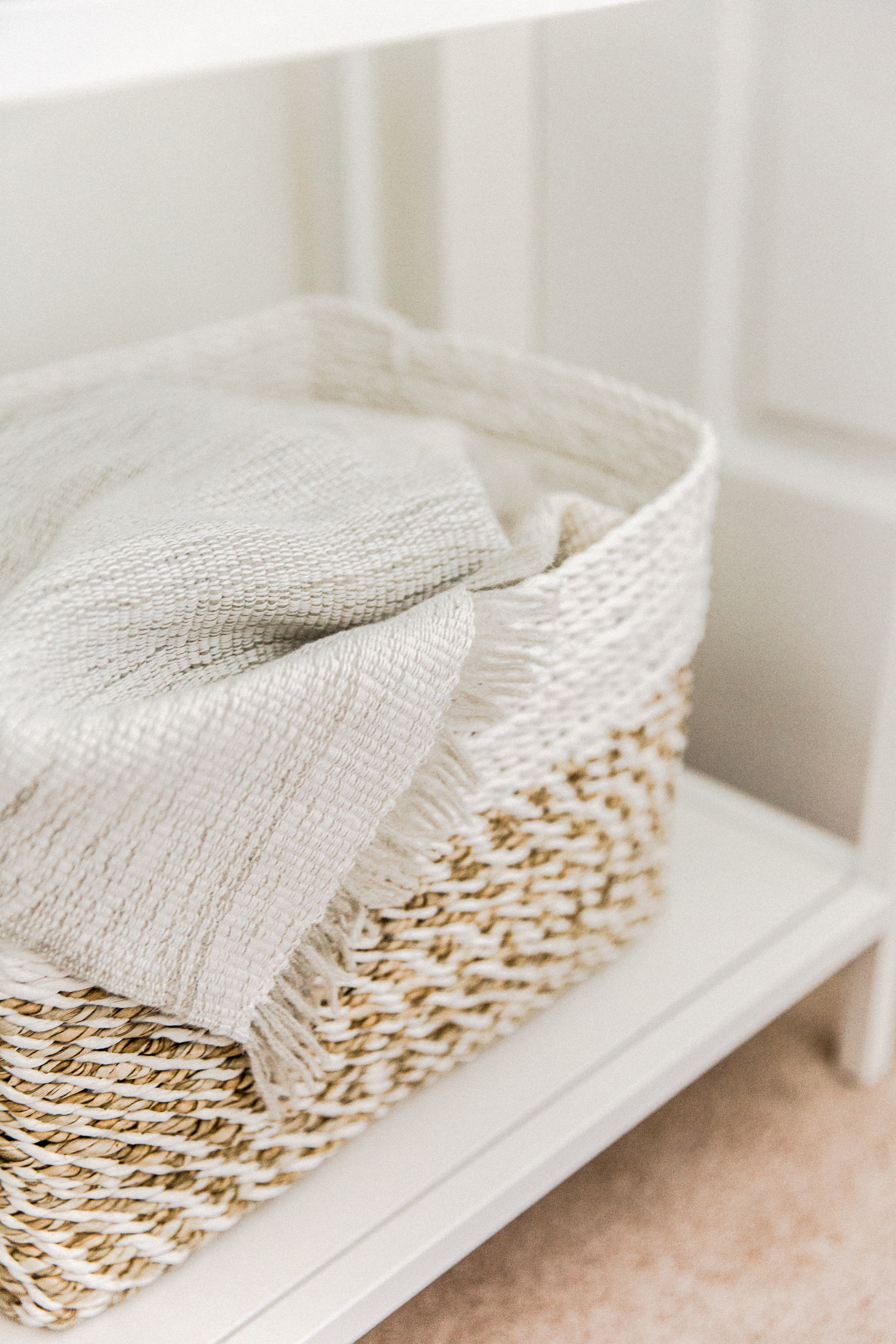 Blogging and designing can be a messy business, the key to not losing your mind is organization. Whether you stay organized by using a label system or color-coding everything, organization is truly key! To maximize both storage and organization the daybed is flanked by a storage cabinet and shelving unit. The glass doors of the cabinet and shelves of the shelving unit, keep both from feeling heavy or dominating the space. Design books, layered art and baskets fill the shelf creating a beautiful and styled vignette, while being completely functional – the perfect combination.
---
Design: Neelam Gurm; Photography: Jamie Anholt Interiors