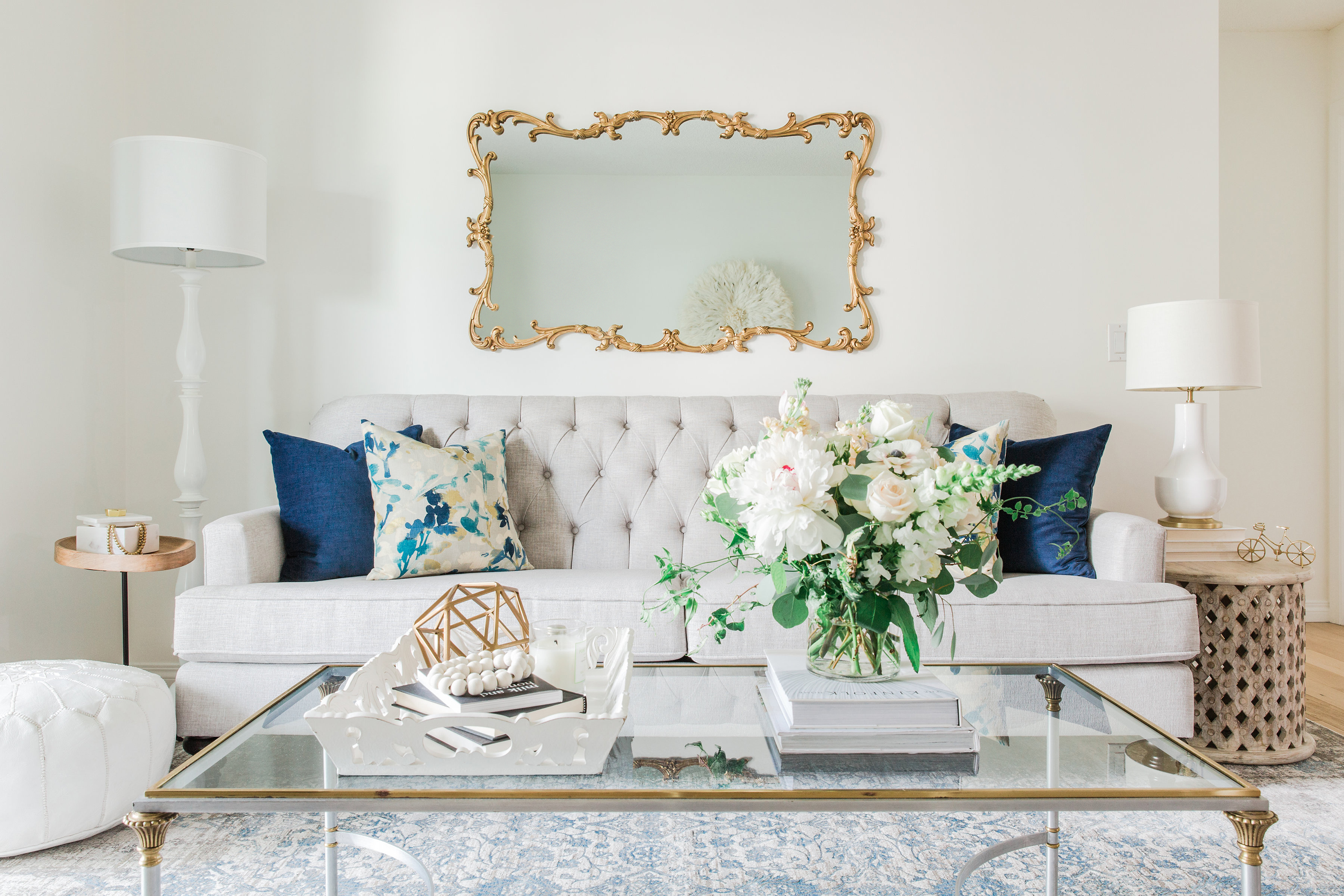 This weeks home tour is a little close to home … it's my living room reveal. Since I live in a 900 square foot condo, my living room includes my dining room 🙂 First seen on Glitter Guide, I thought I would share it here in case you missed it and give you a little more of the behind the scenes and how I put it together.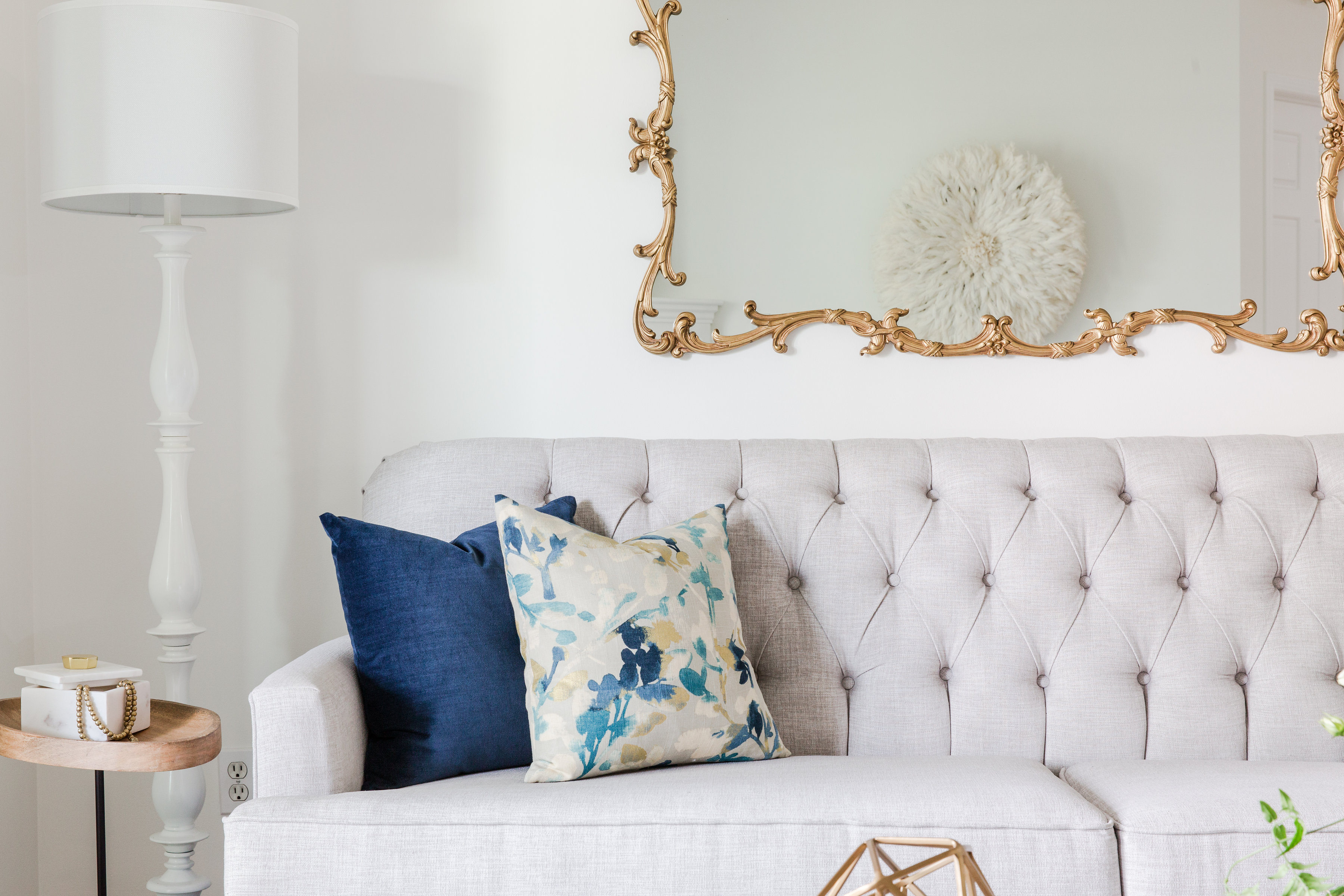 This space has been many, many months in the making – eight to be exact! Working on a budget, with a specific vision in mind (and hectic work life!), I was happy to take my time to create a space that was totally me. If you've followed along for a while, you know that I always have a source of inspiration for a space. Here it was the sofa. I knew I wanted something tailored, tufted and traditional in feel. This one from Van Gogh Designs fit the bill perfectly. Gorgeous pillows from Tonic Living, in a whimsical floral pattern and luxe navy velvet, inspired the colour palette for the space and help to soften the sofa.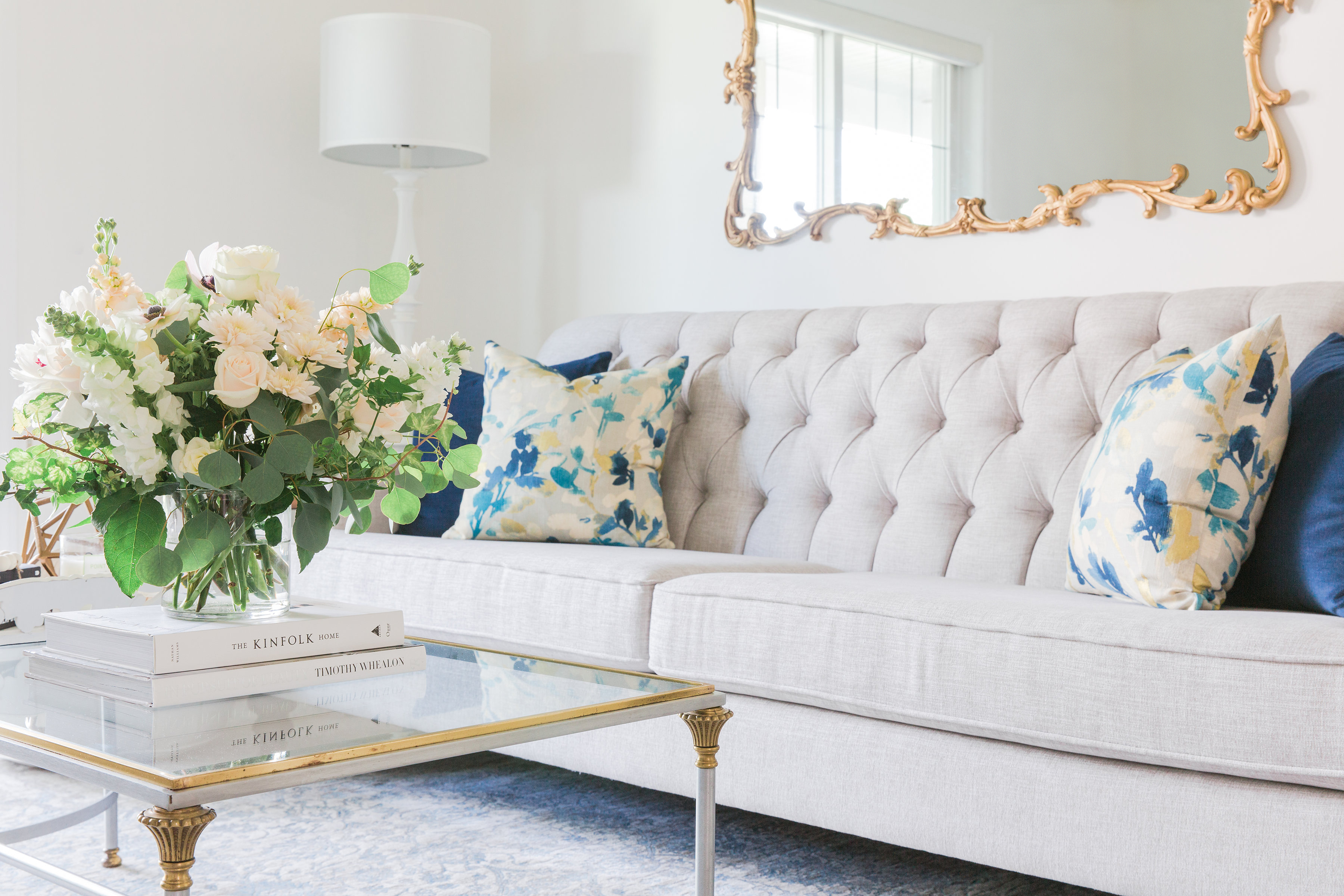 With northern exposure the living area of my condo can get quite dark, a statement mirror over the sofa was just the thing to brighten the space (and I know fellow bloggers like https://www.compt-aam.org/ also share my love for wall mirrors). I had originally planned for a Louis Phillipe mirror, until I found this amazing baroque mirror on Kijji! One of a kind and a fraction of the price – I'm obsessed, it's my favorite piece in the space. It pairs perfectly with the masculine sofa, while adding a touch of whimsy and glam.
Working with a rather small footprint, a glass top coffee table keeps the room feeling light and airy. This one is another amazing Kijiji find (you'll start to notice a trend here shortly 😉 ) While I'd love to have a vintage Persian rug in the space, this Turkish inspired rug from HomeSense is an amazing stand in and after finding this rug care guide, how to look after your rugs, then I know it's going to last a long time.
There are a few things that I wanted to change or add but didn't get round to or just didn't have room.I was thinking about also getting something like this white gloss sideboard to help with my storage, but decided against it because I didn't have the space.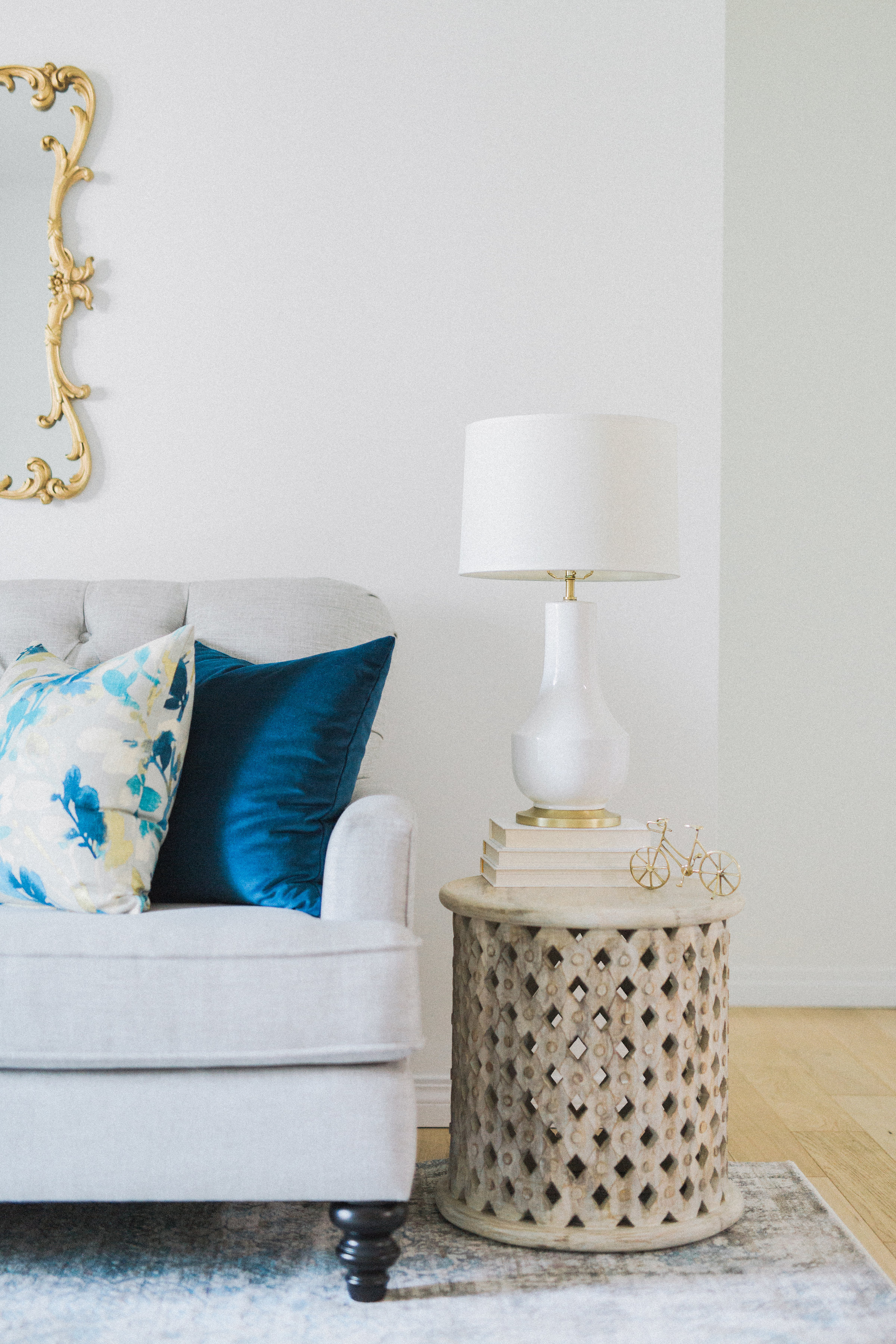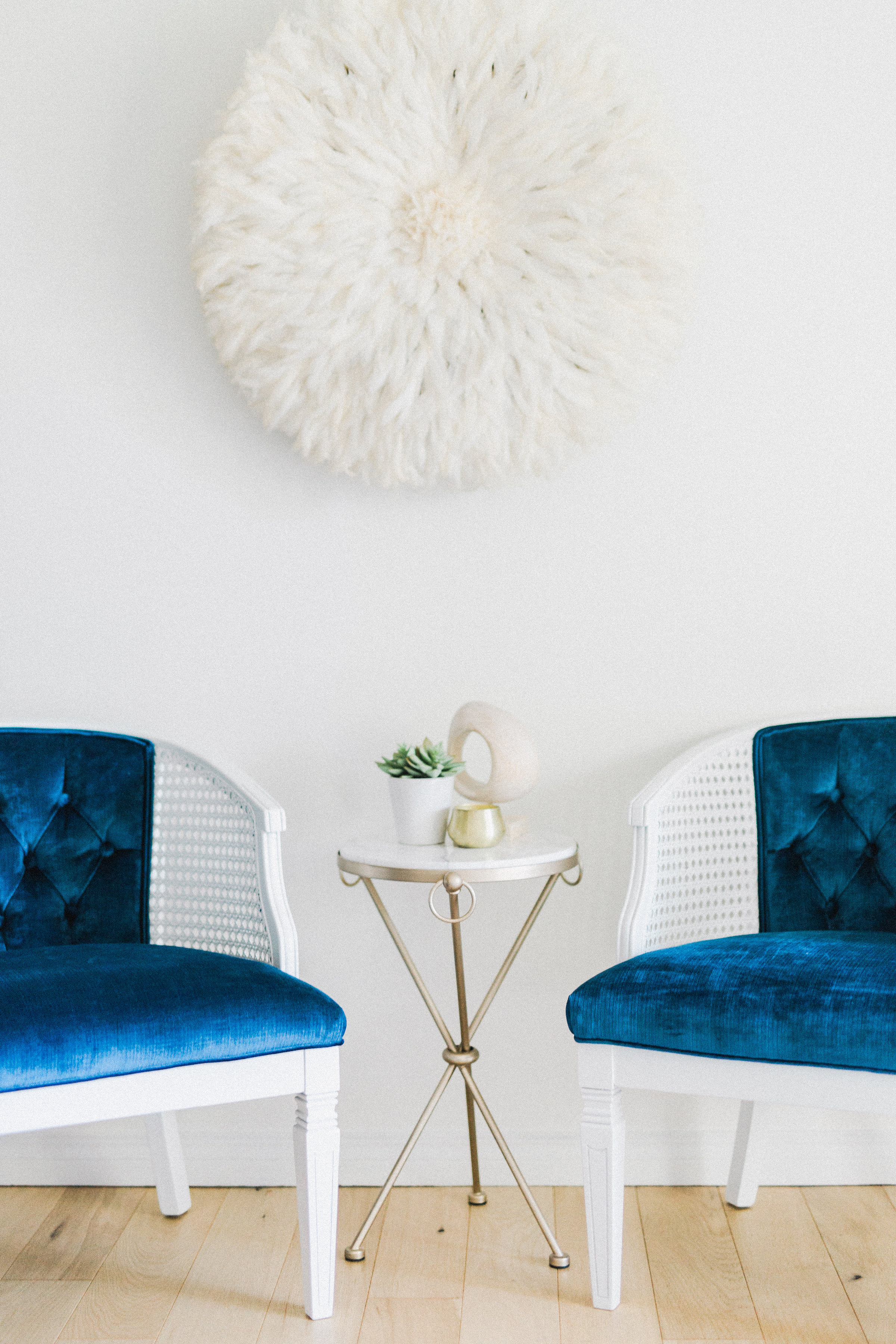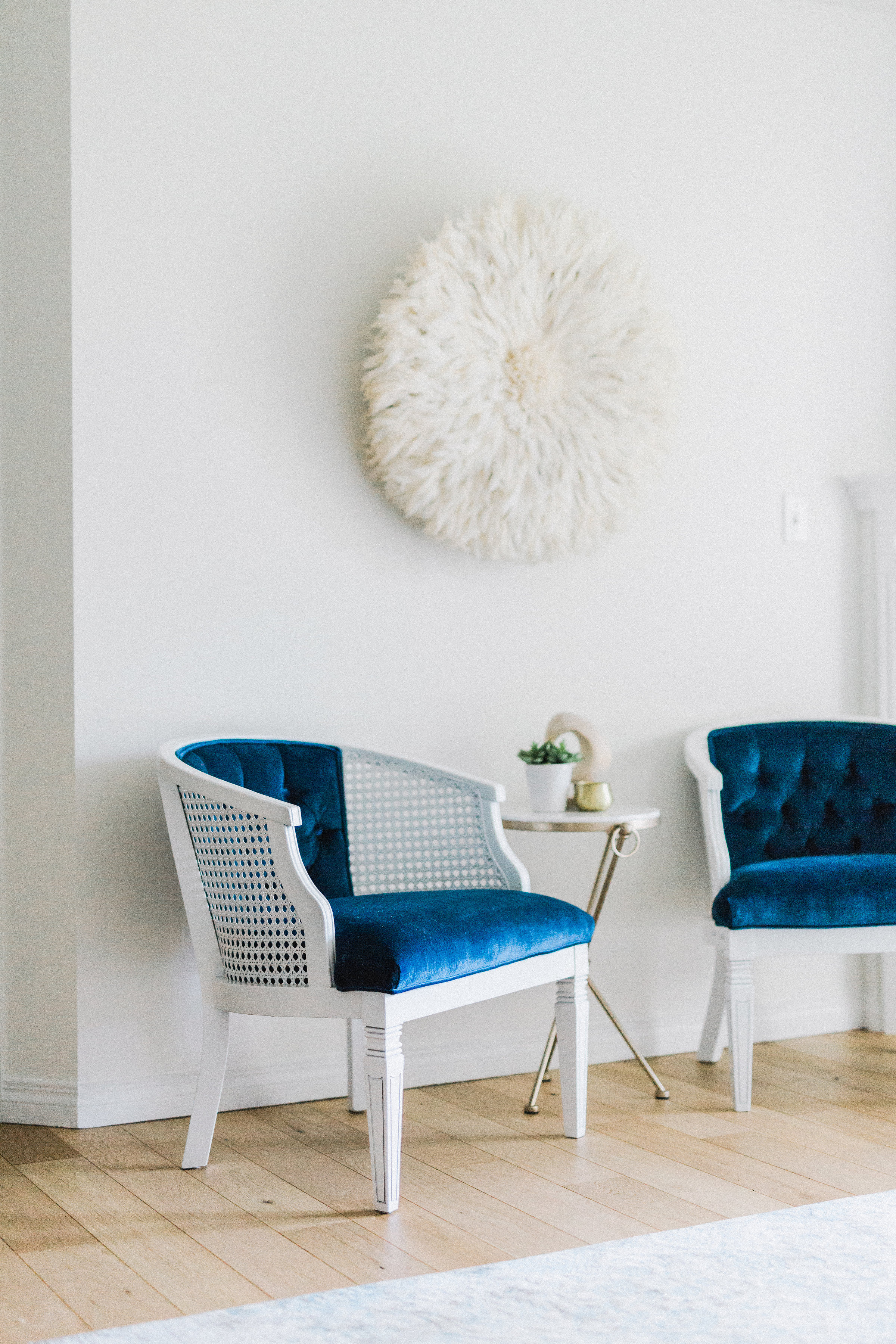 Accent chairs can either blend into the background or stand out on their own. These gorgeous vintage cane chairs definitely fall into the ladder category. Another amazing Kijiji find! While scoring them was thrilling on it's own, learning that they had traveled with the owners parents from Iran in the 60s was a lovely bonus. They were in excellent condition and I could have left them as they were, but a quick coat of paint and switching up the upholstery from dusty rose to navy suede gave them a modern update and helped them tie in with the rest of the space. An amazing Juju hat, carved wood side table and Moroccan pouf, help give the space a subtle globally inspired feel. I was going through some room themes with a friend the other day and they brought up how important it was for her to have the best energy deal. Because he house is costing her less she can relax in it more! If you're interested in learning more about saving money yourself, click here.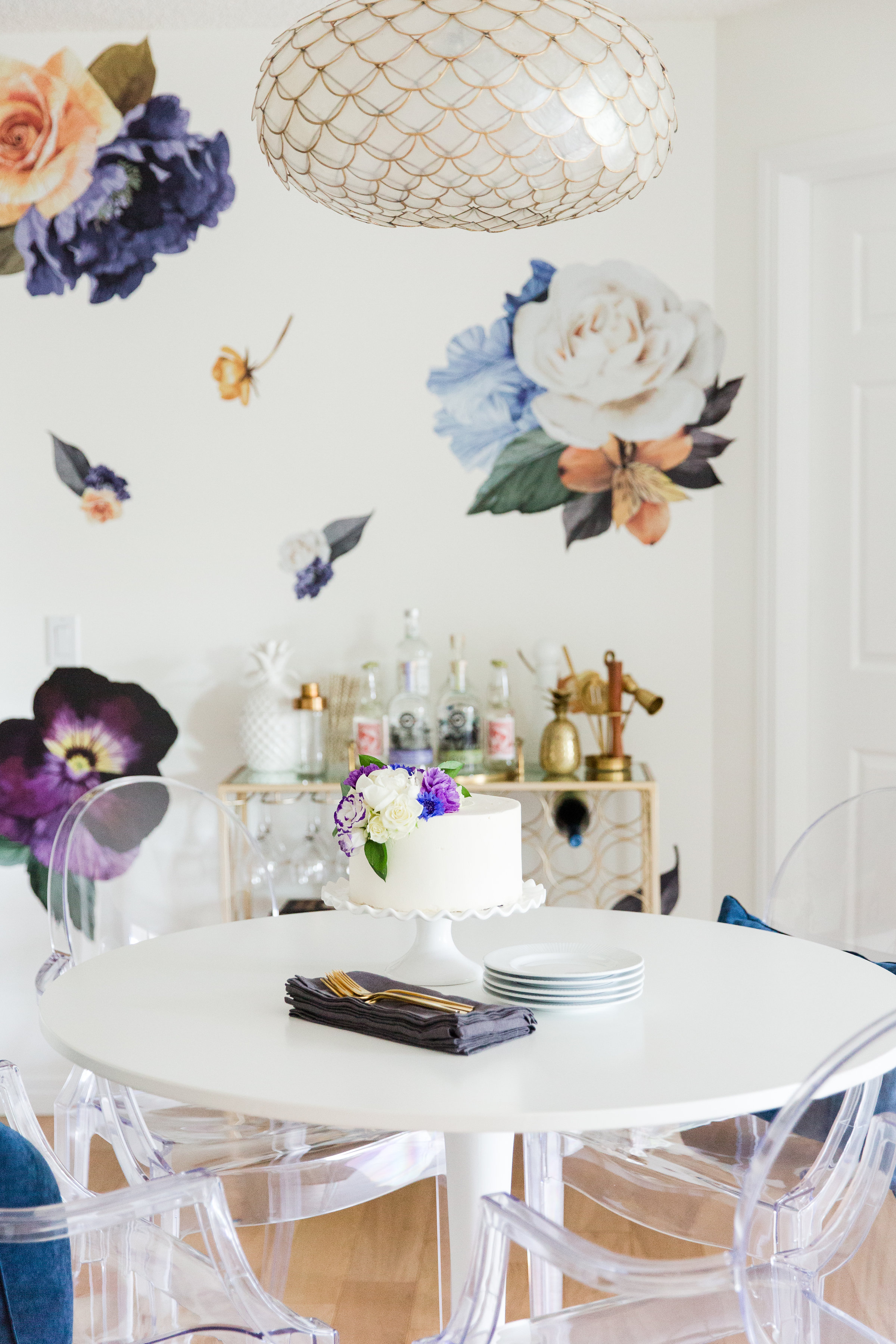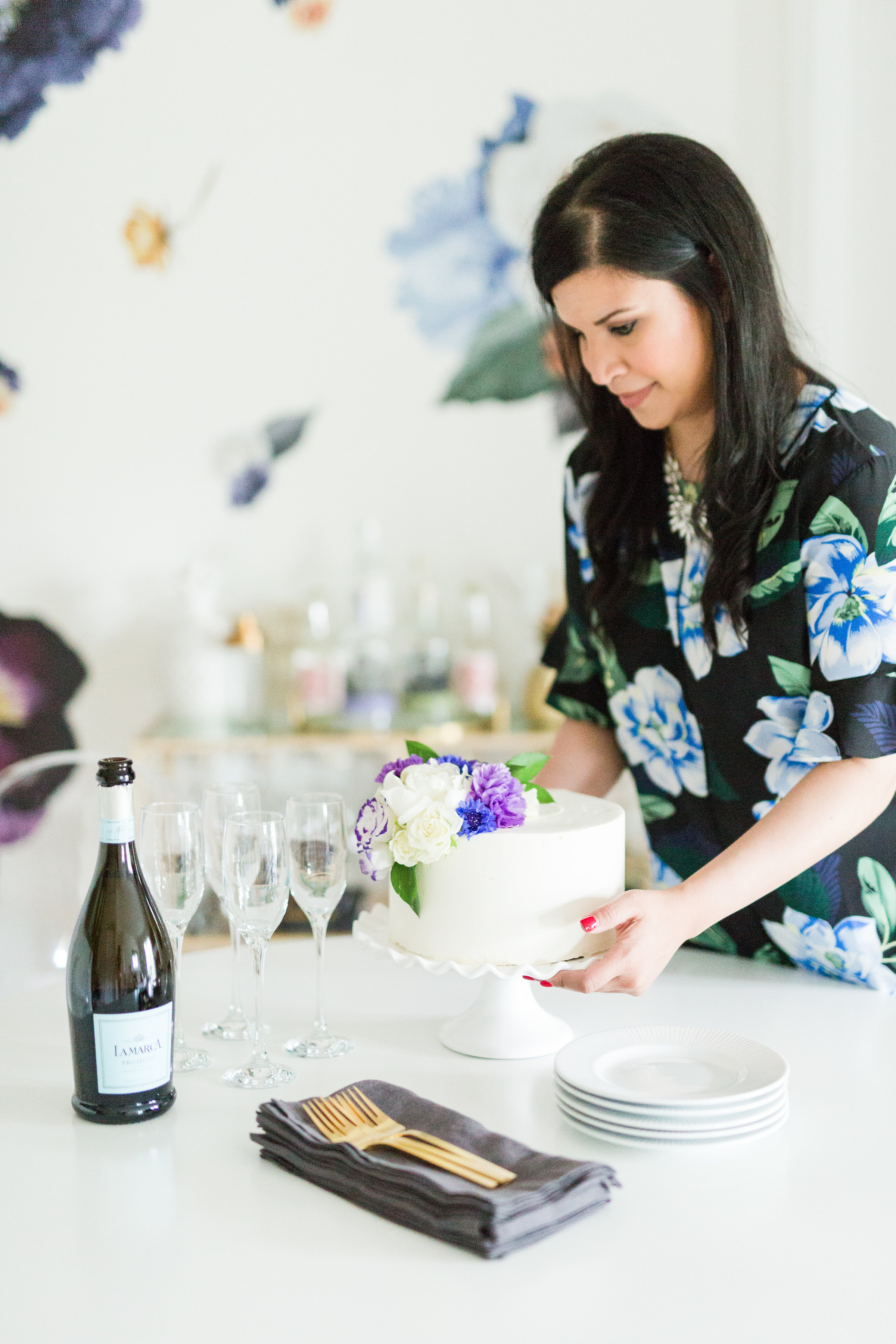 With dining area in close proximity to the living area I wanted it to have a distinct yet cohesive feel. Since I'm a firm believer that the dining room is the perfect place to add impact and drama I added large, vintage floral decals, from Urban Walls. The cascading flowers not only help to pull the colour palette from the living room into the dining room, but offer a one of kind visual impact.
Because I love to mix and match styles, I went with a Saarinen inspired dining table. Paired with clear ghost chairs, keeps the space feeling light and airy, while bringing in the modern traditional feel I was going for.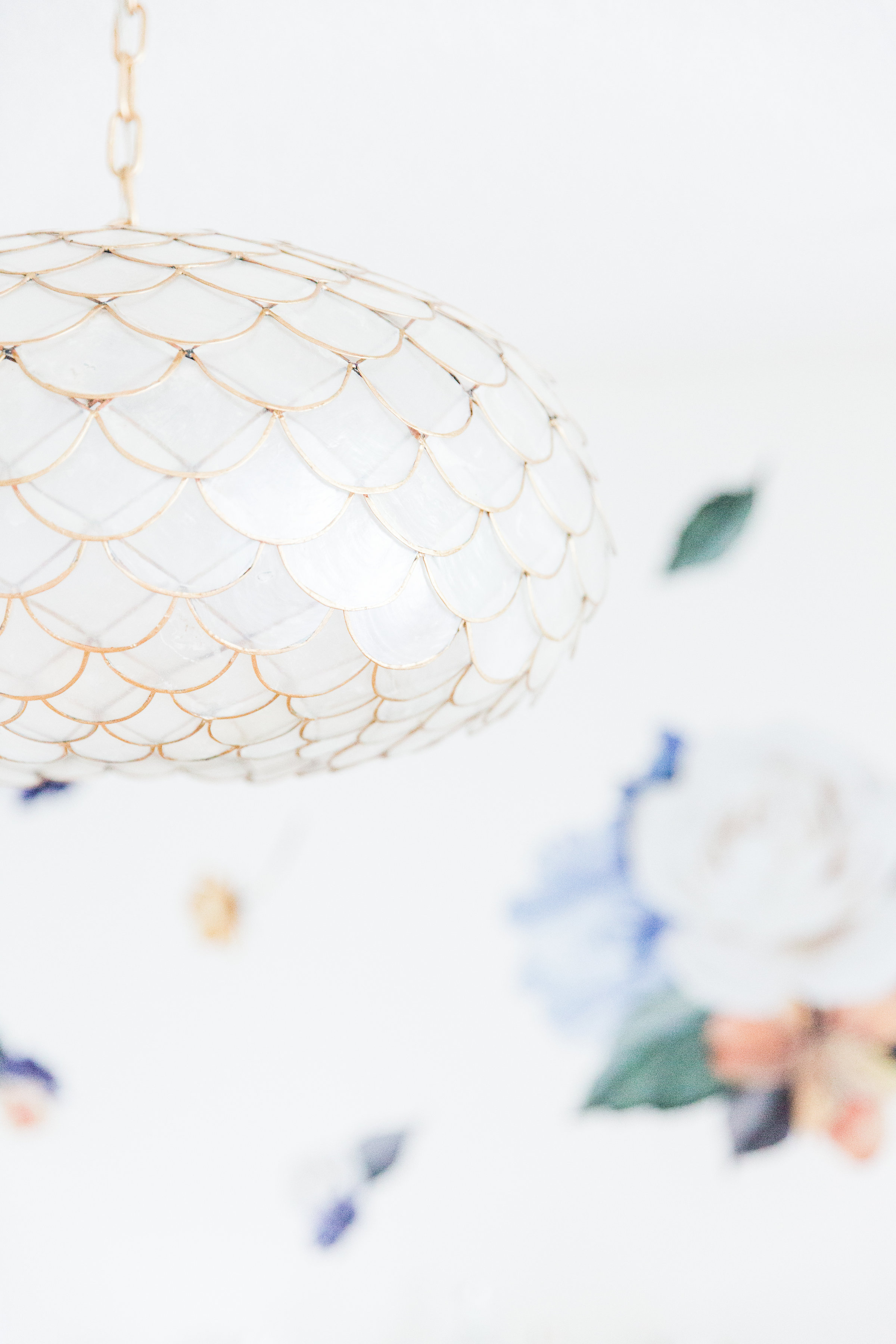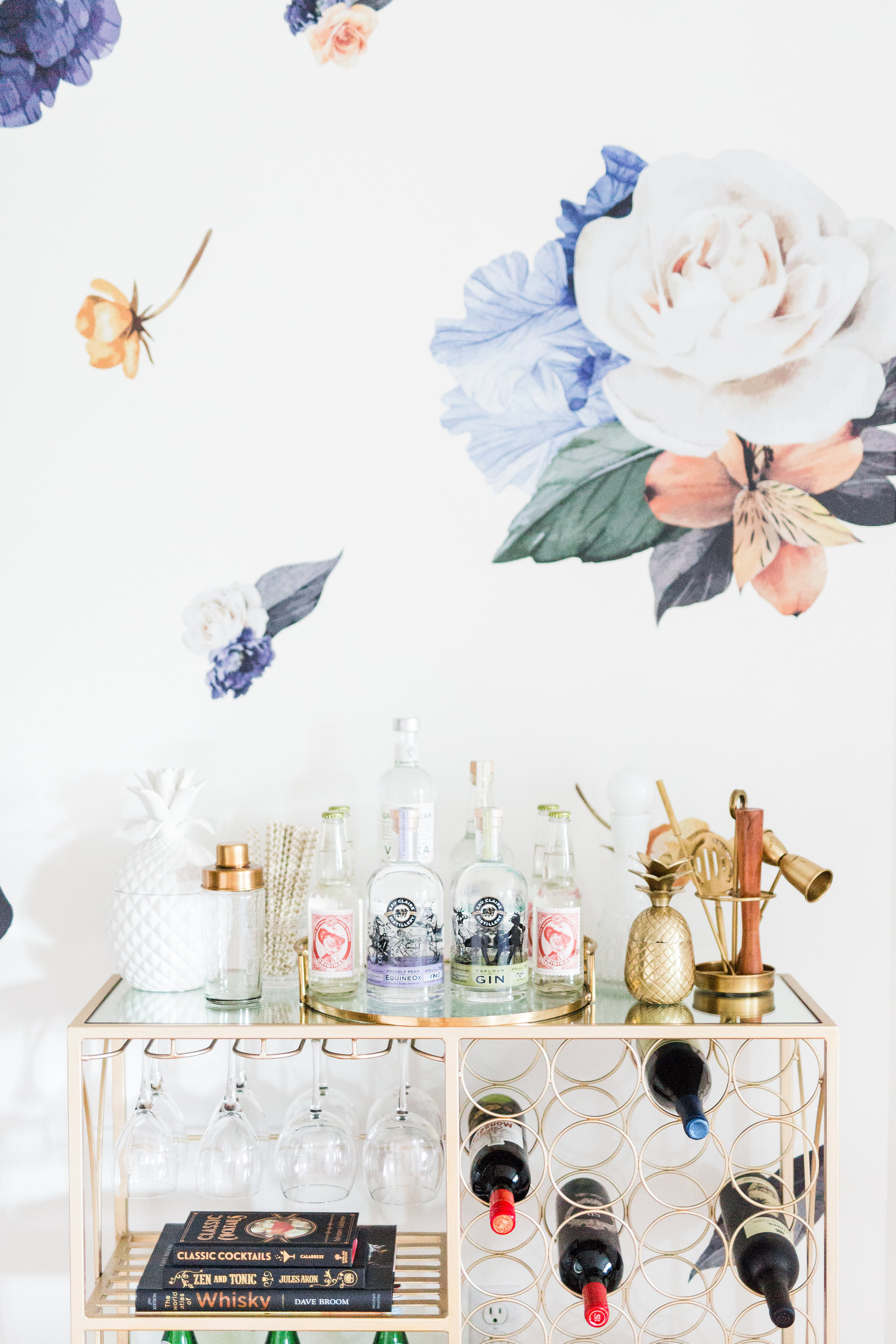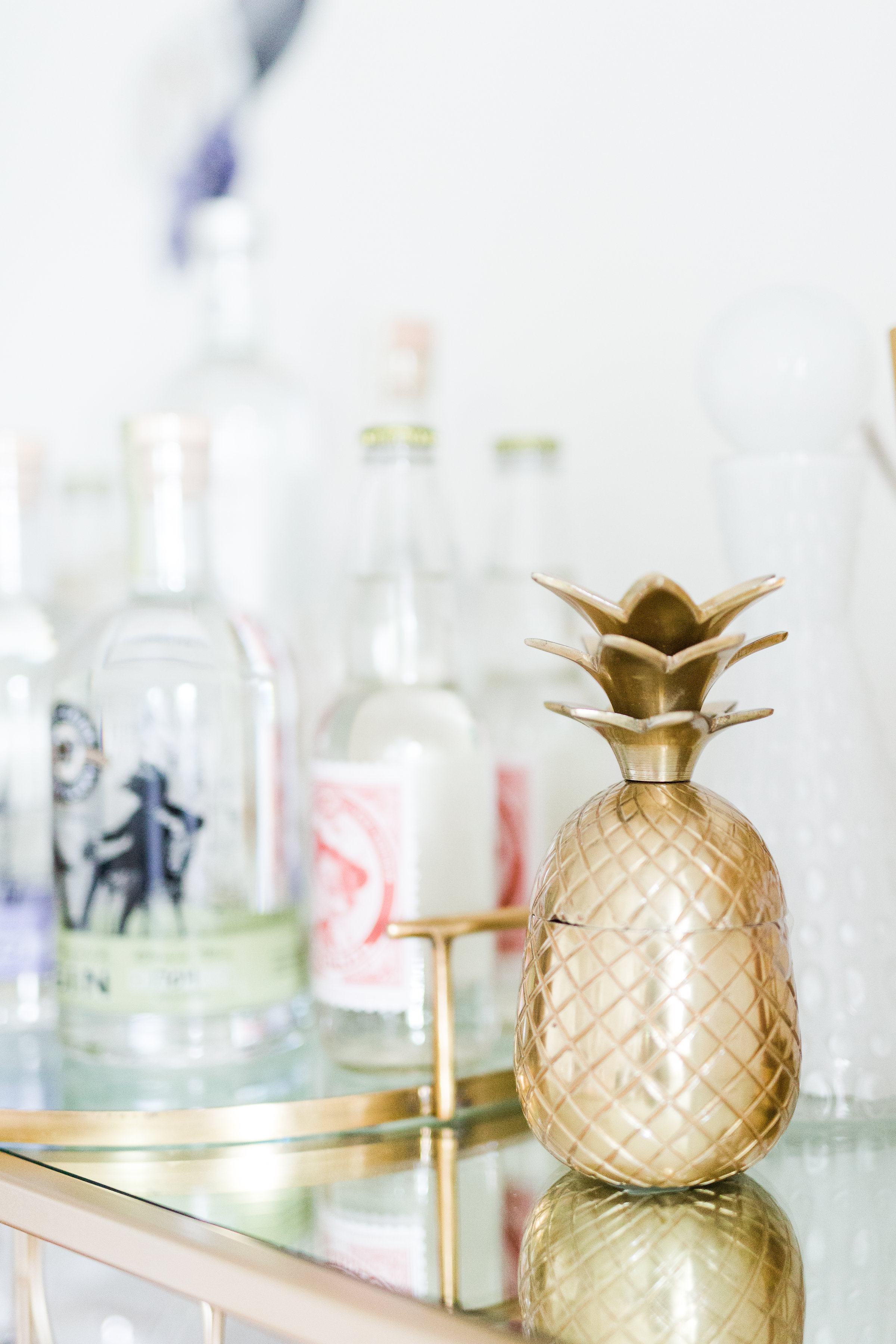 The bar cart and amazing light fixture pull the gold and brass from the living room, creating a glamorous and cohesive look. Combined the space is fun and glamorous and modern take on traditional – not unlike me 😉
Get the Look
---
Images