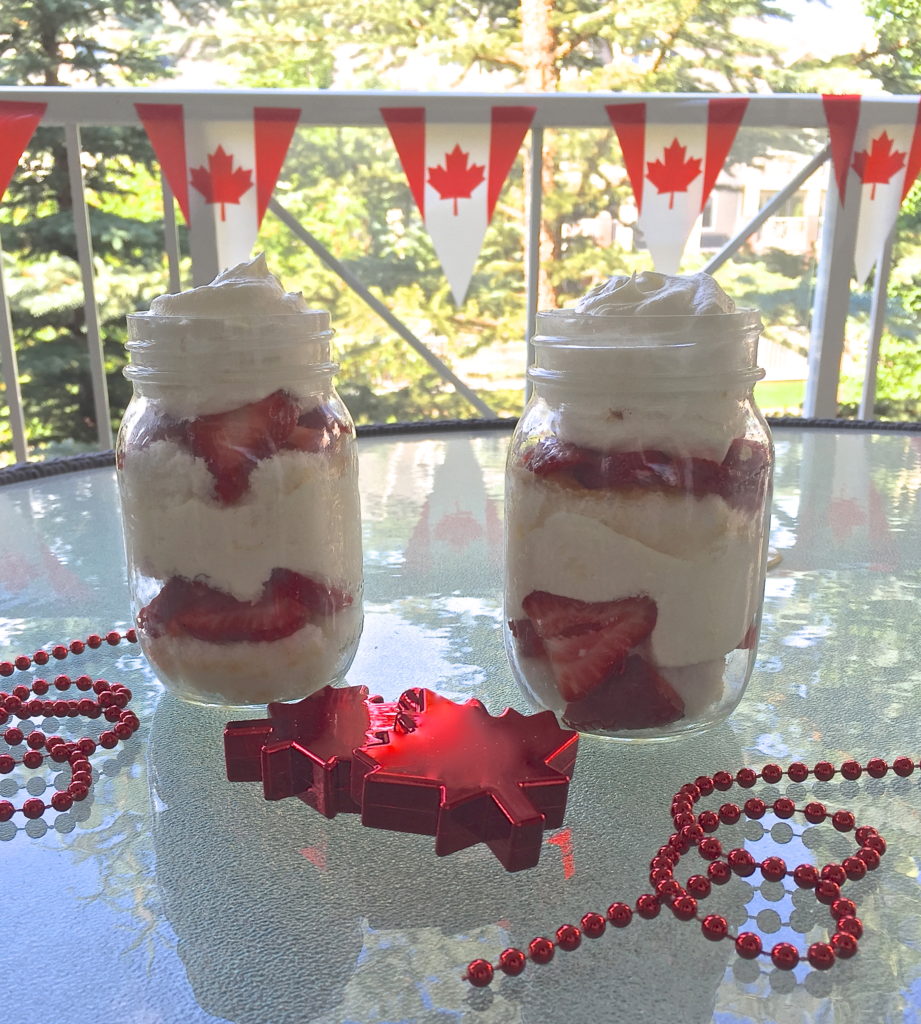 Happy Canada Day!  For those of us blessed to call Canada home, today we celebrate our great nation's 148th Birthday!  Being a first generation Canadian, I am so proud to have been born and raised in this country and feel incredibly blessed for freedoms and opportunities I have been afforded.  Deep gratitude.
Since all birthday's are meant to be celebrated with cake, I thought red and white Strawberry Shortcake would be perfect.  I changed things up by creating individual cakes in mason jars, which made them easy to transport and backyard BBQ friendly.  Enjoy!
Ingredients
Strawberries
2 pounds strawberries, stemmed and thinly sliced
Juice of 1 lemon
1/2 cup sugar
Angel Food Cake
2 cups all-purpose flour
2 teaspoons baking powder
1/4 teaspoon baking soda
2 tablespoons sugar
3/4 teaspoon salt
1 1/2 cups heavy cream
Whipped Cream
1 1/2 cups heavy cream, chilled
3 tablespoons sugar
1 1/2 teaspoons vanilla extract
1 teaspoon freshly grated lemon zest
4 (16-ounce) mason jars
Directions
Mix strawberries, lemon juice, and sugar in a bowl.  Refrigerate overnight.
Preheat the oven to 400 degrees F.
Sift together the flour, baking powder, baking soda, remaining 2 tablespoons sugar, and salt in a medium bowl. Add heavy cream and mix until just combined. Place mixture in an un-greased 8-inch square pan and bake until golden, 18 to 20 minutes.
Remove shortcake from pan and place on a rack to cool slightly.
Using a mixer, beat the heavy cream, sugar, vanilla, and lemon zest until soft peaks form, about 1 1/2 to 2 minutes.
Slice cooled cake in half, making two layers.  Then trace a mason jar with a knife to cut a round piece of cake. Press the cake into the bottom of the jar, add the strawberries and top with whipped cream.  Repeat the layers enough times to fill the jars, ending with a generous dollop of whip cream!