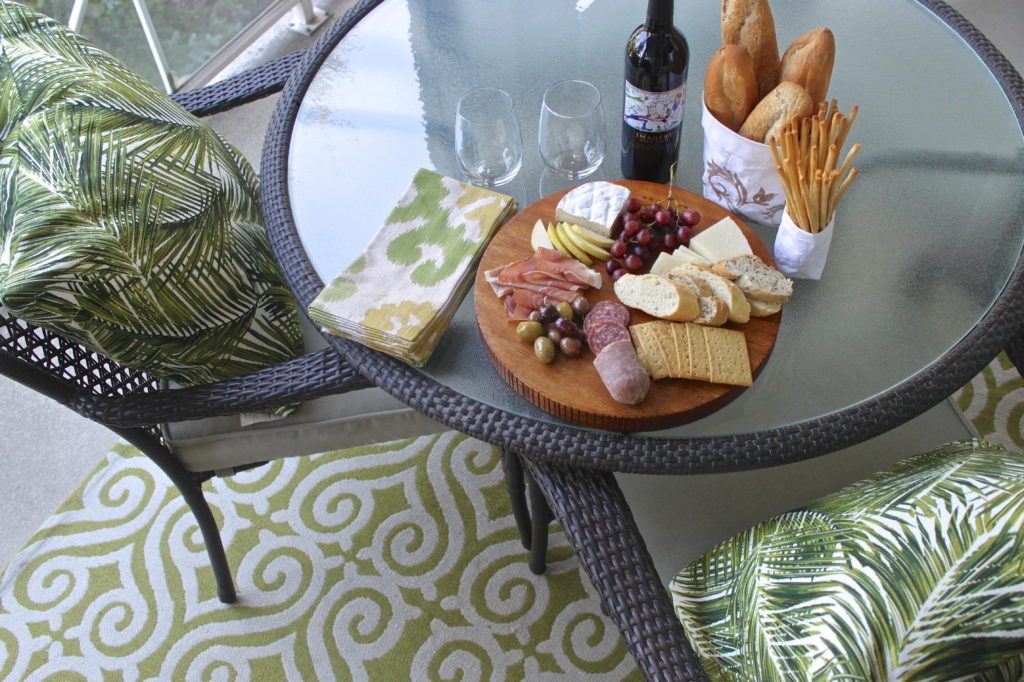 One of my favorite Friday night rituals is a charcuterie picnic in my living room.  After a full week, I seldom want to go out and be social, so the perfect Friday night is at home, in my PJs with Netflix and my love.
The easy, no-fuss nature of a charcuterie is perfect, I use the same principles when I'm entertaining as when it's just the two of us.  The key to a good charcuterie is variety and not over thinking it.
When choosing cheese, choose a couple from each of the following:
A fresh cheese (fiore di latte and/or burrata)
A soft-ripened cheese (camembert and/or brie)
A semi-soft cheese (friulano, havarti and/or gouda)
A firm cheese (piave, spillembergo, aged provolone and crotonese)
A hard cheese (grana padano and parmigiano reggiano)
A veined cheese (gorgonzola and/or stilton)
When it comes to meats, choose one from each:
Cured, hard sausages (chorizo, sopressata or finocchiona)
Whole-muscle cuts of meat, shaved into thick or paper-thin slices (lomo de cerdo (cured pork tenderloin), bresaola (air-dried beef tenderloin), cesina (a the Spanish version of  bresaola), prosciutto, jamón Serrano, or jamón Ibérico.
A paté or terrine adds a little textural intrigue to the typical assortment of cured sausages and meat. A terrine or paté can be made from just about anything: lamb shank, lamb neck terrine or rabbit.
Good quality bread is a must for a charcuterie. I love using French banquettes and if time permits rubbing it with quality olive oil and a cut clove of garlic.  It's important to have a selection of mellow flavoured carbs, to allow for the flavours of the meats and cheese to shine. Crackers and bread sticks are an easy, no-fuss addition.  Kick simple breadsticks up a notch by wrapping crispy Spanish breadsticks with thin pieces of cured meat to create picos.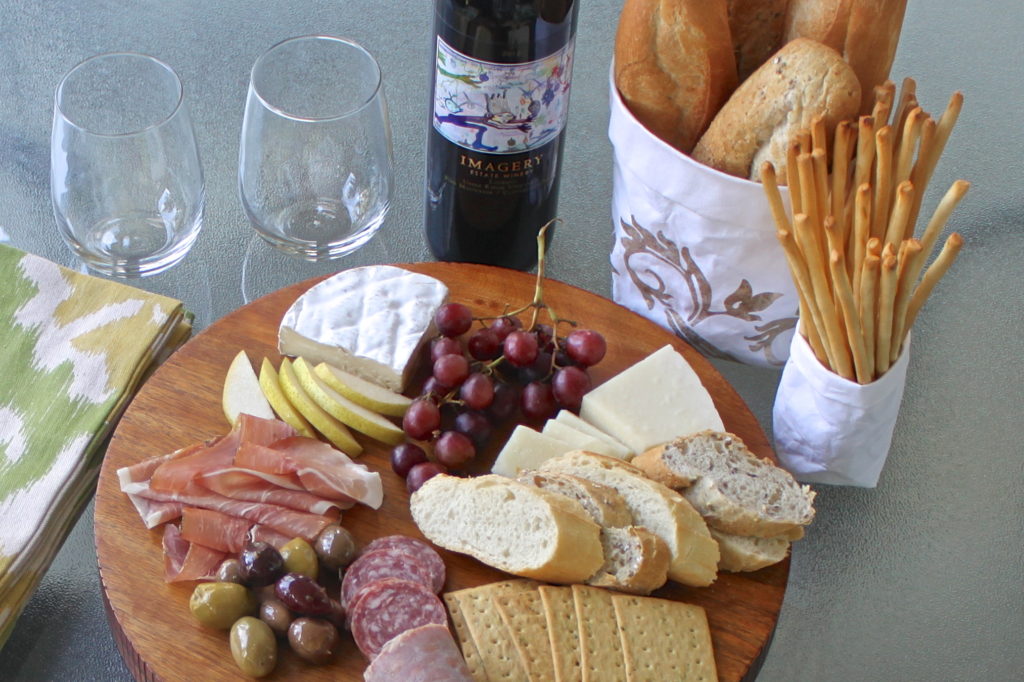 A spreadable jam or chutney is the perfect accompaniment to fatty, salty meat.  You can't go wrong with a grainy mustard and tangy, tart pickles – cornichons are a classic choice.  Wine-based jams or lightly sweetened, concentrated fruit-based jams (pear and fig are ideal) help to enhance the flavour of cheese.  Fruit compotes, honey and mostarda cremonese, a product from Cremona, Italy, made of candied fruit and a mustard-flavoured syrup are other great additions.
Surrounding the board with appropriate accompaniments adds interest and contrasting yet complementary flavours. They also serve as palate cleansers in between cheese samplings and work to enhance all flavours. Think dried fruit like apricots and figs, nuts (natural and unflavoured) such as almonds and walnuts, sliced fresh fruit with mild notes like pears or with a slight tang like apples. Meats are often robust in flavour and their pleasantness is heightened by cured olives. Lastly paring meats like prosciutto with fresh fruit, like figs and melon, is simply divine.
When entertaining plan for one to two ounces of cheese and three slices of meat per person. Remember, you're trying to delight your guests' palate, but keep their appetites intact for later courses.  Always use separate cheese knives for each cheese, this ensures the distinctive notes of each cheese are kept pure. With regards to the meat, there is very little risk of intermingling flavours so a simple fork is fine.  Lastly be sure to bring the cheeses to room temperature before serving for optimum flavour.
Most of all, have fun with creating a charcuterie, they are meant to be an easy, no-fuss start to a fabulous meal of if you're like me, a meal on it's own!