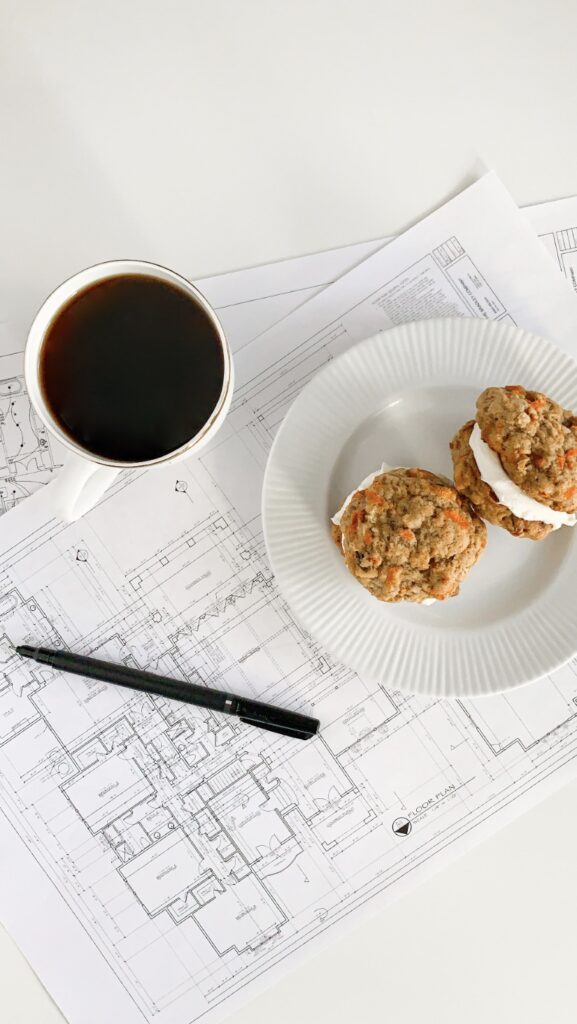 It's been a while since I've shared a recipe on here. Not for a lack of cooking and baking, if anything I've been doing both far more enthusiastically in the last year.  But as the design side of my business has grown, my bandwidth for sharing recipes and food content narrowed.
That was until I made these Carrot Cake Sandwich Cookies over the Easter weekend.  They were so good, (a friend said she needed a cigarette after having one!), I knew I had to create a quick post to share the recipe on here! Enjoy!
Ingredients
1 1/4 cups all-purpose flour
1/2 cup quick oats
3/4 tsp baking soda
1 1/4 tsp ground cinnamon
1/4 tsp ground ginger
1/8 tsp ground nutmeg
1/4 tsp salt
1/2 cup unsalted butter, softened
1/2 cup granulated sugar
1/2 cup packed light-brown sugar
1 large egg
1 tsp vanilla extract
1 1/4 cups finely grated carrots
1/2 cup shredded coconut
1/2 cup chopped walnuts or pecans
Cream Cheese Frosting
4 oz cream cheese, softened
6 tbsp unsalted butter, softened
A pinch of salt
1/2 tsp vanilla extract
1 cup powdered sugar
Instructions
In a mixing bowl, whisk together flour, quick oats, baking soda, cinnamon, ginger, nutmeg and salt and set aside.
In the bowl of an electric stand mixer, fitted with the paddle attachment, cream together 1/2 cup butter, granulated sugar and brown sugar until well blended. Mix in egg and vanilla extract.  Set mixer on low speed and slowly add in flour mixture and mix just until combined. Stir in carrots, then fold in coconut and walnuts.
Cover bowl and chill dough 1 hour. Preheat oven to 350 during last 10 minutes of chilling. Scoop the dough evenly in to 2 tablespoon size balls on Silpat or parchment paper lined baking sheets, spacing cookies at least 2-inches apart.
Bake in preheated oven 12 – 13 minutes until centers no longer look doughy. Allow to cool on baking sheet several minutes then transfer to a wire rack to cool.  Cool completely then sandwich 2 cookies together with the cream cheese filling. Store in an airtight container in a single layer in the refrigerator and eat them from the fridge or bring to room temp before serving.
For the cream cheese frosting:
In the bowl of an electric stand mixer fitted with the paddle attachment, whip together cream cheese, butter and salt until smooth and fluffy. Stir in vanilla and powdered sugar and continue to whip until smooth and very fluffy.