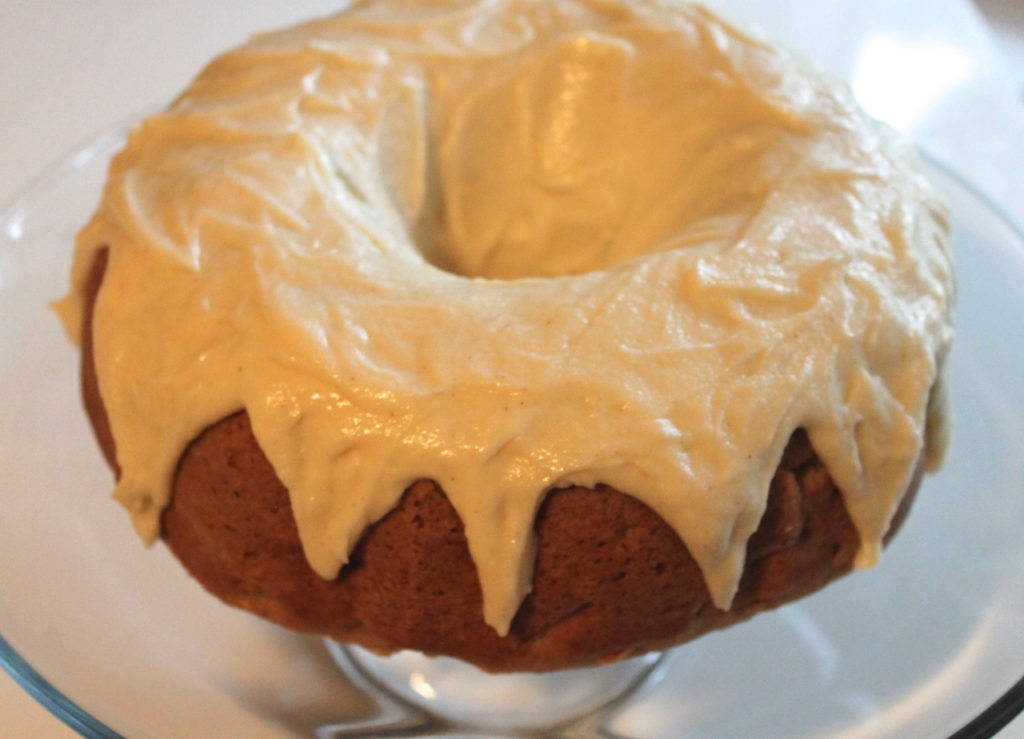 This cake may sound fancy and complicated, but I assure you, it's not!  It's simple, delicious and offers all the flavors and comforts of the season in each in bite!  Enjoy!
Recipe from www.foodess.com
Ingredients
1 cup butter, softened
1½ cups white sugar
2 large eggs
2 tsp pure vanilla extract
1 cup buttermilk
3 cups all purpose flour
1 tsp baking soda
½ tsp salt
1 tsp cinnamon
½ tsp ground ginger
¼ tsp ground nutmeg
¼ tsp ground cardamom
2½ cups peeled, finely diced apples
Mascarpone Frosting
1 ½ cups softened Canadian mascarpone
⅓ cup softened butter
2 cups confectioners' sugar
1 tbsp buttermilk
1 tsp vanilla extract
¼ tsp nutmeg
Directions
Preheat oven to 325ºF. Grease and flour a nonstick bundt pan.
Beat butter and sugar in a standing mixer until light and fluffy, about 3 minutes. Beat in eggs, one at a time, beating about 30 seconds after each. Beat in vanilla.
In a medium bowl, whisk flour with baking soda, salt, and spices. Add one third of flour mixture to butter mixture and beat on low speed till just combined. Add half of the buttermilk and beat again. Repeat with another third of he flour mixture, then the rest of the buttermilk, and finish by beating in the last of the flour.
Gently fold in the apples and scrape batter into prepared bundt pan. Bake about 50 minutes, until cake feels springy when touched and toothpick inserted in centre comes out clean.
Let cake cool for 10 mins in hot pan – this makes the bottom moist and it helps it to release easily from the pan. Wearing oven mitts, flip the cake onto a cooling rack. Knock on the bottom of the pan a few times until you feel the cake release. Finish cooling completely on the rack before frosting.
To Make Frosting
Beat together mascarpone and butter until light and fluffy, then beat in remaining ingredients. Chill until ready to frost cooled cake. Refrigerate leftover frosted cake, but let it come to room temperature before serving.