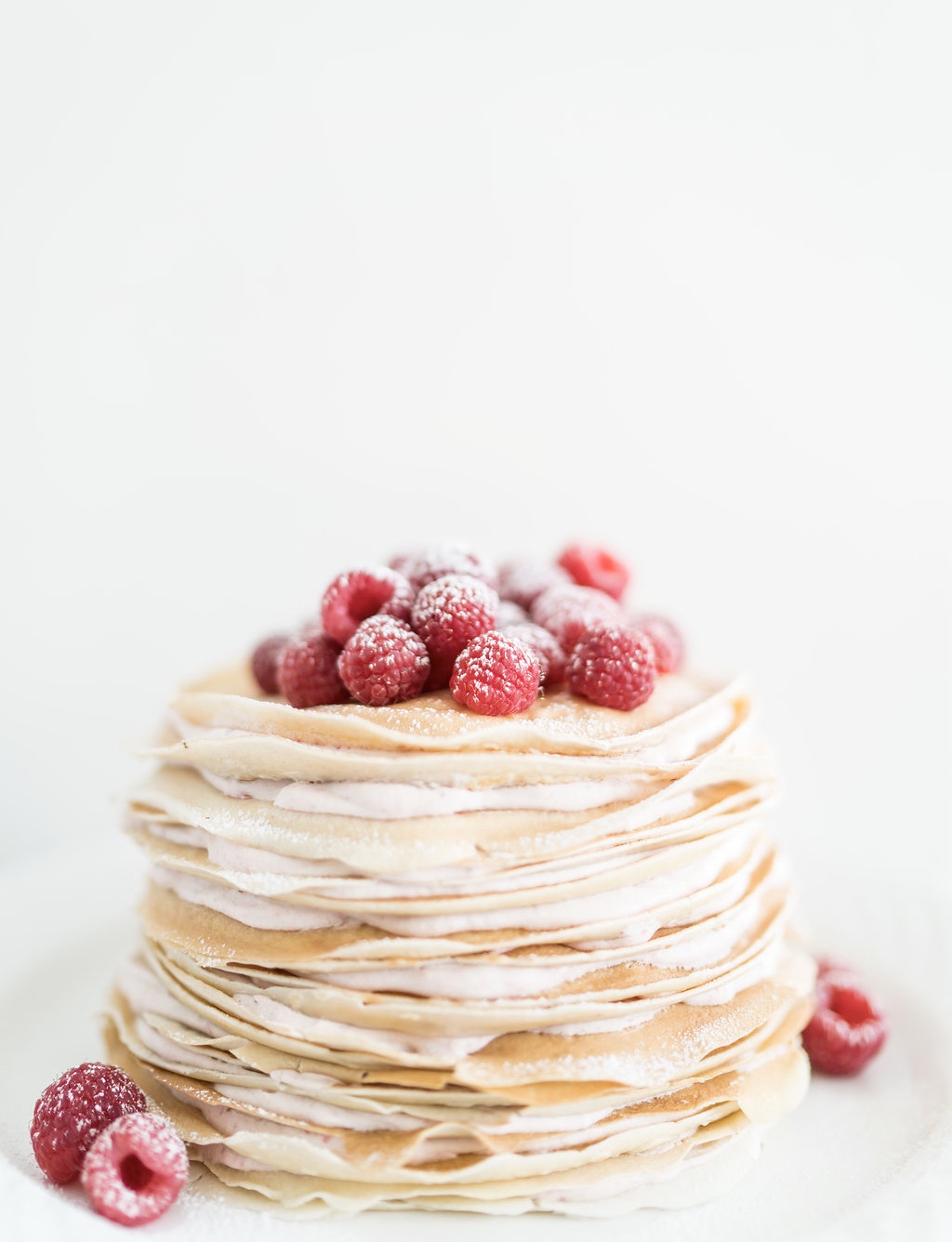 The first few months of 2018 have been a blur. And while it's been thrilling to have new opportunities and business come in, it's meant less time in the kitchen. Which for many may be a welcome change, but for someone who loves to bake as much as I do, it's created a bit of void.
So when E.D. SMITH reached out for a collaboration I was completely ecstatic – I was being happily forced back into the kitchen! E.D. SMITH is the largest Canadian manufacturer of jams, jellies and marmalade – for over 135 years! With a painfully delayed Spring around here this year, working with the E.D. SMITH line of products was the perfect way to bring the flavours of Spring into my baking.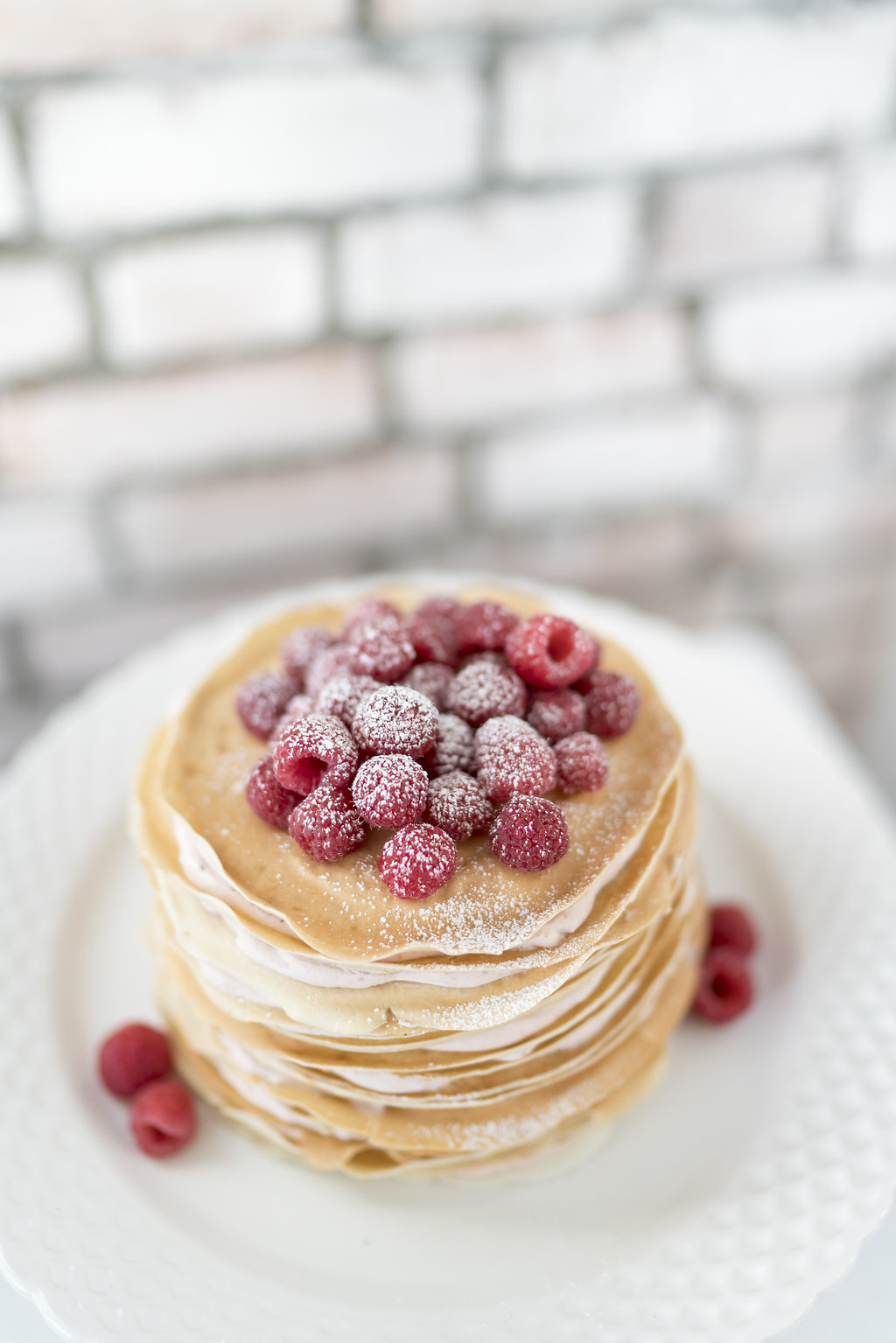 Not one to typically follow food trends, I have to admit I've been intrigued by all the crêpe cakes popping up all over social media. Having never made crêpes, let alone a cake stacked with them, I was a little anxious. But the beauty of these cakes and how perfect they are for spring – light and fluffy, without being overly sweet – I knew I had to give it a go.  And friends, I'm happy to report this Berry Cream Crêpe Cake, is one of the easiest cakes I've made!  Whether you're a master crepe maker or a novice like me – I promise you can whip this cake together in no time.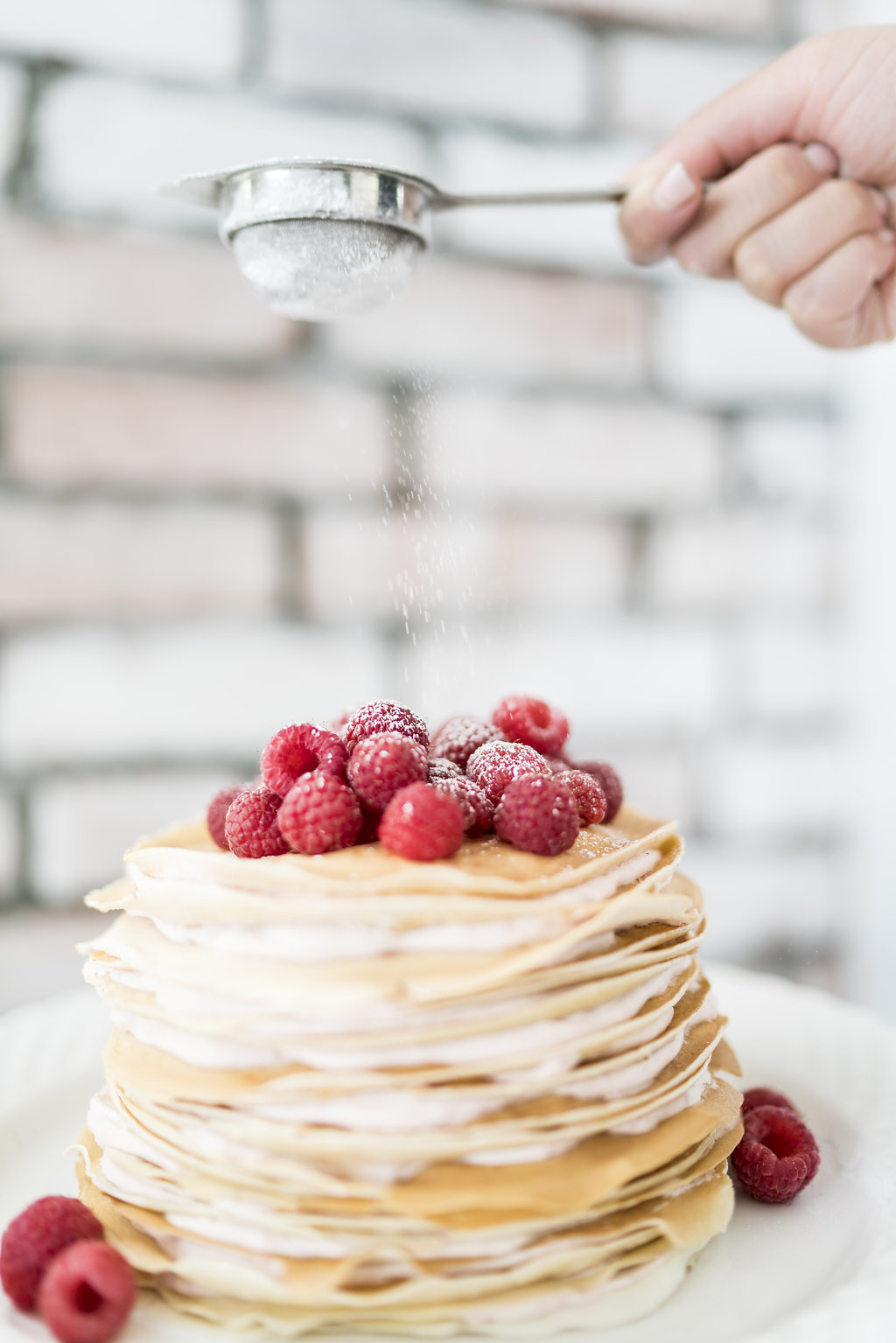 I decided to challenge myself even more by mixing pastry cream with whipping cream for the filling. Since this Berry Cream Crêpe Cake was going to be a part of a bigger brunch photo shoot and post, it needed to be transportation friendly, I figured the pastry cream would give it a little extra sturdiness.  Mixed with E.D. SMITH Triple Fruits Strawberry Raspberry and Plum, a unique and delicious blend of strawberries, raspberries and plum, the filling adds a gentle sweetness while giving the cake the prettiest pink colour. Unlike preserves, this Triple Fruit Spread is beautifully smooth and free of big chunks of fruit, making it the perfect addition to the delicate pastry cream.  This cake elegantly compliments any special occasion!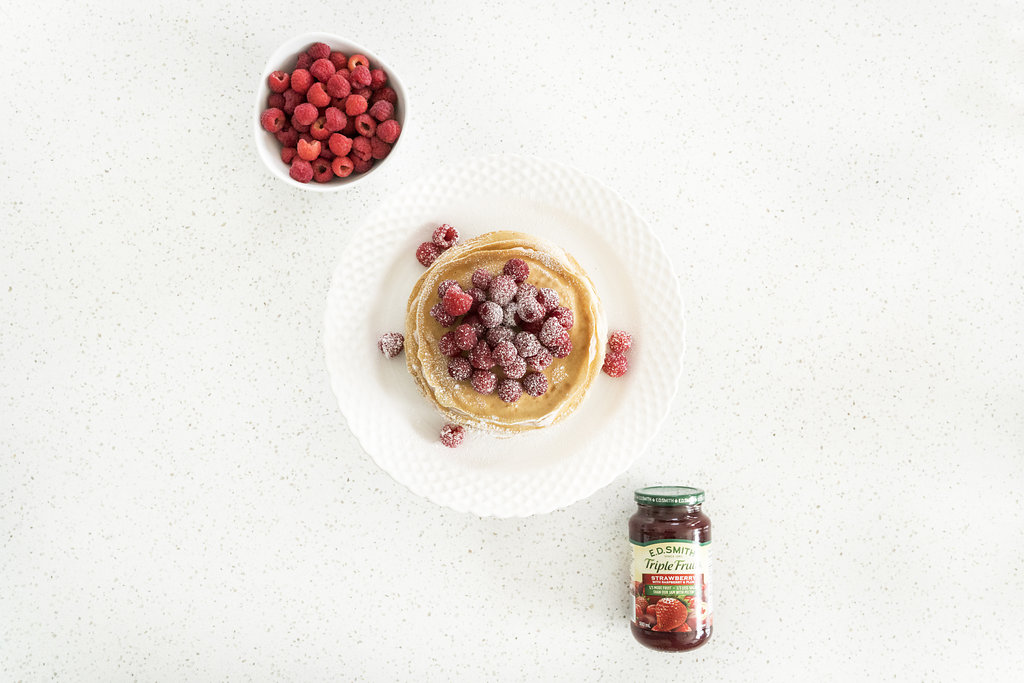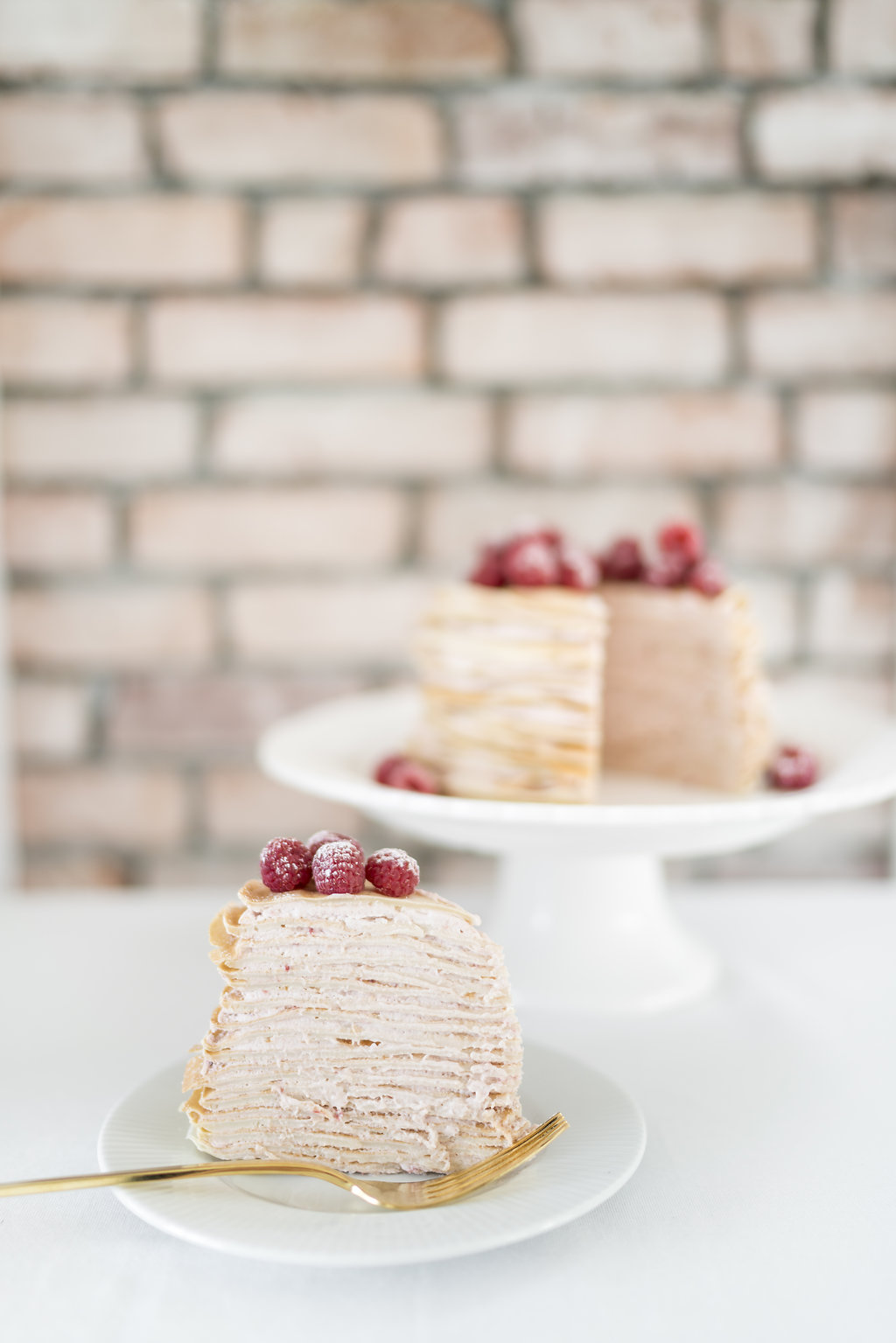 Ingredients
Crêpes
1 1/2 cups unbleached all-purpose flour
3 tbsp sugar
1/2 tsp baking powder
1/4 tsp salt
3 eggs
2 1/4 cups milk
1/2 tsp vanilla extract
Pastry Cream
1 1/2 cups whole milk, heavy cream, or a mix
1/2 cup sugar
1/4 cup flour
1/4 teaspoon salt
4large egg yolks
1 teaspoon vanilla extract
2/3 cup E.D. SMITH Triple Fruits Strawberry Raspberry and Plum
2 cups heavy whipping cream
Fresh raspberries to garnish
Powdered sugar to garnish
Directions
Pastry Cream
Warm the milk in the saucepan until you start to see wisps of steam. Try not to let it come to a boil.
In a medium bowl, whisk together the sugar, flour, and salt. Add the egg yolks and whisk them into the dry ingredients until thoroughly combined.
Pour a little of the hot milk into the eggs and whisk to combine. Continue pouring the milk slowly into the eggs, whisking continuously. When all the milk has been added to the eggs, pour everything back into the saucepan.
Set the pan back over medium heat. Whisk constantly until the cream thickens to a pudding-like consistency. Remove the pan from the heat and stir the vanilla into the pastry cream. Pour the cream into a strainer set over a second bowl. Stir to push the cream through the strainer.  This will ensure the smoothest cream possible, free of any bits of cooked egg that may be in your pastry cream.
Cover the pastry cream with a piece of plastic wrap pressed right up against the surface of the cream and cool completely in the refrigerator.
Crêpes
While the pastry cream is chilling, combine the flour, sugar, baking powder and salt in a bowl. Add the eggs, 1 cup of the milk and the vanilla. Stir with a whisk until smooth. Gradually stir in the remaining milk.
In an non-stick skillet (I used a 6 inch skillet) brushed with butter over medium heat, cook the crêpes, one at a time, using about 1/4 cup of batter per crepe. It took me a few crêpes to get my technique down, I found spreading the batter out with the back of a spoon to be the easiest way to get symmetrical, even crêpes.  Cook each crêpes until golden brown on both sides. Place the crêpes on a baking sheet lined with parchment paper as you go, until you have 20 crêpes. Let the crêpes cool completely before assembling the cake.
While the crêpes are cooling make the whip cream by whipping the heavy cream until stiff peaks form. Fold in the chilled pastry cream and the E.D. Smith Triple Fruits Strawberry Raspberry and Plum. Mix until just combined.
Assembly
To assemble the cake place one of the prepared crêpes on a cake plate. Using a small spatula or the back of a spoon, spread about 1/4 of a cup of the filling, make sure to completely cover the crêpe. Top with a second crêpe and cover with pastry cream, repeat until you've used up all 20 crêpes.  Keep a close eye on the cake as you're layering, if you start to notice it tilting or leaning towards one side, adjust the filling to straighten it out as you go. Once the layers are complete, refrigerate the cake for 1-2 hours. Just before serving, top with fresh raspberries and dust with powdered sugar.
---
Photography: MJay Photography
This post was sponsored by E.D. SMITH; as always all thoughts and opinions are 100% my own. Thank you for supporting the brands that support this blog, without them I couldn't do what I love!