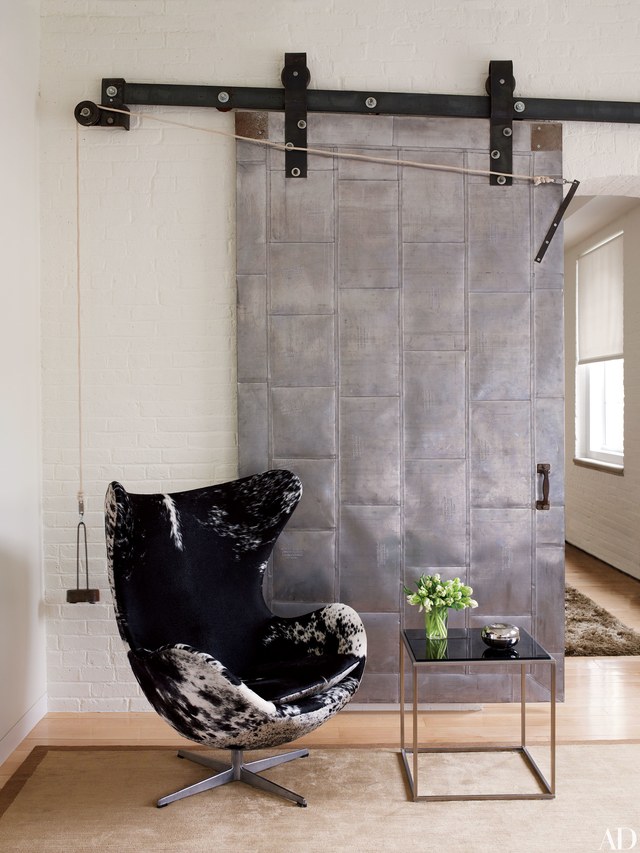 With the flip of the calendar comes predictions on trends – food, fashion and of course decor. What's in and what's out. I've pulled together some of my favorite 2017 Decor Trends: some are major, for those of you considering renovating, and others are simpler, easy additions to any space. And since what's out is just as important, I've got a summary of that for you as well.
What's In
Brick

I've been dying to do a brick wall in a space for years, like Yoon Kim's Manhattan penthouse, designed by David Mann and Brett McMullen of MR Architecture + Decor, which is giving me all the feels. But we're actually seeing brick pop up more as a flooring option. Rightfully so, it's one of the most durable materials out there, perfect for mudrooms and entranceways. If you're looking for another perspective on kitchen decor consider reading the annieandoak.com blog for inspiration. This has come along with a bunch of differing Farmhouse-style trends, especially "that style" of lighting of which you can see on Khalima Lights – the metal finishes being a key part of this look.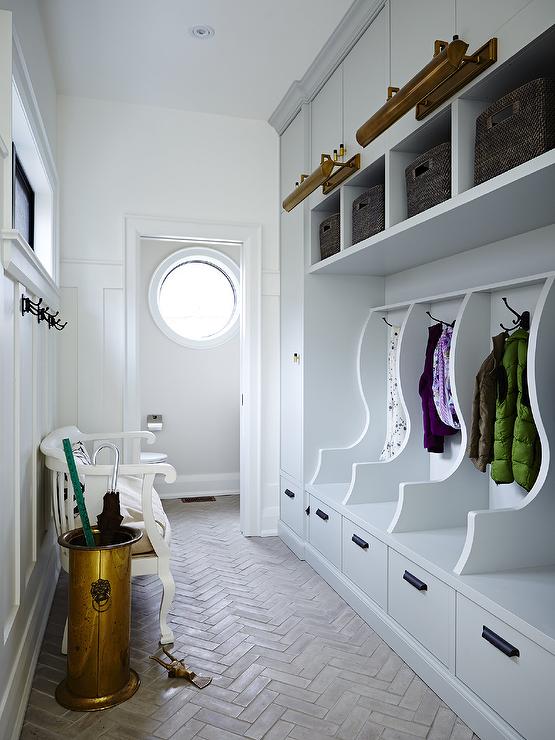 (Design: Feasby and Bleeks Design; Photography: Angus Fergusson; Via DecorPad)
Traditional Cabinetry in Colour
I can't think of a better way to add drama and interest to a kitchen, that with beautiful traditional cabinetry painted out in a colour other than white or grey. If you have Anzzi features in your bathroom or kitchen, you'll find that these cabinets pair well with them, creating an elegant yet sleek look. This year's forecast is for taupe, blues and greens, muted for sure, but gorgeous saturated tones as well. For rich colours that will show off every inch of your kitchen, pay attention to dixiepaintwallpaper.com. They can provide an exquisite finish to your space with their talents.
The first image below pays perfect homage to the Pantone 2017 Colour of the Year: Greenery. More on that next week.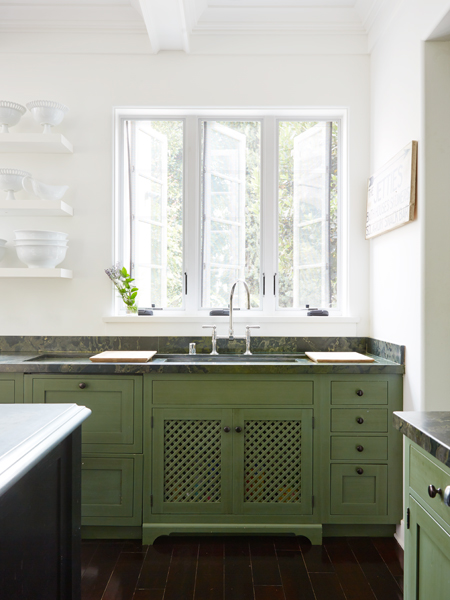 (Designer: Jackie Terrell; Photographer: Stacy Brandford; Via: House and Home)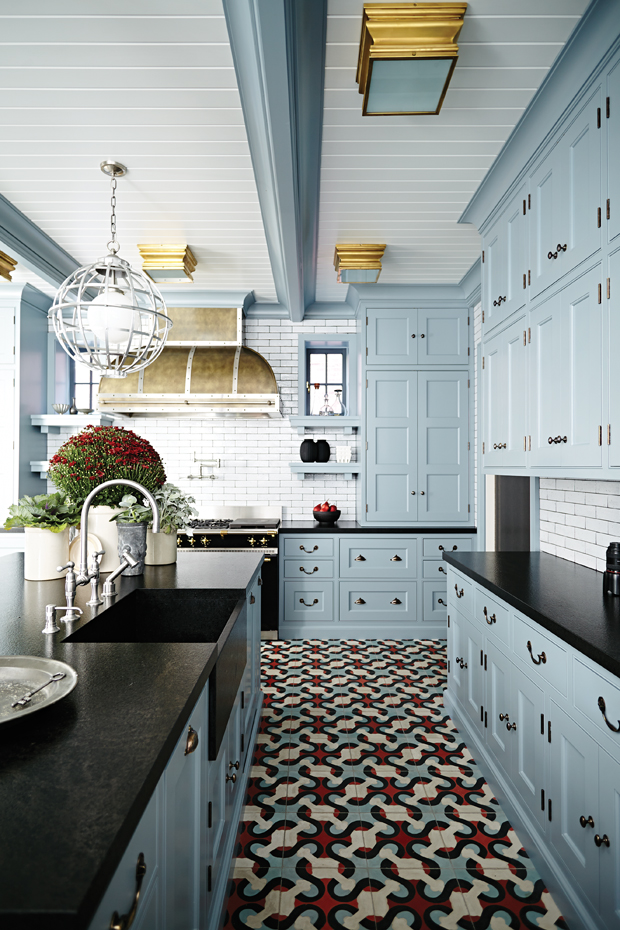 (Designer: James Davie; Photographer: Angus Fergusson; Via: House and Home)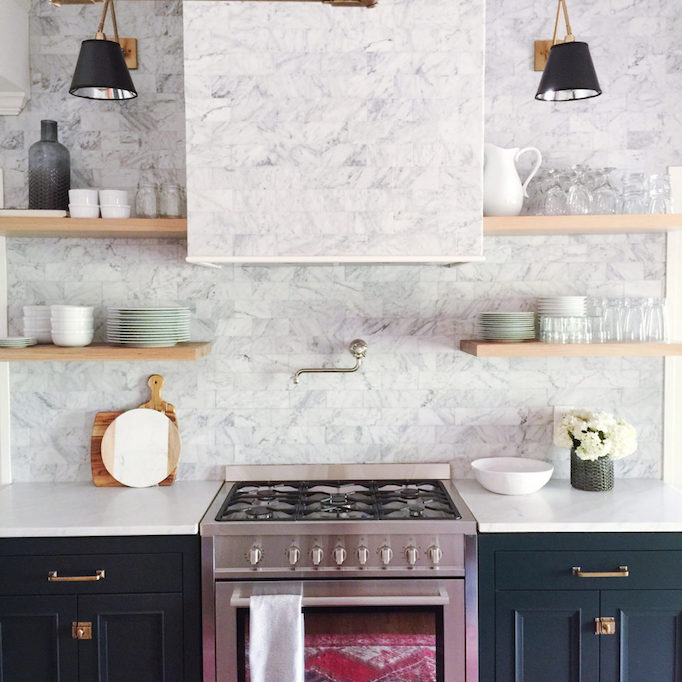 (Designer: Monica Stewart; Via: The Misfit House)
Artisan Art
While I love a good DIY as much as the next person, 2017 is all about a return to craftsmanship and working with material that requires time and skill. We'll see more blown glass, porcelain and wood work.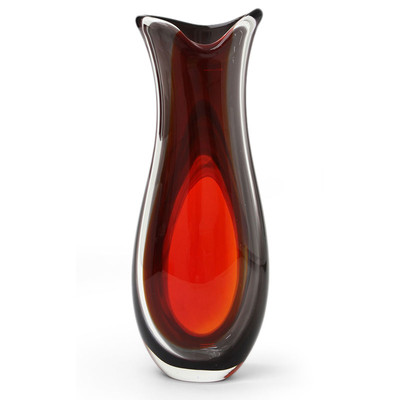 (Design: Novica; Via: Wayfair)
Jewel Tones and Texture
Last year Pantone chose Serenity and Rose Quartz as the colours of the year, as a result we saw an abundance of soft blues and pinks in home decor. With the mood moving towards traditional in 2017, we'll see more gorgeous jewel tones.
And since word on the street is we're all craving more comfort, texture will be bigger than ever. Nothing says comfort (and luxury) like velvet, it just beckons to be touched. In the same vain, we'll continue to see a lot of faux furs, yarns and mohairs. Which is just fine by me!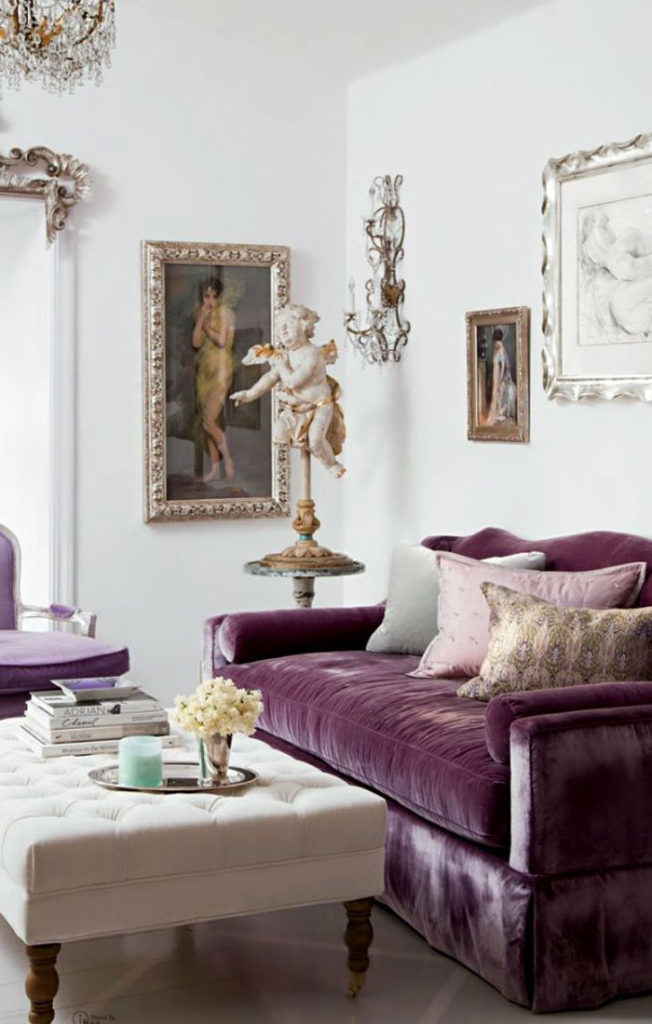 (Design: Martyn Lawrence-Bullard; Via: Domain)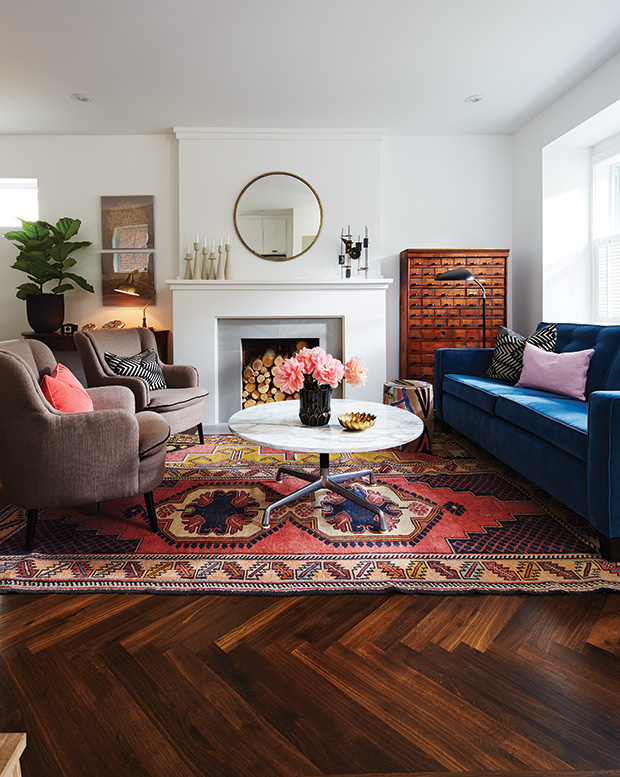 (Design: Sarah Hartill; Photographer: Micheal Grayton; Via: House and Home)
What's Out
Copper
While I was thrilled when copper first emerged a few years ago, I'm happy to see it go, in favour of brass and gold, which despite what some are saying are still very much in if you ask me.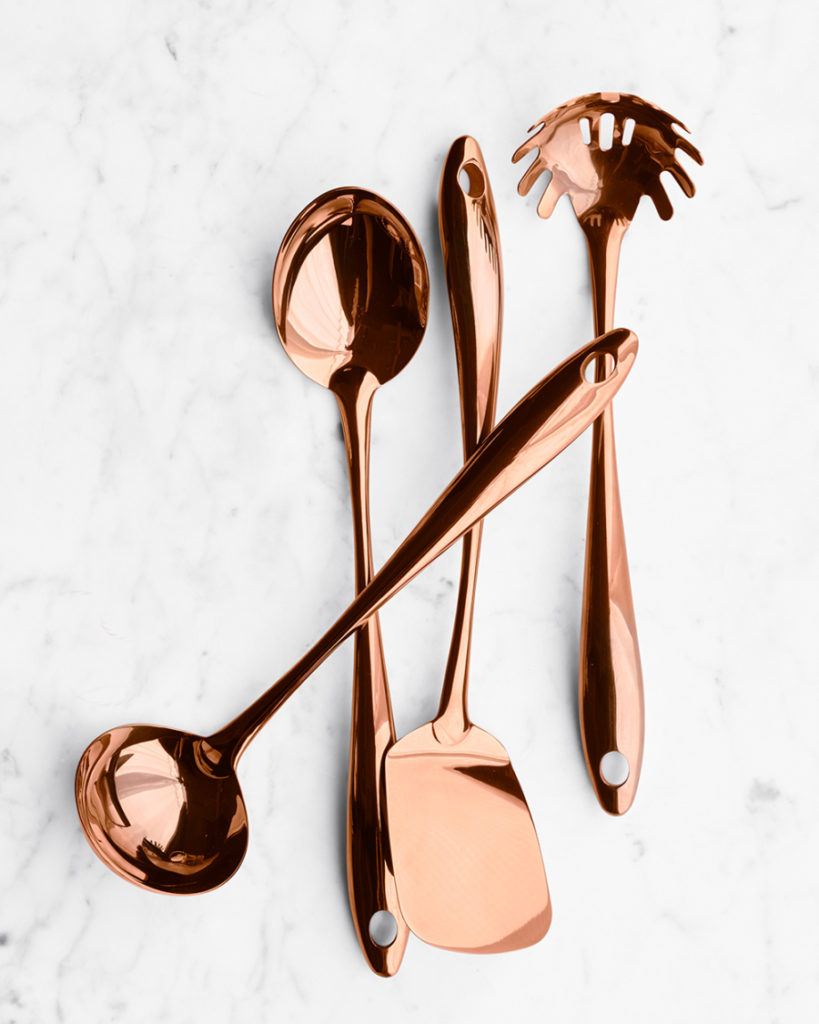 (Source: Williams Sonoma)
Fiddle Leaf Figs
Truth be told I didnt' even have a chance to participate in this trend, personally or with clients. Hearing too many struggles to keep them alive, kept me from even attempting. I can kill a cactus after all. Perhaps I'll give the Olive Tree, which is said to be replacing the Fiddle Leaf Fig and much easier to take care of.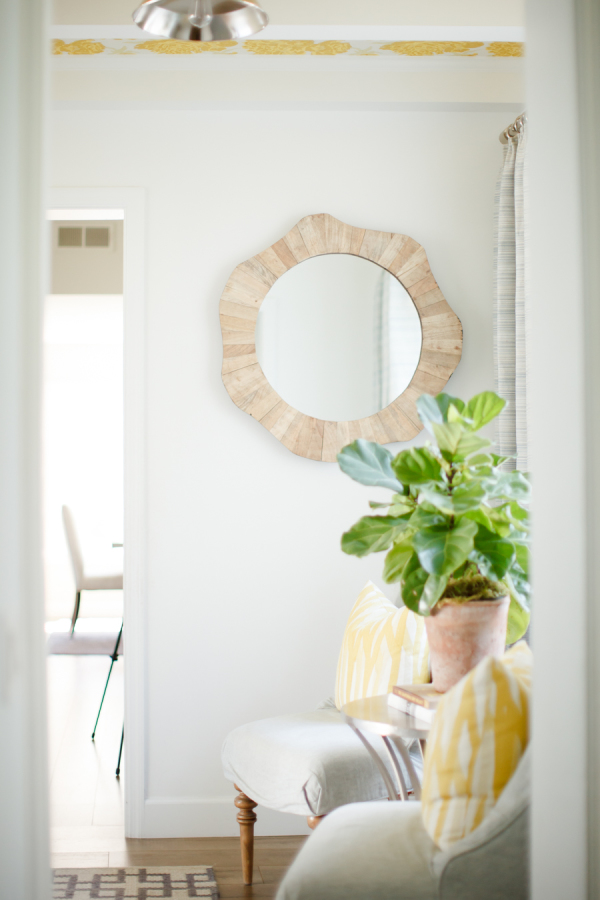 (Designer: Brooke Wagner; Photography: Ashlee Raubach; Via: Style Me Pretty Living)
Chevron
It is time to say good-bye to Chevron, in all forms. It was a great geometric print, but as the esthetic shifts to a more traditional feel, so too do prints, think florals, butterflies, and birds.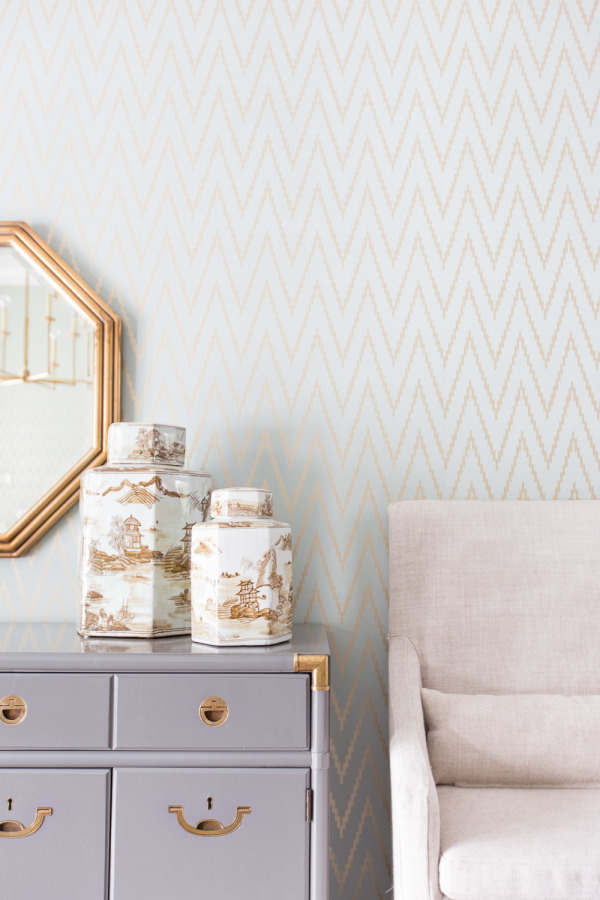 (Designer: Alexis Bednyak; Photographer: Alyssa Rosenheck; Via: Style Me Pretty Living)
Oversized Furniture
This one has me jumping for joy! Finally! A large space doesn't require large scale furniture, a far more intimate and cozy space can be created with smaller pieces grouped together well. One of my favorite things to do!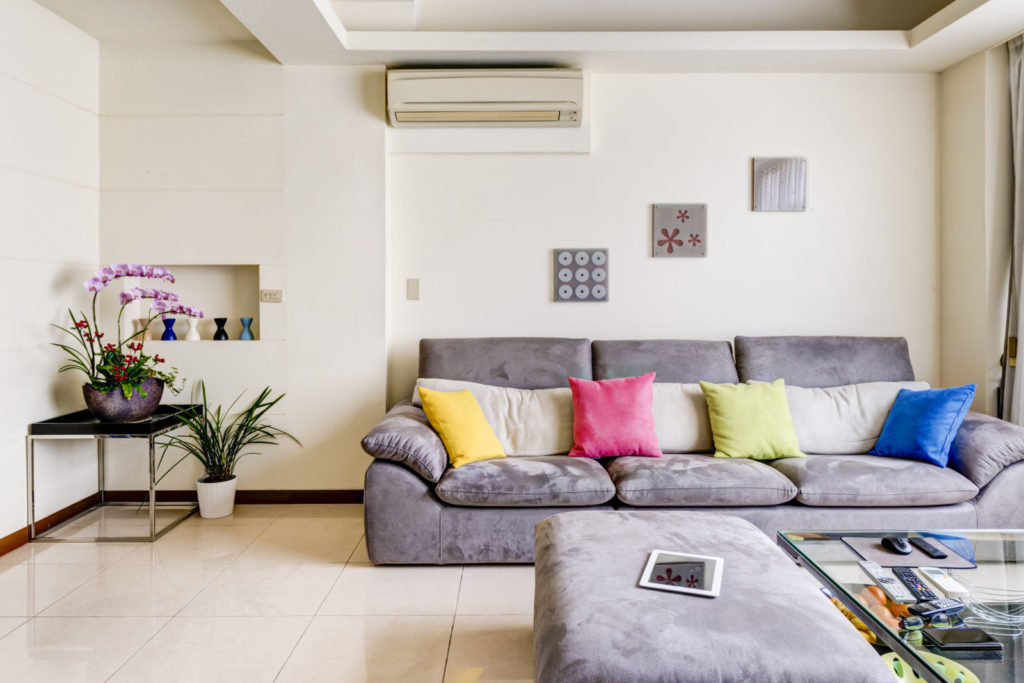 (Designer: Leren Lu; Photography: Getty Images; Via: House Beautiful)
So there you have it, this year's trend report. What do you think? Is there a trend you're excited about? Could do without? I'd love to know in the comments below.