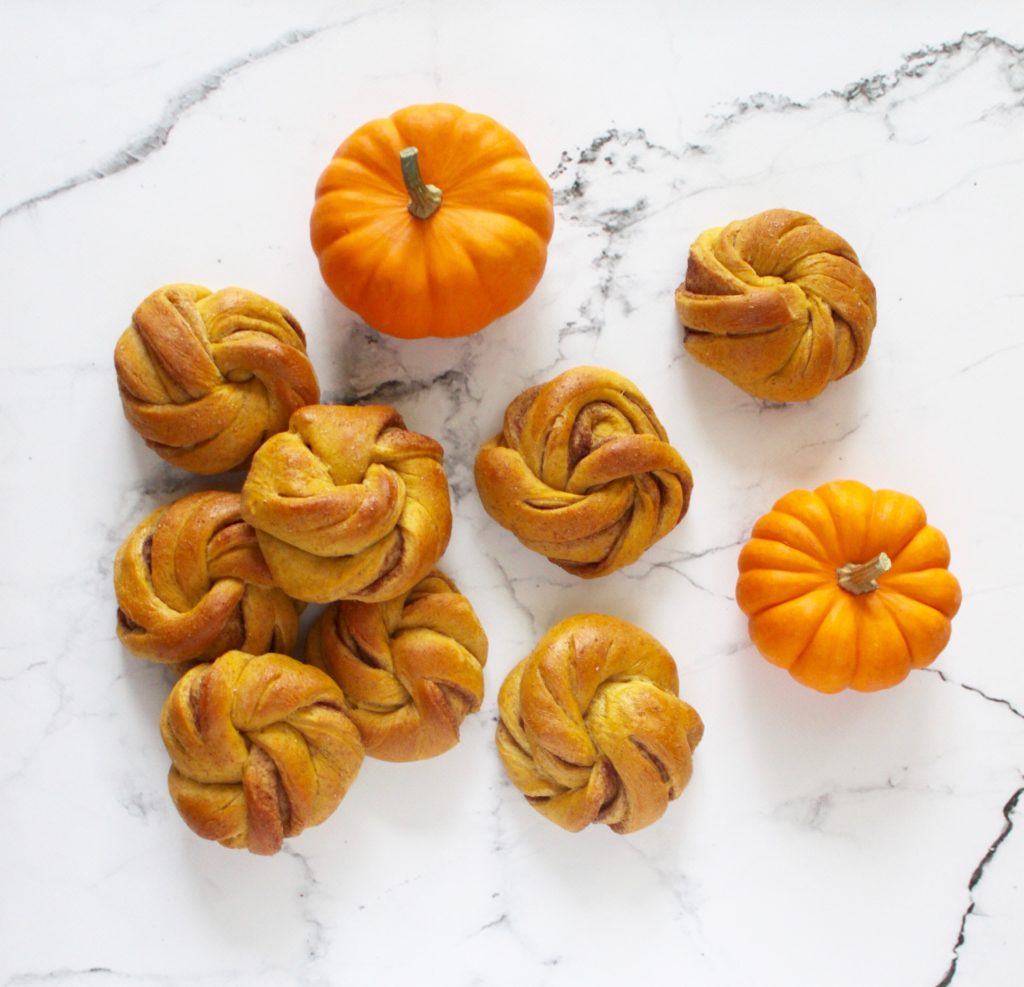 Is there anything more comforting than cinnamon buns and a fresh cup of coffee in the morning?  How about Pumpkin Cinnamon Knots? Similar to cinnamon buns, but with a pumpkin twist.   These soft pillowy clouds, aren't just tasty pumpkin delights, they look like little pumpkins too!  Which is precisely why I had to make them.
Best fresh out of the oven, topped with a little butter and paired with your favorite cup of coffee or tea.  The recipe is a bit involved, but it is so worth it!  Don't be intimidated by the cutting and twisting, it's actually a lot of fun and easy to do!  Enjoy!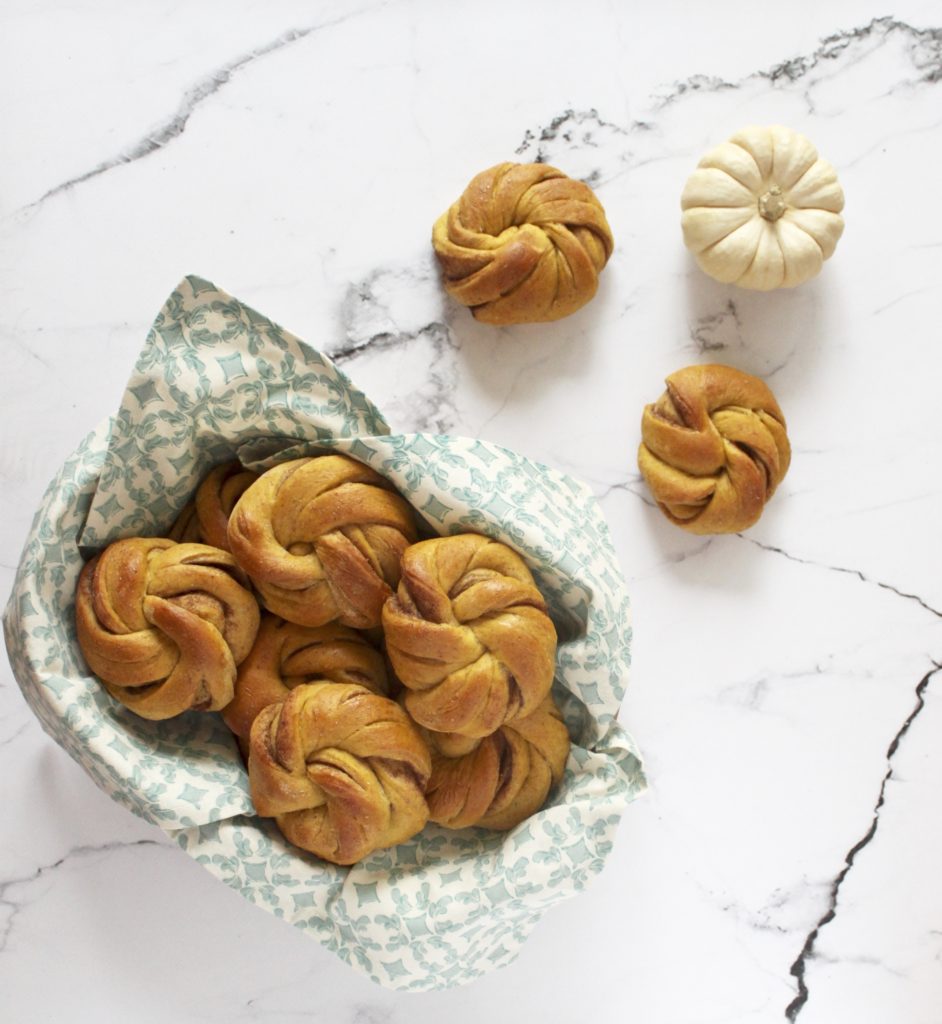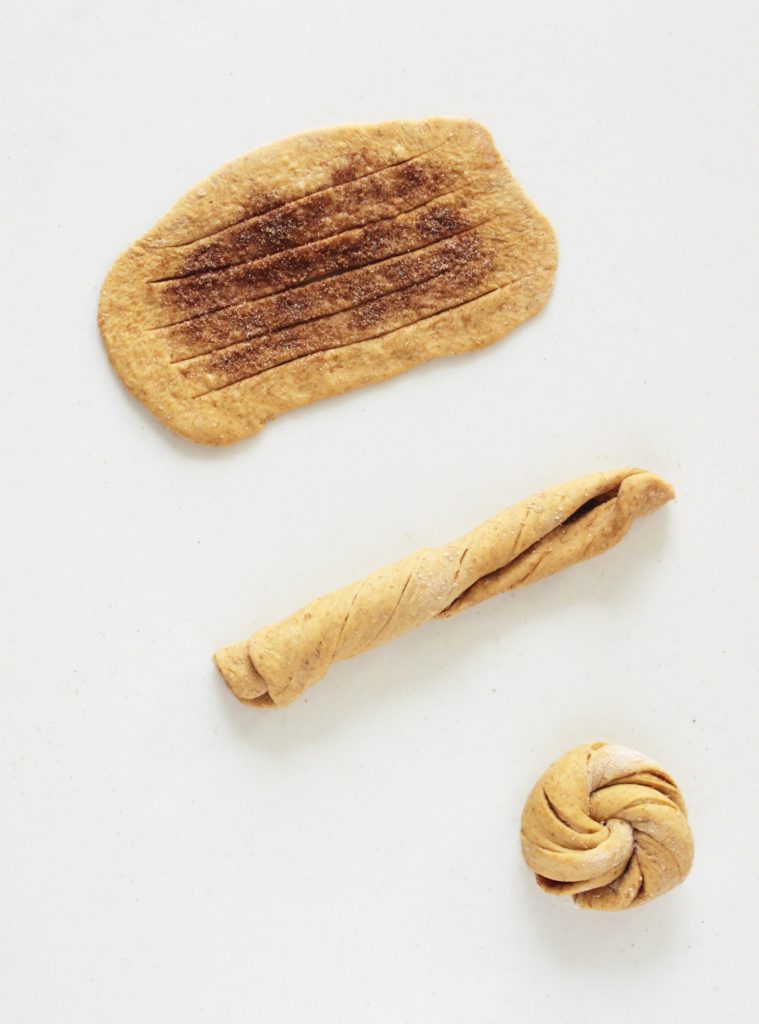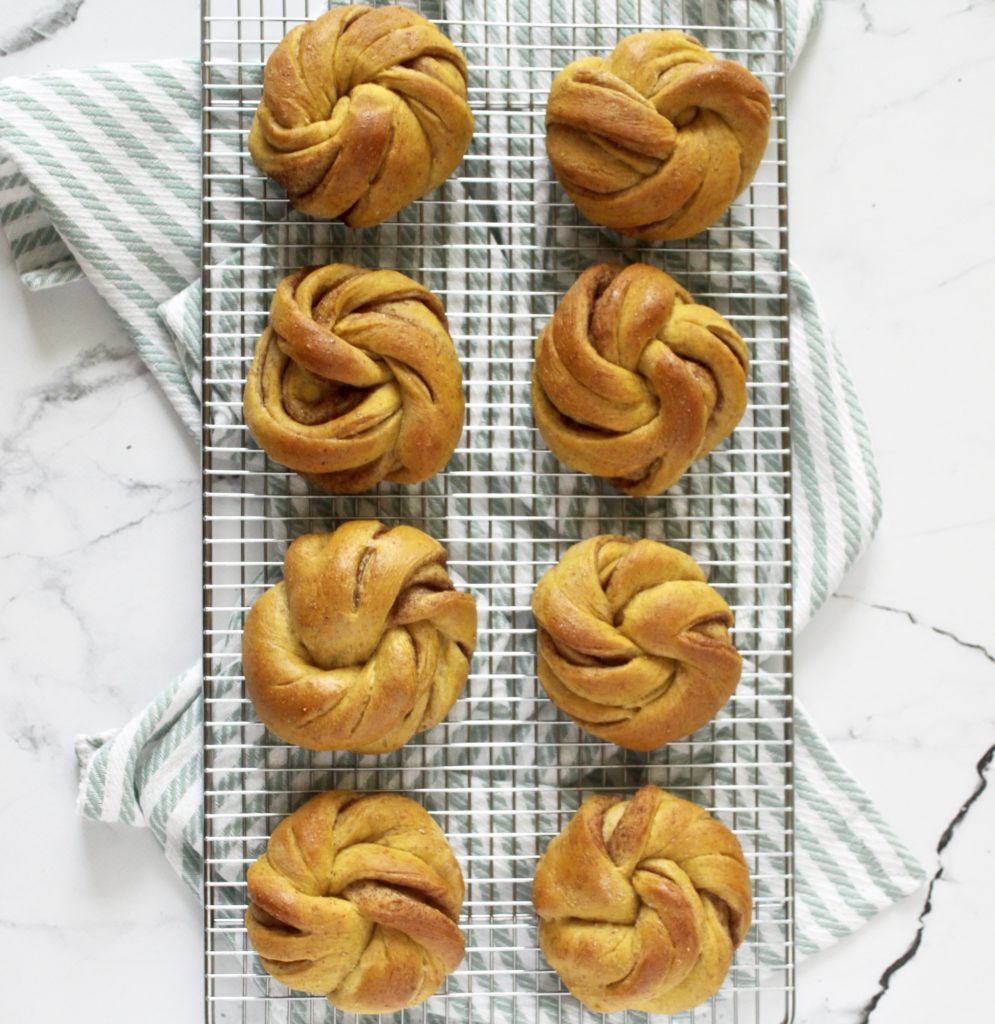 Ingredients
Dough
¼ cup warm water
1 teaspoon sugar
2¼ teaspoons active dry yeast
6 tablespoons butter
½ cup milk, warmed
1 large egg
¼ cup packed brown sugar
¼ cup granulated sugar
¼ teaspoon freshly grated nutmeg
¼ teaspoon ground ginger
1 teaspoon ground cinnamon
1 teaspoon salt
⅔ cup pumpkin puree
1 cup whole wheat flour
2½ cups all-purpose flour, plus extra for kneading and rolling
Oil
Filling
1 tablespoon butter, melted and cooled
3 tablespoons granulated sugar
3 tablespoons brown sugar
1 teaspoon cinnamon
¼ teaspoon freshly grated nutmeg
1 egg beaten with a splash of water for brushing on top
Directions
Mix warm water and sugar in a small bowl or cup. Sprinkle yeast on top and mix with a fork. Set aside to proof for 10 minutes.
In the meantime, mix together butter, milk, egg, both sugars, nutmeg, ginger, cinnamon, salt and pumpkin puree in a large bowl until thoroughly combined. Stir in the proofed yeast. Slowly add flour, ½ cup at a time until a shaggy dough forms. Dump out on a floured work surface and knead for 8-10 minutes, adding a small amount of flour as needed, until a smooth and elastic dough forms. Place the dough in a warm, greased bowl and cover with plastic wrap and a damp towel. Set aside to rise for 1-1.5 hours or until the dough has doubled in size. Punch down the dough and shape into a ball again for a second rise.
After the second rise, knead the dough a few times and divide into 16 even pieces. Shape these pieces into small balls and cover loosely with a damp towel to prevent them from drying out. For the filling, mix both sugars, cinnamon and nutmeg in a small bowl.
Take one dough ball and roll in into an oblong oval. Brush with melted butter and sprinkle with the filling mixture. Using a sharp knife, make 6-8 vertical within the dough, being careful not to cut the dough into strips. Take the top and bottom and roll inwards on a diagonal until the dough meets in the middle. Continue to twist inwards, following the natural curve of the dough and tie into a knot, tucking both ends on the bottom. Place on a lined baking sheet. Continue with the rest of the dough.
Set aside in a warm place for a third rise, about 30-45 minutes.
Preheat oven to 350ºF. Brush the top of each with egg wash. Bake for 15-18 minutes or until the buns are golden brown on top.
Best eaten warm out of the oven or set to cool on a wire rack.
Recipe adapted from http://kneadbakecook.com