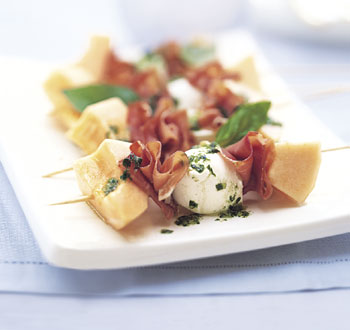 Prosciutto and melon was probably my favorite appetizer in Italy – the perfect mix of salty and sweet, protein and carbs.
These skewers are a divine taste of Italy in every bite.
Recipe from epicurious.com
Ingredients
1/2 cup olive oil
1/3 cup (packed) fresh basil leaves
1 medium shallot, quartered
1 small (about 2-pound) cantaloupe, halved crosswise, seeded, cut into 6 wedges, peeled
6 small fresh water-packed mozzarella balls or one 8-ounce ball, drained
6 thin slices prosciutto, cut in half lengthwise, gathered into ruffle
6 8-inch wooden skewers
Directions
Using on/off turns, puree olive oil, 1/3 cup basil, and shallot in processor until basil and shallot are finely chopped.
Cut each cantaloupe wedge crosswise in half. If using large mozzarella ball, trim and cut into 6 cubes. Alternate 1 melon piece, 1 piece ruffled prosciutto, 1 mozzarella ball or cube, 1 more prosciutto piece, and 1 more melon piece on each skewer. (Can be prepared 2 hours ahead; cover and refrigerate. Bring to room temperature 15 minutes before serving.)
Arrange skewers on platter. Drizzle with basil oil and sprinkle with cracked black pepper and enjoy!