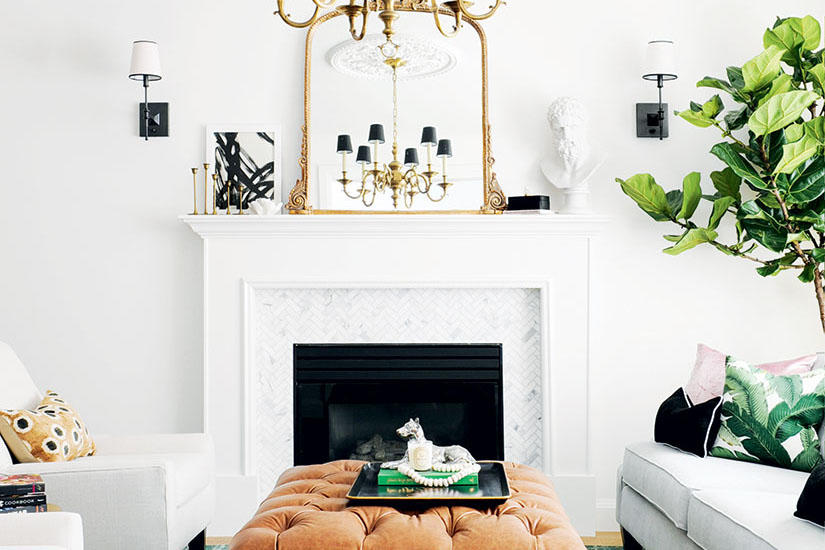 Do you ever put off tackling a design project because your esthetic differs so greatly from your partners? This week's addition to my Inspired Interiors series address that dilemna in the most beautiful of ways. Designer Chrissy Cottrell of Chrissy & Co. Design Savvy brought a husband and wife style together in a way that required no compromises. One look at this space you'll understand … what could there possibly be to argue about?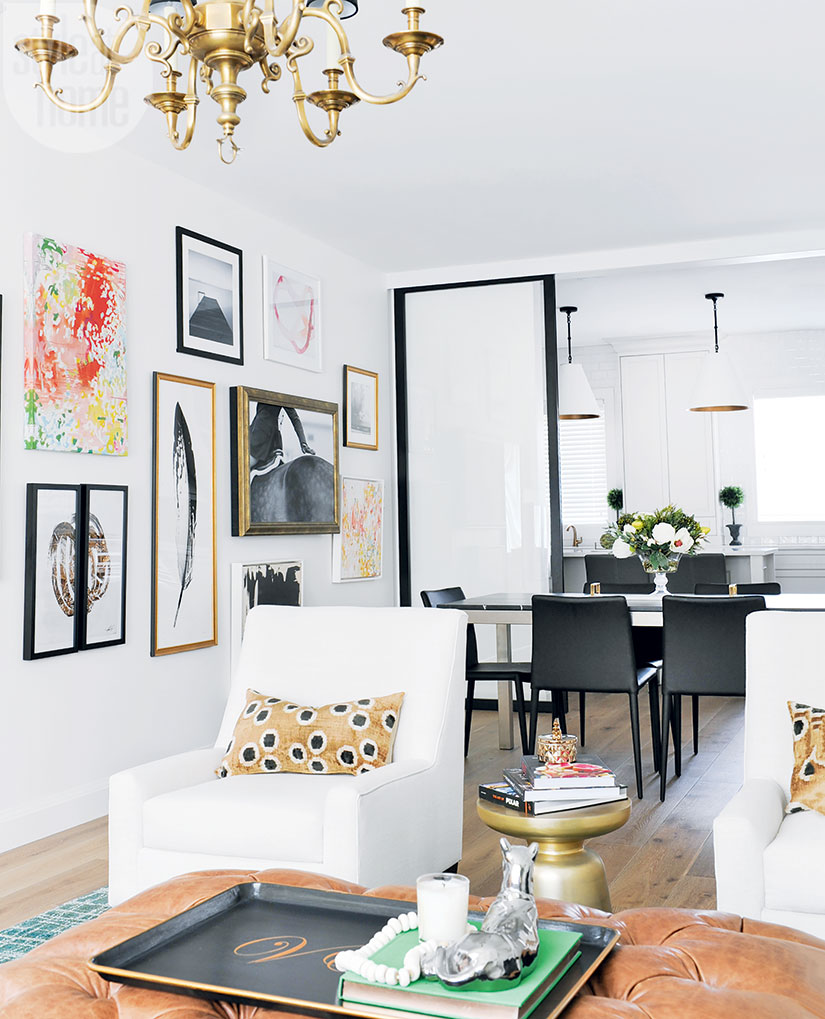 Chrissy transformed the dated, fragmented layout into an open concept beauty, maximizing space and light. She married the wife's traditional style sense with the husband's fondness of modern design in a kid-friendly and eclectic transitional style.
The house appears balanced and organized while juxtaposing old and new, masculine and feminine, and sleek and ornate. For example, a gorgeous Dutch-style chandelier and ornate gilded mirror offset contemporary furnishings in the living space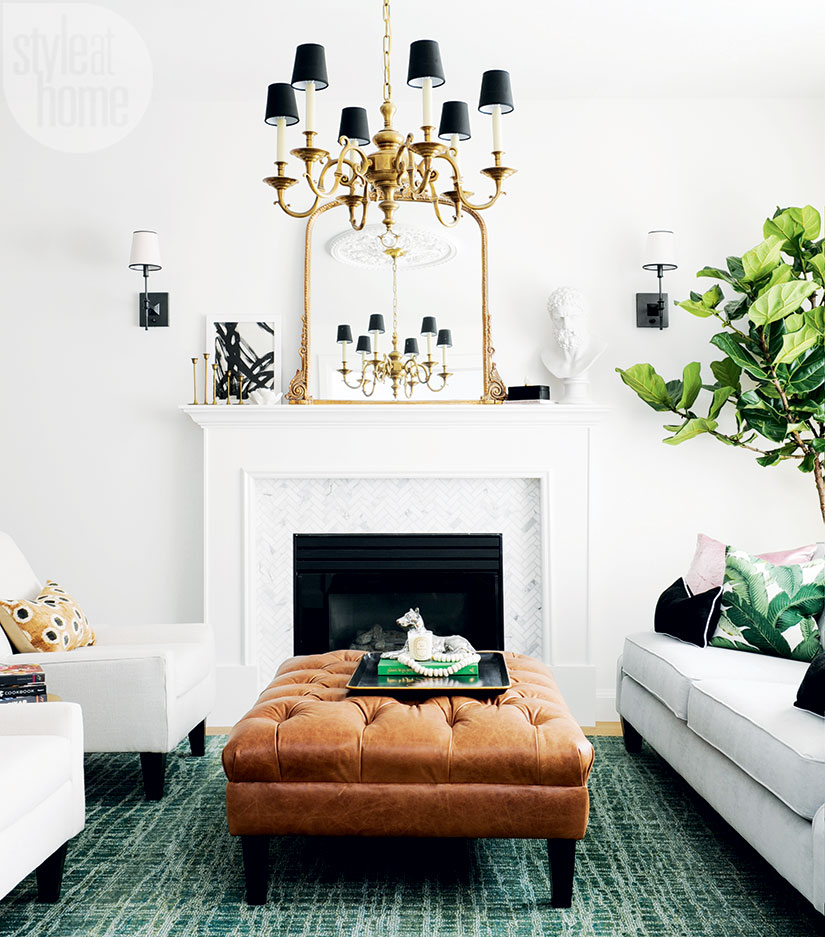 By tearing down the wall between the kitchen and living room Chrissy was able to double the size of the kitchen while increasing it's functionality and brightening up the entire main floor. If you're looking to renovate your kitchen, have a look at these kitchen makers melbourne, who are the exclusive distributor for CucineLube. They have many different styles that can blend in with the feel you want in your home. There is no shortage of character in the home with stunning architectural elements like wire-brushed French white oak floors, fireplaces with marble surrounds and substantial built-ins. Pops of colour help to liven up the crisp white and contrasting neutral palette.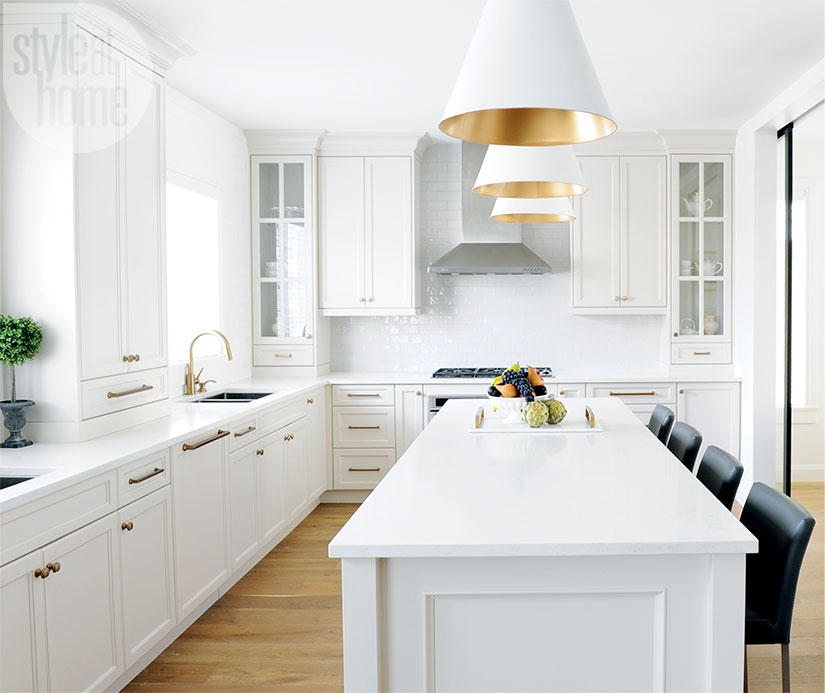 Hand-pressed ceramic subway tiles cover the kitchen walls. With a rippled, slightly imperfect look, they provide intriguing texture and a bit of sparkle. "They have this organic feel to them and subtly reflect the light," says Chrissy.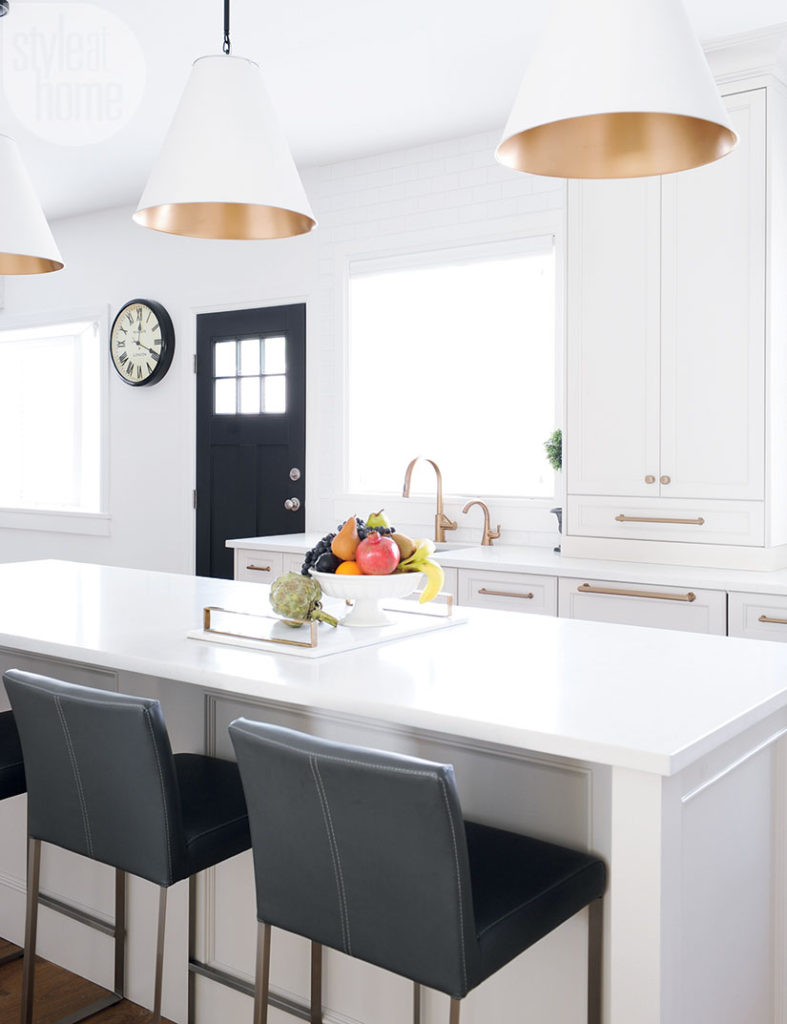 In the family area, a very masculine brown leather sofa is paired with a set of smaller-scaled Louis XVI-inspired armchairs, to create a cozy and inviting space. The gas fireplace was given a facelift with a surround made of 12-by- 24-inch Calacatta marble tiles. "They nicely offset the built-ins, so the wall doesn't feel too dark," says the designer.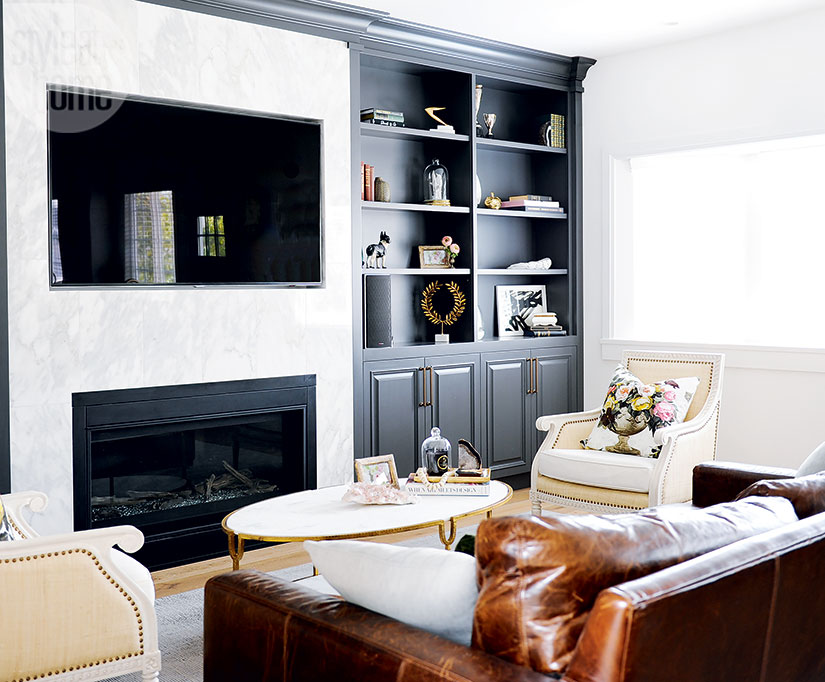 To distinguish the living area from the kitchen Chrissy painted the built-ins in a beautiful charcoal – which she says is more practical than black, since black shows too much dust. #designertip 😉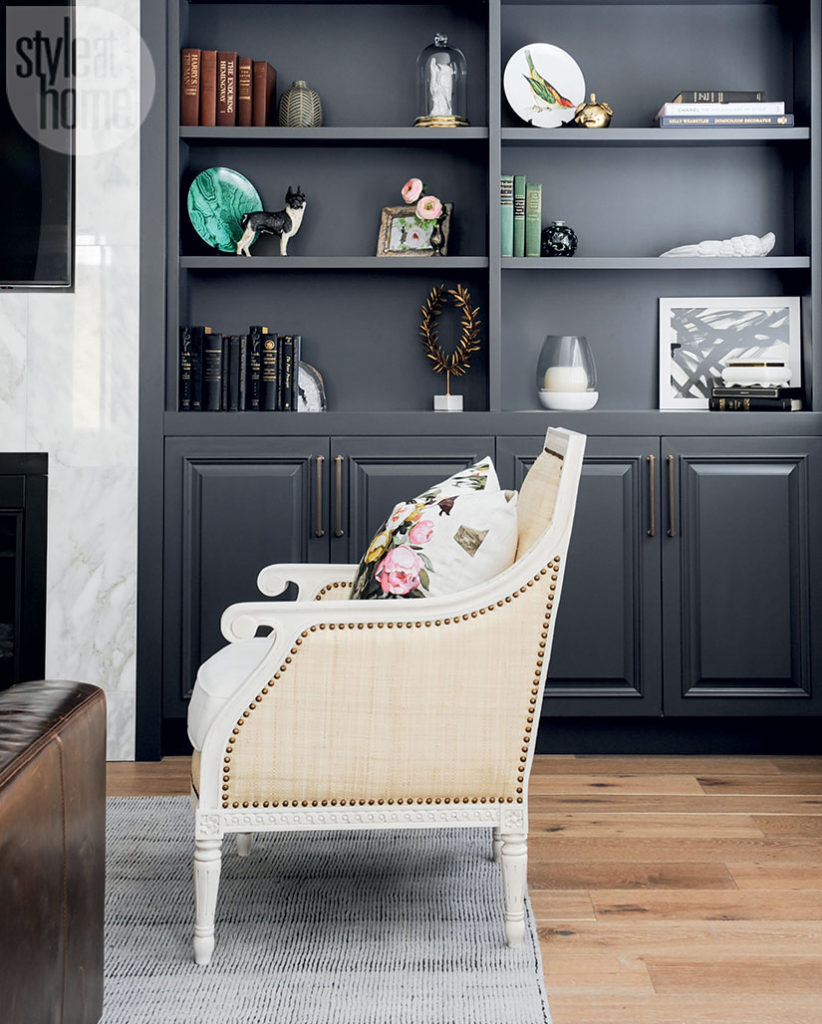 She did however paint the entire powder room black, including the ceiling, saying that 'If you paint a ceiling white in a black room, the eye goes straight to the ceiling before noticing how striking the space is.' Striking indeed with luxurious elements like the marble-look floor and brass-toned faucet. Although, many people choose to hang items from their ceiling to draw the eye to the brightest area in the room. For example, materials such as varia ecoresin can be used to create stunning interior design items that complete a room and make the ceiling more of a statement. These shapes are often formed by heat to create shapes that inspire the rest of the room, so they are a popular choice for those who are really into their interior design.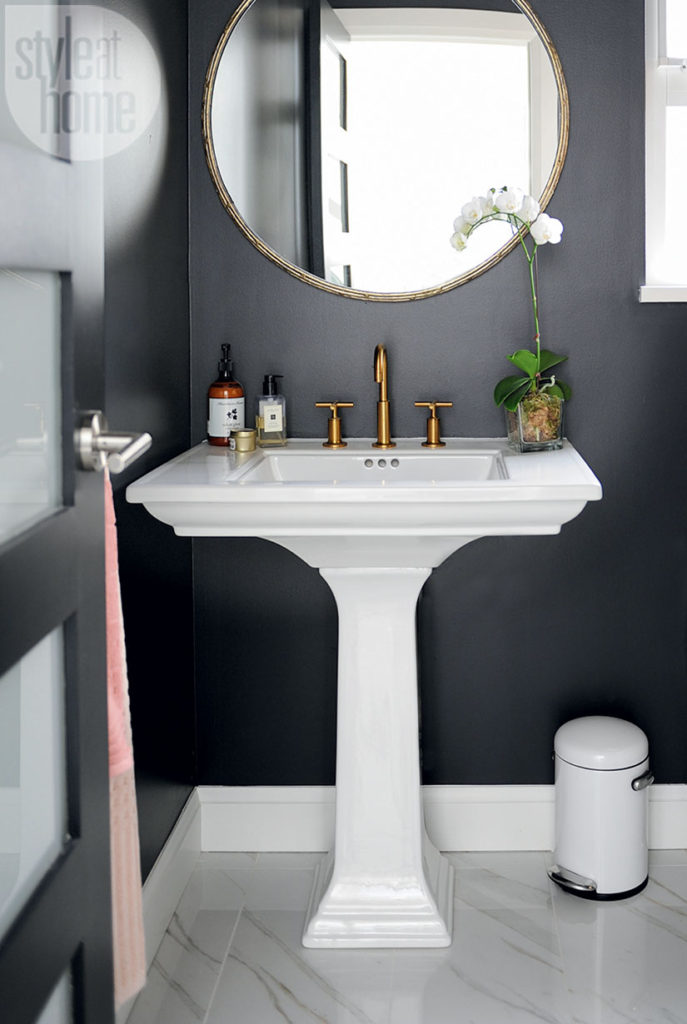 Get the Look
---
Designer: Chrissy Cottrell of Chrissy & Co. Design Savvy; Photographer: Tracey Ayton; Via Style at Home