Despite the incredibly elegant appearance of this cake, it is deceptively easy!  The perfect alternative to the typical pumpkin flavours of fall.  Your friends and family will love this scrumptious spiced slice of heaven in this!
The light dusting of icing sugar reminds me of the first snow fall that is always oh so beautiful.  And the subtle spice is perfect to warm up with as the days become cooler.  This cake pairs beautifully with ice cream, coffee or a gorgeous glass of red wine.  Enjoy!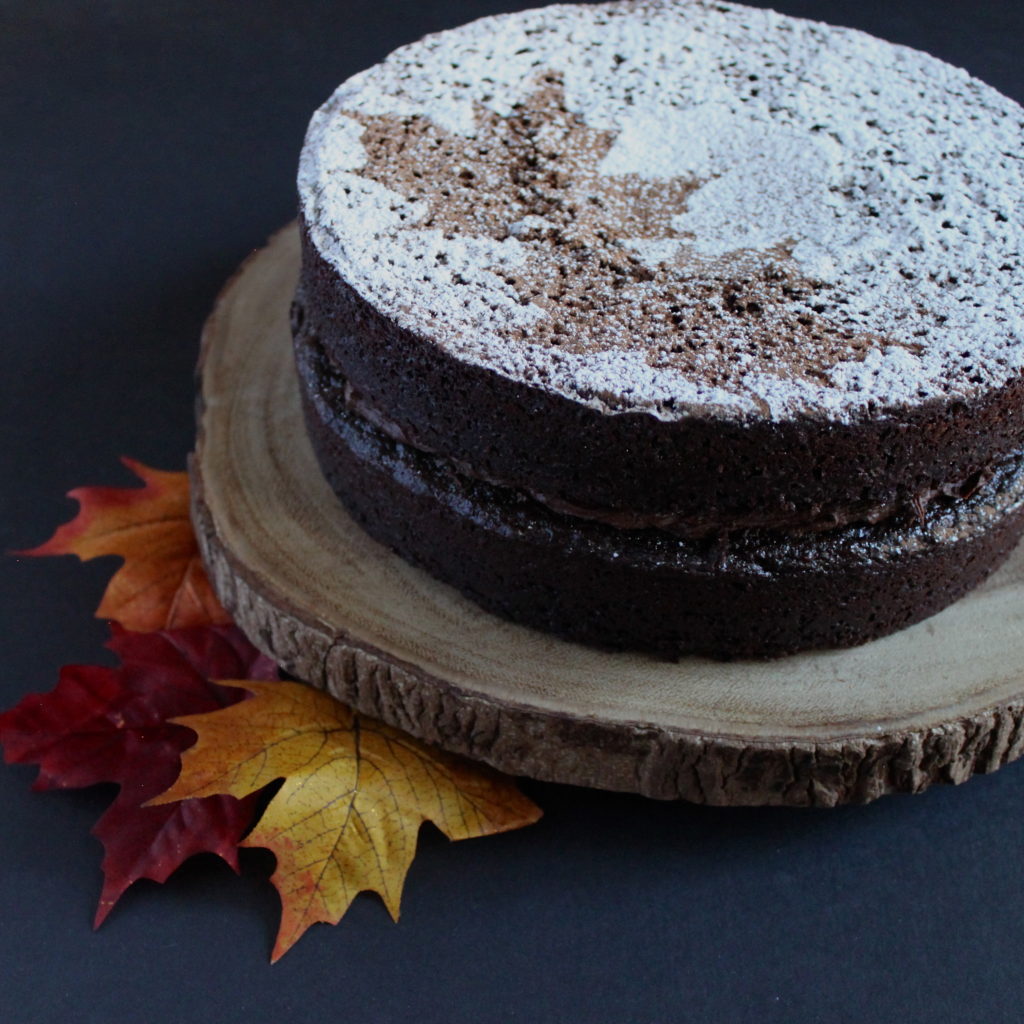 Cake
Ingredients
2 cups sugar
1 3/4 cups cake flour
1 cup unsweetened cocoa
1/2  tbsp. baking powder
1/2 tbsp. baking soda
1 tsp. salt
2 eggs
1 cup milk
1/2 cup vegetable oil
1/2 tbsp. vanilla
1 cup boiling, strong black coffee
Directions
Heat oven to 320 degrees F.
Lightly butter the bottom and sides of two 9″ cake pans. Trace the bottoms of the cake pans onto parchment paper and cut out parchment paper circles to place into the bottoms of the pans. This will allow you to easily remove your cakes from the pans. Dust the buttered sides of the cake pans with cocoa powder instead of flour and  set aside.
Combine dry ingredients in a large bowl. Add eggs, milk, oil and vanilla, beating on medium speed for 2 minutes. Gently and thoroughly stir in the hot coffee. The batter will be thin. Pour cake batter into pans.
Bake your cakes at 320 degrees for about 20 minutes, and then turn the temperature up to 350 degrees. Bake another 10-15 minutes or until wooden toothpick comes out clean. Cool completely.
Icing
Ingredients
1/2 stick butter
1/2 cup cocoa powder
1 1/2 cups powdered sugar
1/3 cup milk
1 tsp. vanilla
1/2 tsp. cinnamon
1/2 tsp. nutmeg
Soften butter and beat in cocoa powder. Alternately add in powdered sugar and milk, beating until smooth. Do not over beat or your frosting will get a foamy, whipped consistency. Stir in vanilla, cinnamon and nutmeg.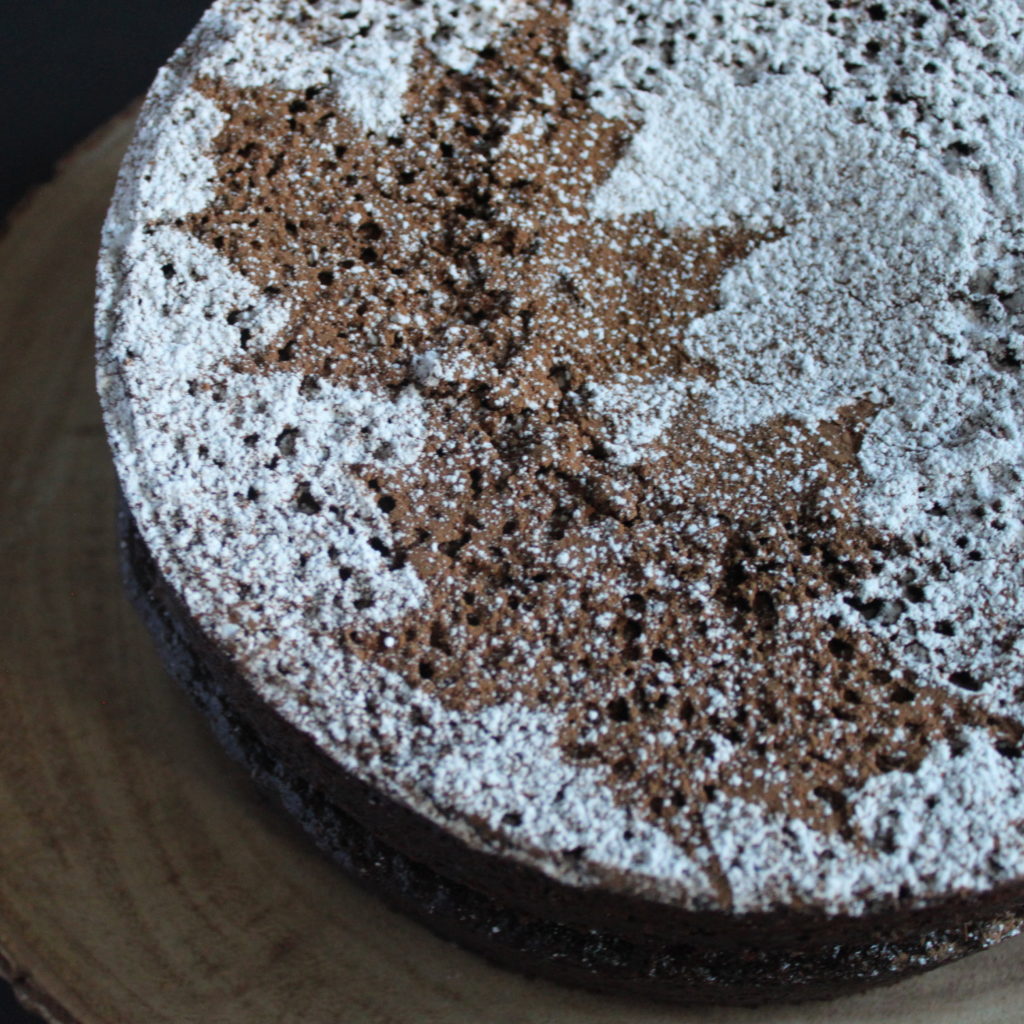 Construction
Once your cakes have completely cooled, use a butter knife to loosen the edges from the cake pans. Invert the pans on a wire cooling rack or piece of parchment paper. Remove the parchment paper circles from the bottoms of the cake layers.
Put your first cake layer onto your cake stand. Spread frosting over the top and then pipe a "dam" of frosting all the way around the top edge. If you don't have a way to pipe the frosting, simply spread it on thicker around the edges.  Top with the second cake.
Sift cocoa powder over the top of the cake. Arrange clean, non-poisonous leaves over the cocoa powder, and then sift powdered sugar over the top until all of the cocoa powder and leaves are covered. Carefully remove the leaves and lightly sift a bit more powdered sugar over the leaf impressions to give it that frosty look.
Recipe adapted from oldworldlivingblog.com