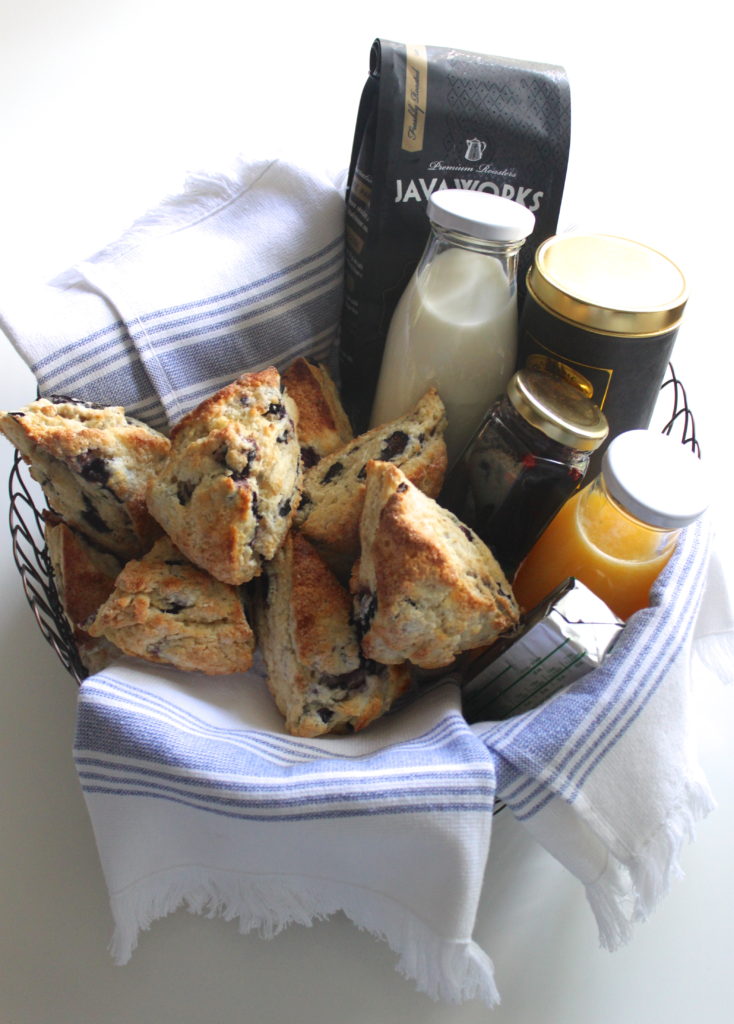 One of my joys in life is entertaining and being entertained – I love the getting together with friends and family, sharing stories and memories, while making new ones. When heading out to a dinner party, I always like to bring the host a gift, I'm not sure if you're like me, but I often find yourself scrambling to pick something up and then when I can't come up with something unique or thoughtful and relent to wine or flowers, disappointment often ensues.
In an effort to avoid all of that I've I've curated a few of my favorite hostess gifts here and decided to have some of them on hand, so that I'm always prepared. I know your host is sure to love these and feel utterly appreciated and adored.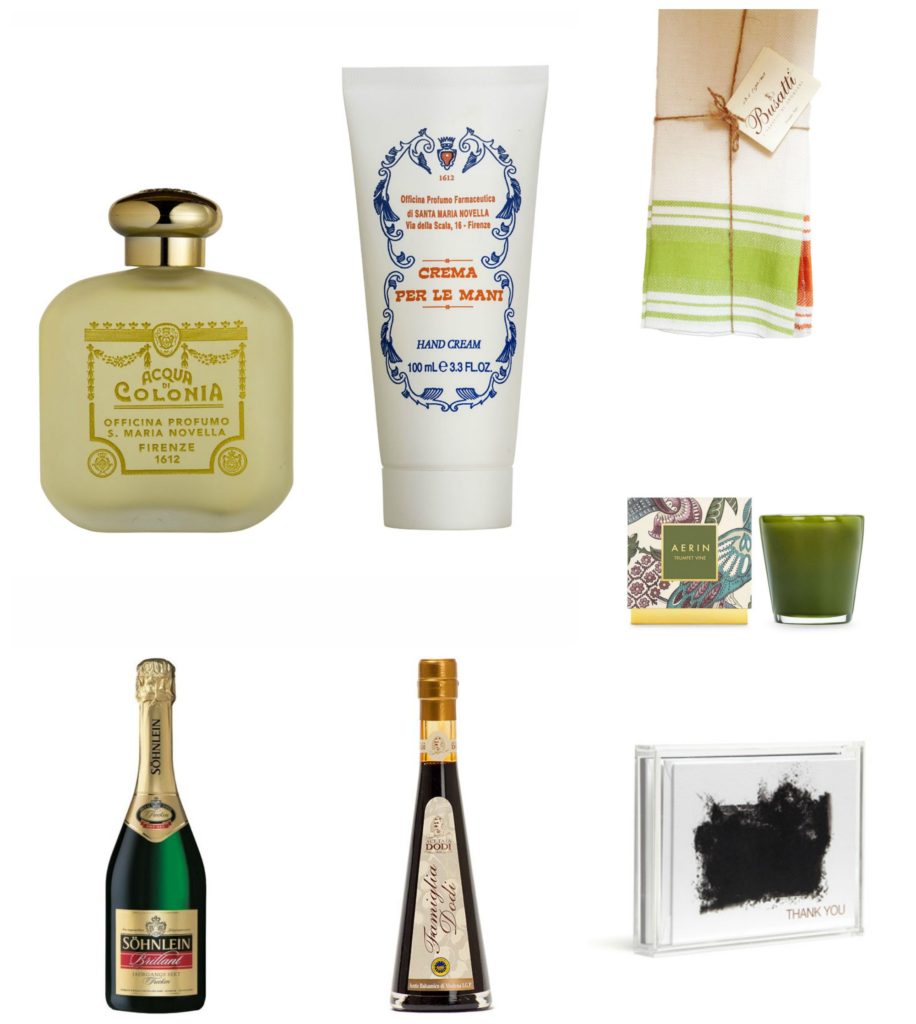 Santa Maria Novella Bath Products
First founded in 1221 in Florence Italy, Dominican Friars began by making herbal remedies and potions to use in the monastery. His products grew in popularity and became world-renowned so that the pharmacy, sponsored by the Grand Duke of Tuscany, opened to the public in 1612. Santa Maria Novella products are made by hand and according to age-old recipes and artisan methods in their factory in Florence. I had the pleasure of visiting this amazing pharmacy, while in Florence in April and brought back as many creams and lotions as I could! Their products are gorgeous, any host (men and women!) would love to receive them. They can be found at Modern Duke here in Calgary or online.
Busatti Linens
There is no shortage of things to fall in love with about Italy – the breathtaking landscapes, the divine food, and the incredible craftsmanship of clothing and home goods. While I didn't discover Bussati Linens in Italy, I came across it here in Calgary upon my return, they symbolize all that is Italian made – beautiful, steeped in history and culture and impeccable quality. This Tuscan company draws on nearly two hundred years of experience to create some of the most beautiful and soft home textiles you can imagine. What host wouldn't love receiving a set of Bussati Tea Towels. They're available at Inspirati here Calgary or online.
Aerin Lauder Candles
Aerin Lauder the grand-daughter of the infamous Estee Lauder has created a beautiful lifestyle line that includes home decor, makeup and fragrances. A particularly lovely gift for a host is one of the Aerin Lauder Candles that mimic the scents of her gorgeous perfumes – fragrances like Trumpet Vine, Wild Mulberry, and Fireside and Fir, you're sure to find the perfect one for your host. The packaging for these candles is so lovely, that no gift wrapping is required, bonus! Aerin Lauder Candles can be found at Modern Duke here in Calgary or online.
Well-Received Stationary
Beautiful stationary is definitely one of my favorite things and I especially love handwritten notes. The beautiful stationary from Well-Received Stationary is like works of art – card with abstract designs or those that mimic marble, wood, or textured leather – they are extraordinary.
Famiglia Dodi Balsamic Vinegar
Still inspired by Italy, as if that could ever end, another favorite hostess gift of mine is Famiglia Dodi Balsamic Vinegar. The story of this enticing balsamic vinegar is one that once again involves history – a secret recipe shared among generations of the Dodi family. Although unique in flavour, these balsamic vinegars are easy to use, depending on the variety they pare beautifully with cheese or work wonderfully in salad dressing – something a foodie host will definitely appreciate. Check out your local Italian market to pick some up, in Calgary they are available at the Italian Centre Shop.
Sekt
Anyone who knows me knows I love Prosecco, and it's certainly been a gift I've relied on in the past. But I recently discovered Sekt, a German sparkling wine that is not only an unexpected alternative to Prosecco and Cava, but a great conversation piece. To provide an even bigger wow factor, you can create personalized wine labels at GrogTag and put them on the bottle. Not only are you bringing a unique gift, you're bringing a bespoke one too! Your host will love that it's personalized as it shows that you've put thought into the gift. Bring this along and you'll be sure to expand everyone's palette with German bubbles while getting the party started.
Or if you're like me and the thought of making a hostess gift excites you, here are two of my favorites: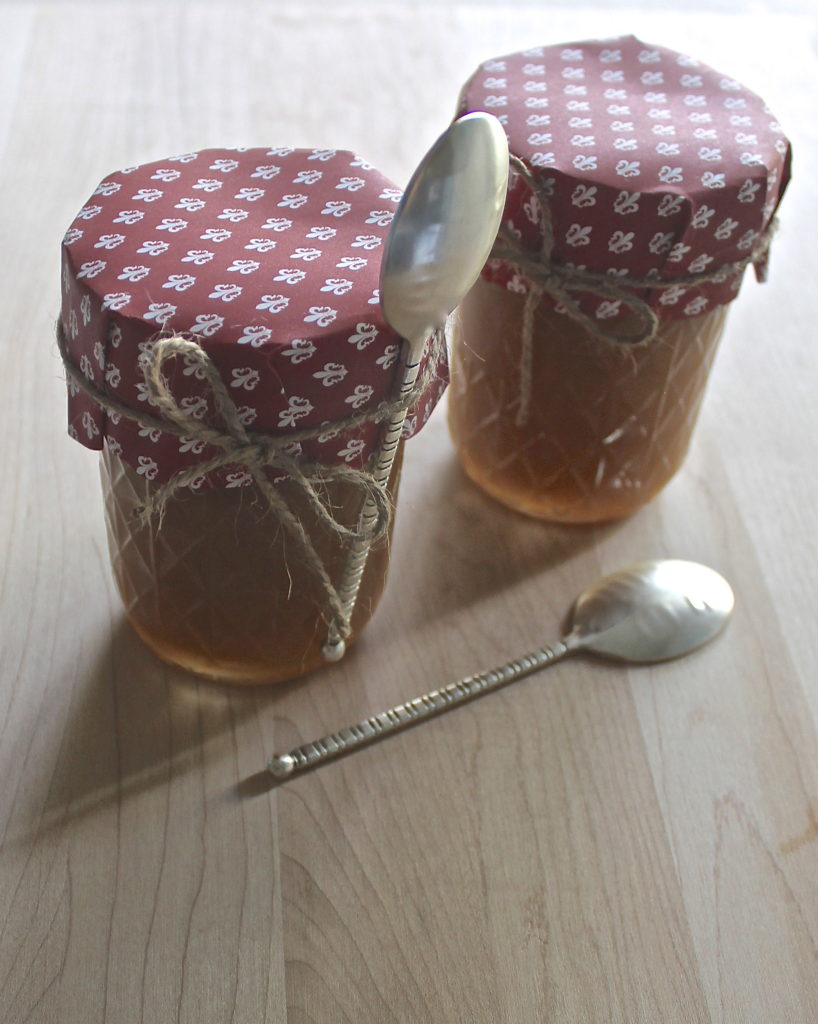 Caramel Bourbon Vanilla Sauce
Decadent and delicious this sauce is great over fruit, scones or let's be honest – straight out of the jar!
Ingredients
2 cups sugar
1 cup heavy cream
1 vanilla bean, split in half lengthwise
2 teaspoons freshly squeezed lemon juice
2 tablespoons unsalted butter
1 tablespoon bourbon
Directions
Combine sugar and 1/2 cup water in a 2-quart saucepan set over medium heat. Without stirring, cook mixture until dark amber in color, swirling the pan carefully while cooking, about 20 minutes.
Reduce the heat to low. Slowly add cream, stirring with a wooden spoon. Scrape the vanilla seeds into the pan, and add the pod. Add lemon juice, butter, and bourbon. Stir to combine.
Cover, and store, refrigerated, up to 1 week. Bring sauce to room temperature, or warm over low heat, before using.
Good Morning Basket
I absolutely love this idea – breakfast is often the last thing on your host's mind when she's planning a night of entertaining. So why not put together a basket full everything she may need to have a relaxing breakfast. Line a basket with tea towels and fill with coffee, tea, milk, sugar, orange juice, scones (click here for my Buttermilk Blueberry Scone recipe), butter, and jam. All she'll have to do is find the kettle or French press to recover from the evening.