I love to bake cookies and one of my most favorite cookies to bake is Biscotti!  Not only is it divine with coffee, it's probably one of the easiest cookies to bake!
It has become a yearly tradition of mine, baking and gifting Biscotti, friends and family look forward to my batch every year!
Here's my Cranberry Almond Biscotti Recipe:
Ingredients
3 cups all-purpose flour
2 teaspoons baking powder
1/4 teaspoon salt
3/4 cup white sugar, plus 1 tablespoon for dusting
4 tablespoons unsalted butter, room temperature
3 large eggs, plus 1 egg lightly beaten for an egg wash
2 teaspoons vanilla
3/4 cup sliced almonds
3/4 cup sweetened dried cranberries
Directions
Preheat oven to 375 degrees. Line a large baking sheet with parchment paper; set aside.  Sift together flour, baking powder, and salt into a medium bowl; set aside.
In the bowl of an electric mixer fitted with the paddle attachment, beat butter and sugar on medium speed until light and fluffy, about 2 minutes. Add 3 eggs, one at a time, beating to incorporate after each addition and scraping down sides of bowl as needed. Beat in vanilla. Add flour mixture, and mix on low speed until combined. Mix in cranberries and almonds.
Turn out dough onto a lightly floured surface; divide in half. Shape each piece into a 16-by-2-inch log, and transfer to prepared baking sheet, about 3 inches apart. Slightly flatten the logs with the palm of your hand.  Brush beaten egg over surface of the logs and sprinkle with sugar.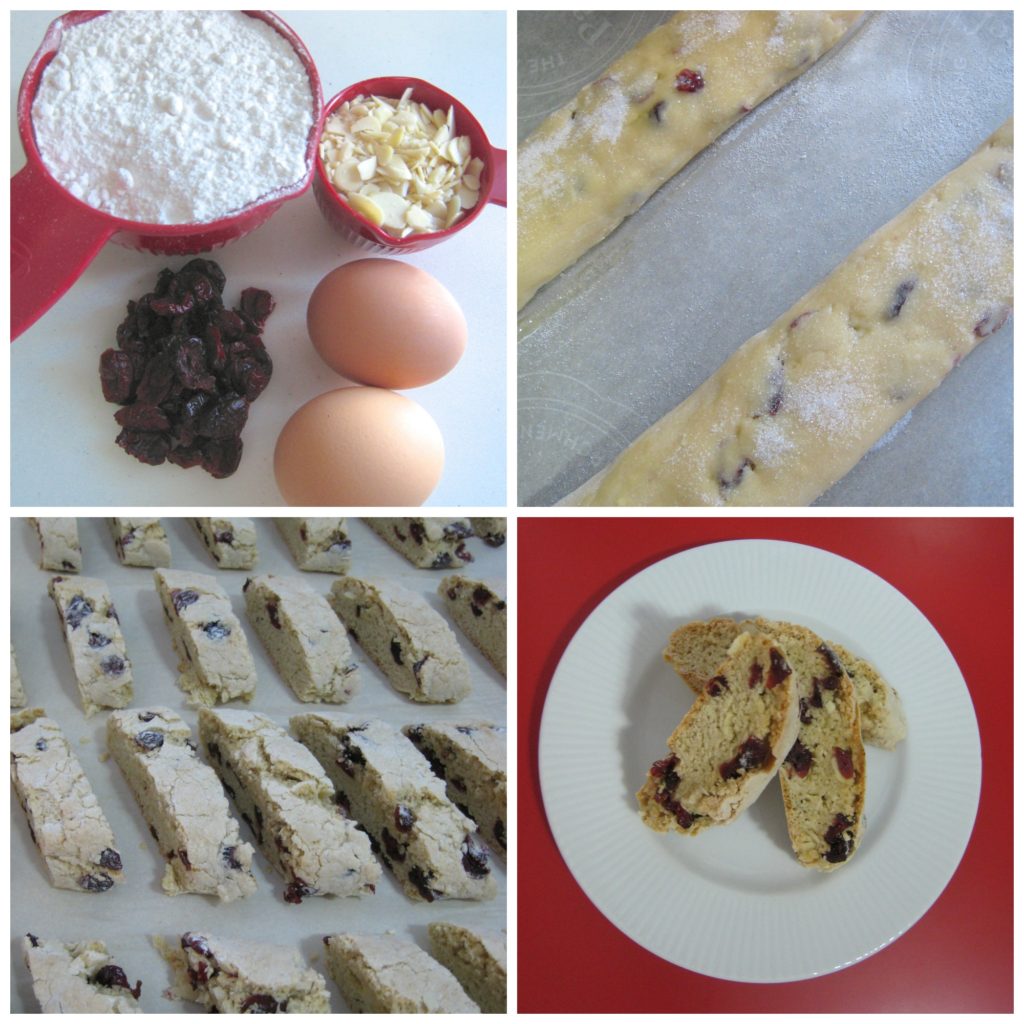 Bake, rotating sheet halfway through, until logs are slightly firm to touch, about 25 minutes. Transfer logs on parchment paper to a wire rack to cool slightly, about 20 minutes. Reduce oven temperature to 300 degrees.
Place logs on a cutting board. Using a serrated knife, cut logs crosswise on the diagonal into 1/2-inch-thick slices. Place a wire rack on a large rimmed baking sheet. Arrange slices, cut sides down, on rack. Bake until firm to touch, about 30 minutes. Remove pan from oven; let biscotti cool completely on rack. Biscotti can be kept in an airtight container at room temperature for up to 1 week or frozen (these freeze really well!)
When gifting, I love packaging the Biscotti up in fun mugs with coffee, tea or hot chocolate.  I've also mailed them to friends in other parts of the country, one of the perks of such a sturdy cookie!