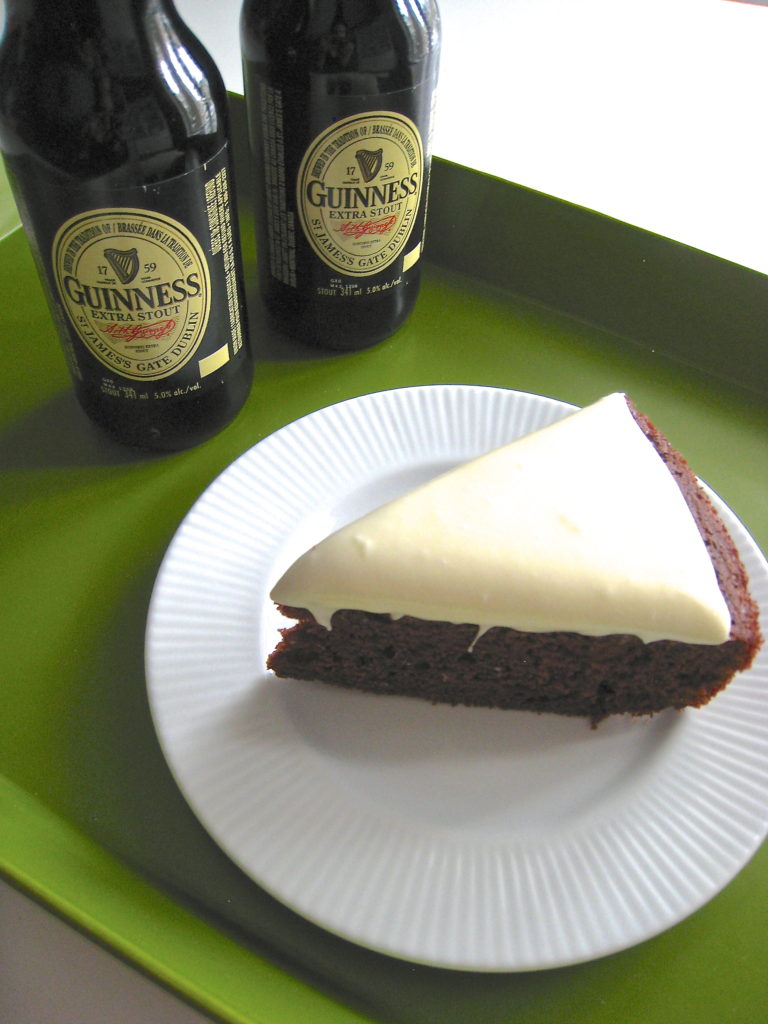 Not much of a beer drinker, my New Jersey fake ID only ever got used to buy more refined alcoholic drinks, but I could not resist trying this Chocolate Guinness Cake. It is magnificent. Although you can't taste the stout per se, it certainly does give the cake a slight bitterness and it's decadent nearly black colour.
Ingredients
1 cup Guinness (dark beer)
1/2 cup butter, cubed
2 cups sugar
3/4 cup baking cocoa
2 eggs, beaten
2/3 cup sour cream
3 teaspoons vanilla extract
2 cups all-purpose flour
1-1/2 teaspoons baking soda
Icing
1 package (8 ounces) cream cheese, softened
1-1/2 cups confectioners' sugar
1/2 cup heavy whipping cream
Directions
Grease a 9-inch spring-form pan and line the bottom with parchment paper; set aside.
In a small saucepan, heat beer and butter until butter is melted. Remove from the heat; whisk in sugar and cocoa until blended. Combine the eggs, sour cream and vanilla; whisk into beer mixture. Combine flour and baking soda; whisk into beer mixture until smooth. Pour batter into prepared pan.
Bake at 350° for 45-50 minutes or until a toothpick inserted near the center comes out clean. Cool completely in pan on a wire rack. Remove sides of pan.
In a large bowl, beat cream cheese until fluffy. Add confectioners' sugar and cream; beat until smooth, but be careful not to over-beat. Remove cake from the pan and place on a platter or cake stand, ice the top of cake and enjoy!