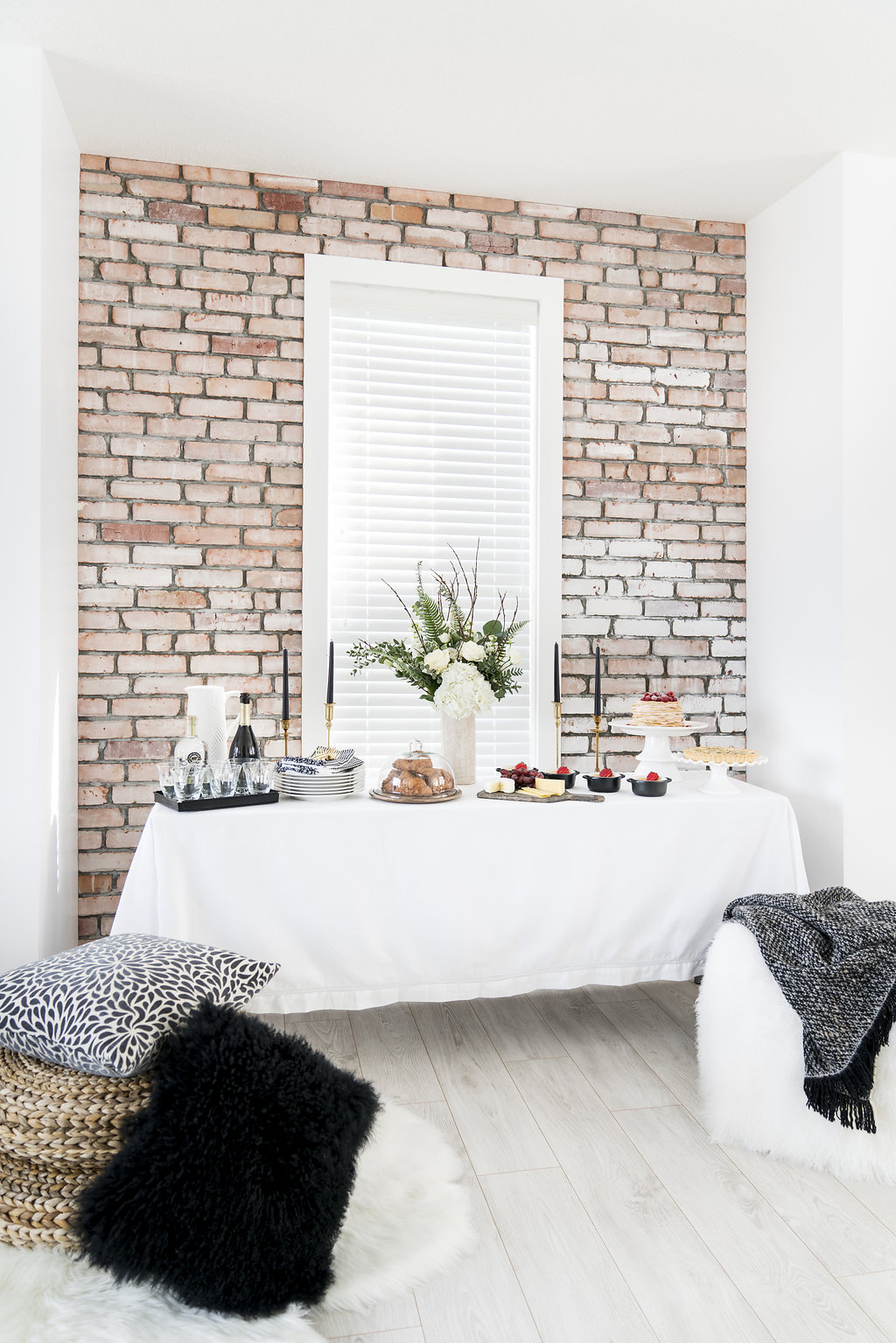 There are only a few things I love more than brunch – my family and friends, design, travel … but then, it's definitely brunch. Especially when you find a great new restaurant that specialises in brunch Lynchburg based or similar. In fact, I've often joked that if I do ever get married, I'll serve brunch at the reception!
Why the intense love for Brunch? It always feels a bit classy and special – the bubbles probably have something to do with that ;-) The food options are literally doubled – breakfast and lunch to choose from, depending on the mood. And it usually lingers into the early afternoon. Rarely is anyone ever in a hurry to leave.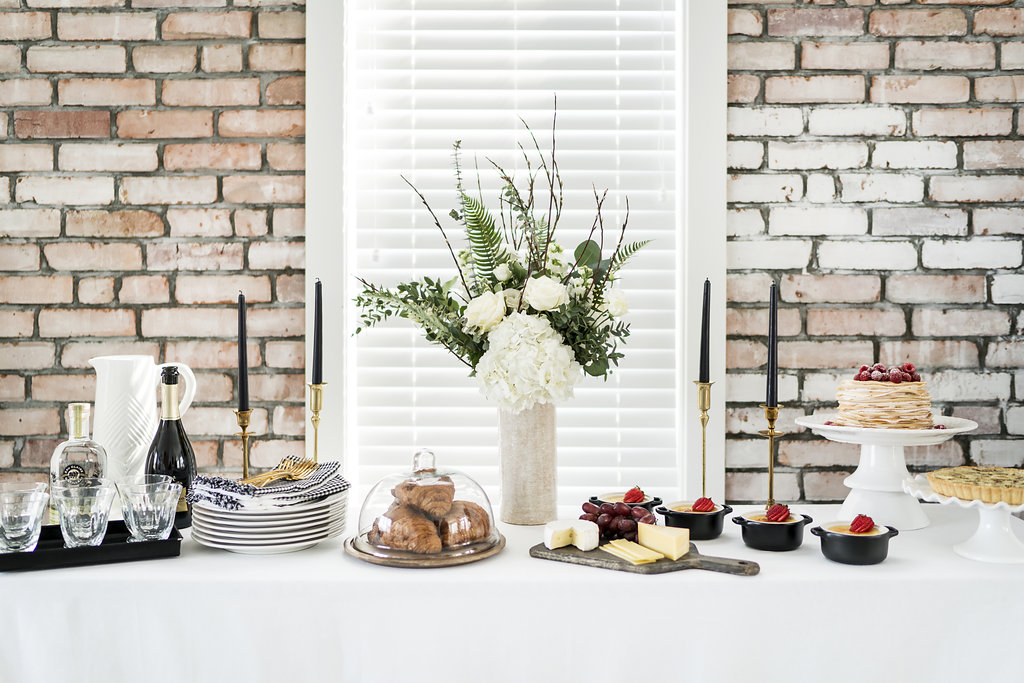 While I love going out for brunch, there's always a new place to try or an old stand-by to return to, hosting brunch for friends and family is really special and something I love doing. I recently put together a Parisian Brunch, inspired by the E.D. SMITH line of products, complete with Crêpes and Crème Brûlée! Since Spring was a little reluctant to make a lasting appearance this year, using the E.D. Smith Pie Filings and Triple Fruits, I was able to easily bring the delicious, vibrant flavours of Spring to brunch.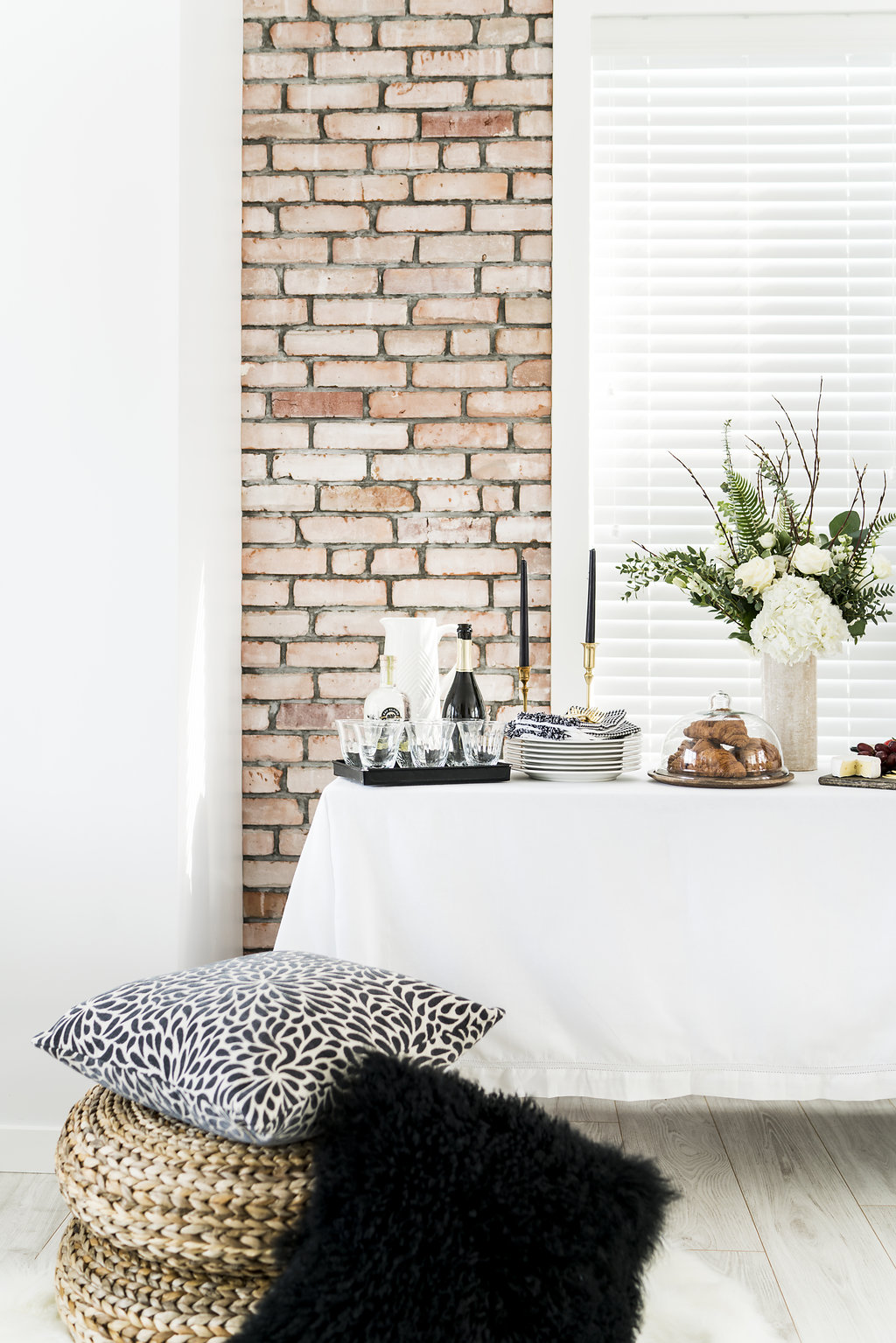 If you've followed along for a while, you know that I like effortless entertaining. Planning ahead and making as much as possible before hand is my trick to enjoying myself while entertaining friends and family. If you have the space I like to set out as much as possible in a buffet like fashion – the more guests can help themselves the better! Adding a Parisian twist to the Brunch gave it an elegant twist without a lot of extra effort. A simple black and white theme, a few French dishes, and you've got a beautiful spread that is sure to wow your family and friends.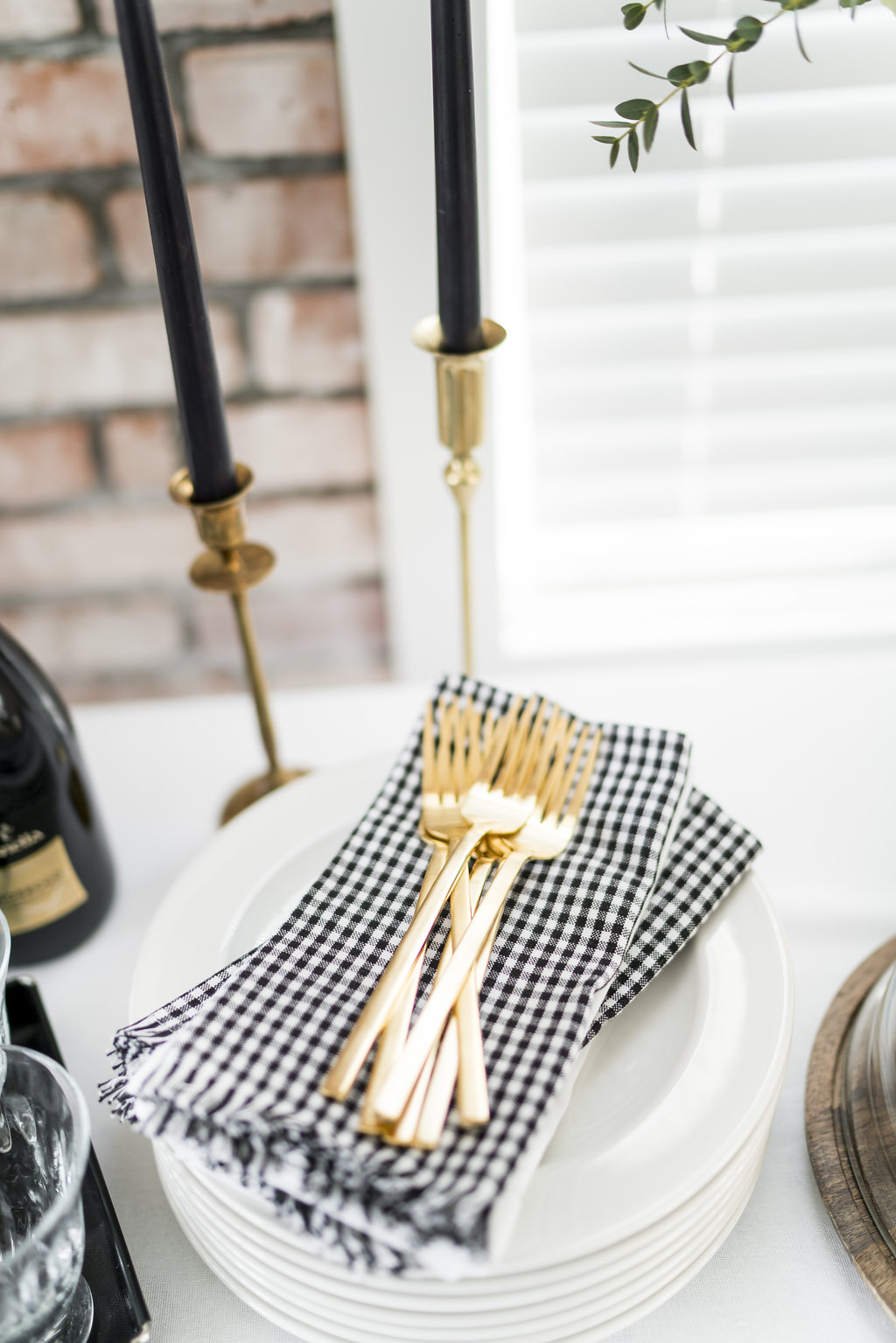 Since brunch wouldn't we brunch without an egg dish I chose my go to quiche recipe – a Mushroom Shallot Quiche that is simply divine. Light, decadent and a cinch to whip up. The crust and mushrooms can be prepared the night before and then quickly put together in the morning. The best part about quiche is that it's just as tasty fresh out of the oven as it is at room temperature.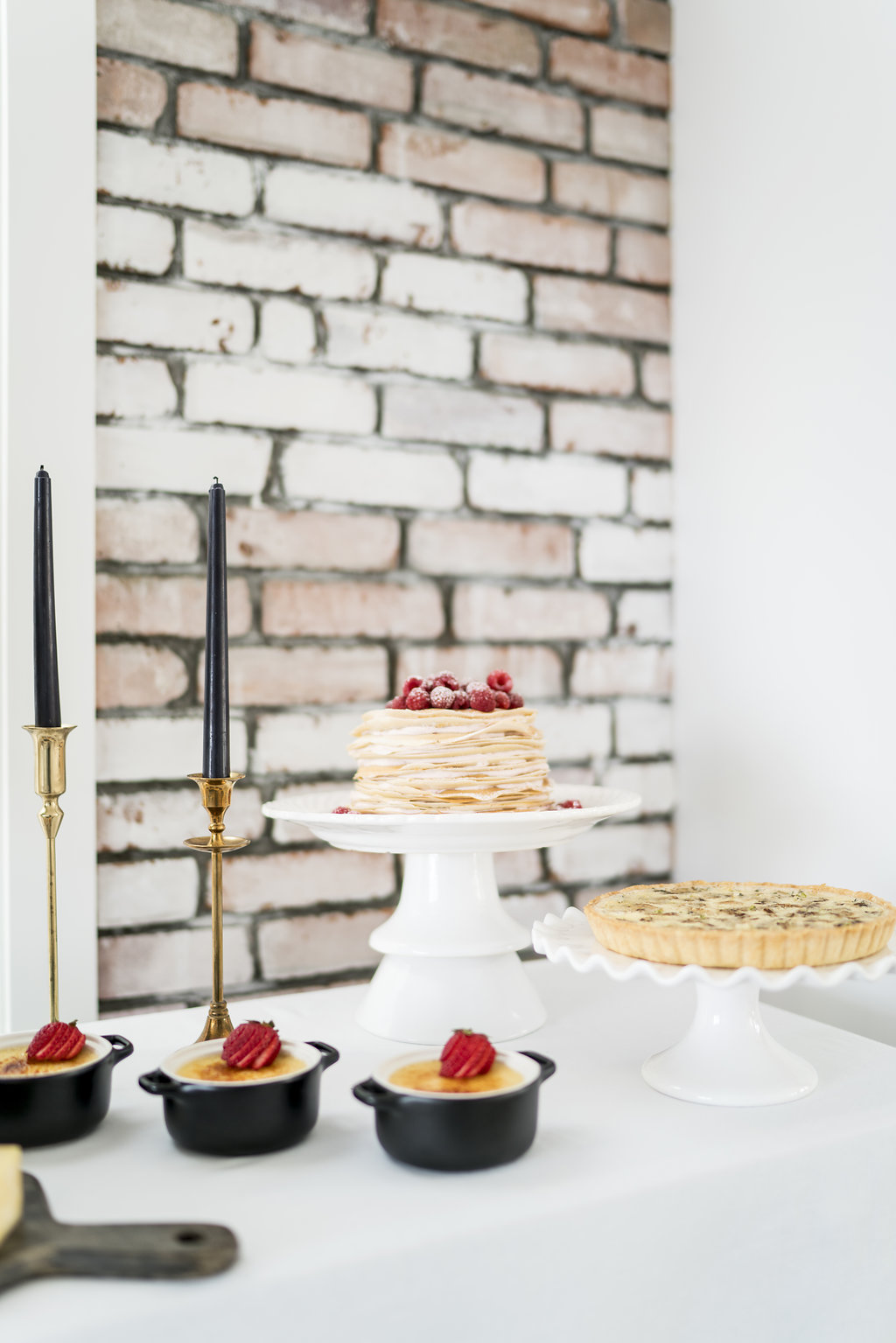 Another favourite for easy entertaining is a charcuterie, while I sometimes do meats and cheeses, for this brunch I stuck to just cheese, for simplicity. And because it wouldn't be a Parisian Brunch without croissants, I had plenty of the flakiest croissants around from my favourite French Bakery in town.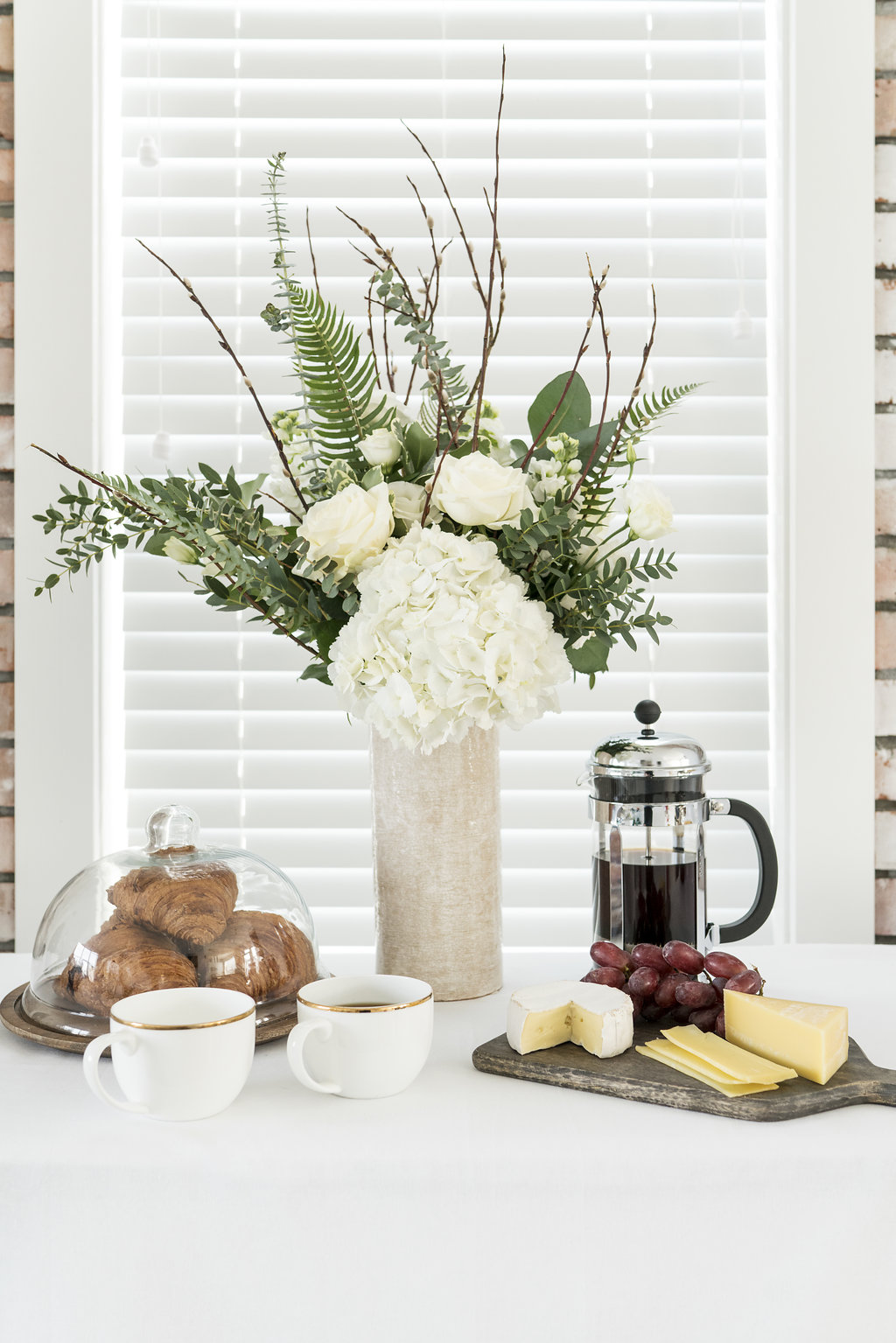 To add that special element of decadence that Brunch is often known for, I created two French inspired desserts: a Berry Cream Crêpe Cake and Strawberry Rhubarb Crème Brûlée. While crepes filled with E.D. SMITH Pie Fillings or Triple Fruits would have been a delicious addition, I thought I would take it a step further with an elegant Crêpe Cake. I shared the recipe for my easy Berry Cream Crêpe Cake last week, in case you missed it. Although the cake would have be just as delicious with a vanilla cream filling, I loved the idea of adding in berries and a subtle pink colour for Spring with E.D. SMITH Triple Fruit Spread Strawberry Raspberry and Plum. Since this spread is a lovely smooth blend, free of large pieces of fruit, it made the perfect addition to the delicate pastry cream.
The Berry Cream Crêpe Cake turned out beautiful and delicious, but the Rhubarb Strawberry Crème Brûlée was the star of the brunch and so much fun to make. I took a classic Crème Brûlée recipe and once again elevated it with the addition of E.D. SMITH Rhubarb Strawberry Pie Filling – the simplest recipe hack that created an indulgent pie like Crème Brûlée! The best part of Crème Brûlée is cracking on the sugar top, and creating that crispy top was so much fun to do! This was my first time working with a blow torch, and truth be told I was a little scared at first. But once I got the hang of it, I wanted to brûlée everything! Look for more torched recipes on the blog in the near future! The recipe for the Strawberry Rhubarb Crème Brûlée follows at the end of the post.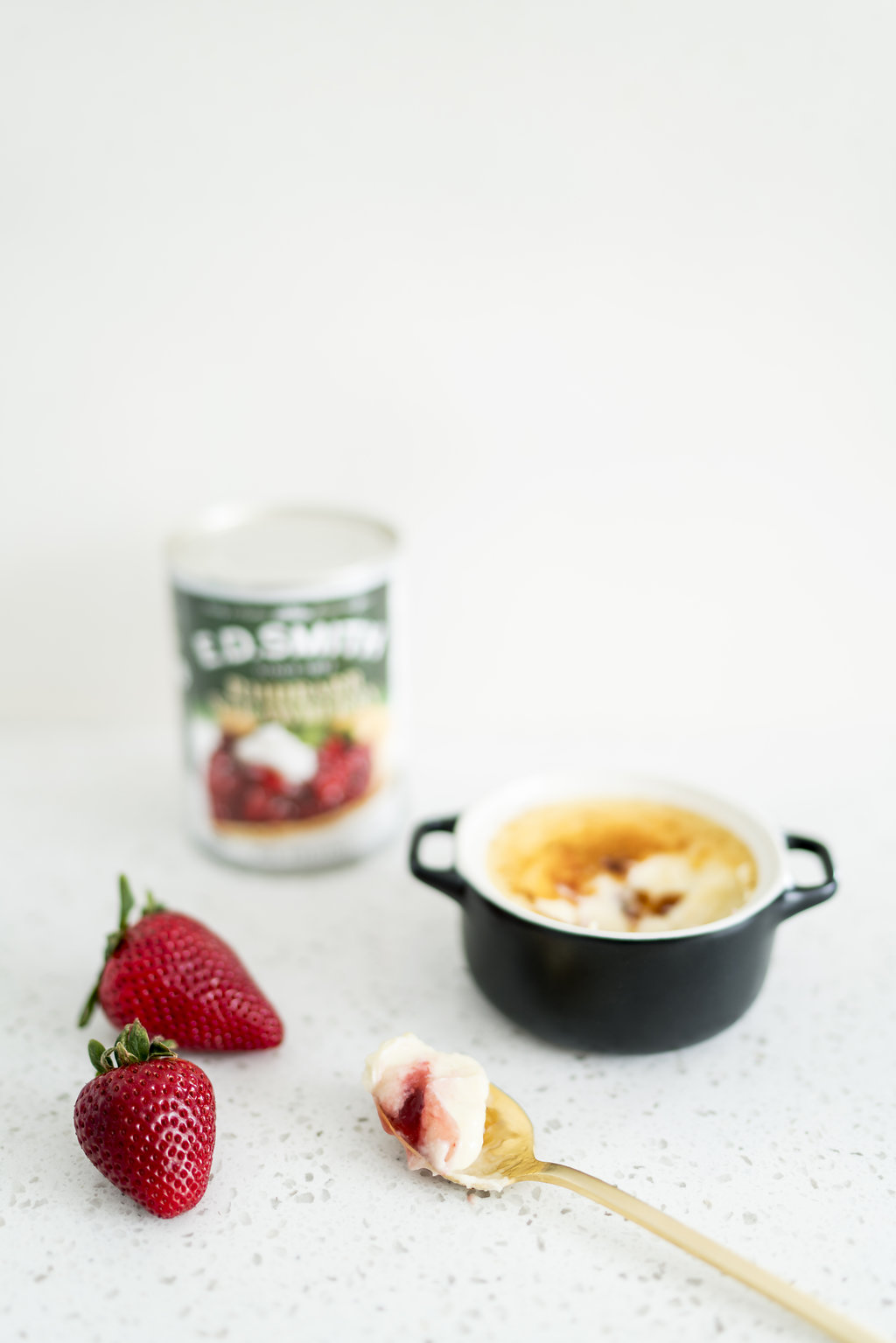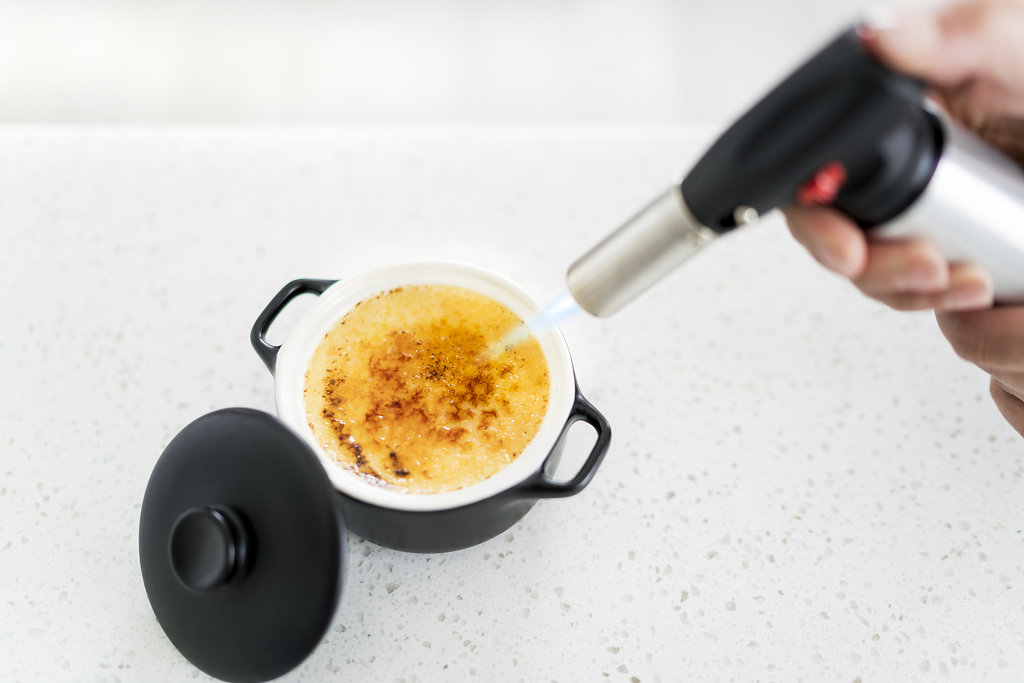 Since no brunch is complete without a cocktail, this Parisian affair had it's own signature drink. Once again I used E.D. SMITH Triple Fruits to bring the freshness of Spring to the glass in my Gin and Jam Fizz.
Do you love Brunch? What's your favourite part?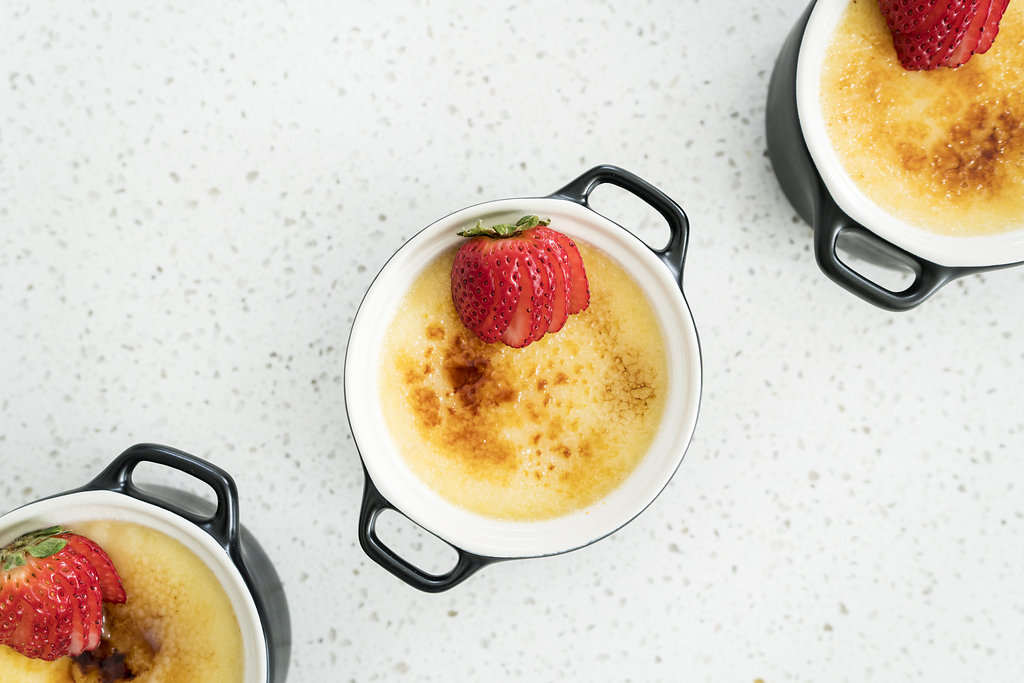 Rhubarb Strawberry C

rème

Brûlée
Ingredients
1 liter heavy cream
1 vanilla bean, split and scraped or 1 teaspoon vanilla extract
1 cup sugar, divided
6 large egg yolks
3/4 Cup E.D. SMITH Rhubarb Strawberry Pie Filling
2 liters hot water
Directions
Preheat the oven to 325 degrees F.
Place the cream, vanilla bean and its pulp (or vanilla extract) into a medium saucepan set over medium-high heat and bring to a boil. Remove from the heat, cover and allow to sit for 15 minutes. Remove the vanilla bean if using.
In a medium bowl, whisk together 1/2 cup sugar and the egg yolks until well blended and the mixture just starts to lighten in color. Add the cream a little at a time, stirring continually.
Add two tablespoons of the E.D. SMITH Rhubarb Strawberry Pie Filling to six ramekins. Top with the cream mixture. Place the ramekins into a large cake pan or roasting pan. Pour enough hot water into the pan to come halfway up the sides of the ramekins. Bake just until the Crème Brûlée is set, but still trembling in the center, approximately 40 to 45 minutes.
Remove the ramekins from the roasting pan and refrigerate for at least 2 hours and up to 3 days. Remove the Crème Brûlée from the refrigerator for at least 30 minutes prior to browning the sugar on top. Divide the remaining 1/2 cup sugar equally among the 6 dishes and spread evenly on top. Using a torch, melt the sugar and form a crispy top. Allow the Crème Brûlée to sit for at least 5 minutes, garnish with a fresh strawberry before serving.
---
Photography: MJay Photography
This post was sponsored by E.D. SMITH; as always all thoughts and opinions are 100% my own. Thank you for supporting the brands that support this blog, without them I couldn't do what I love!