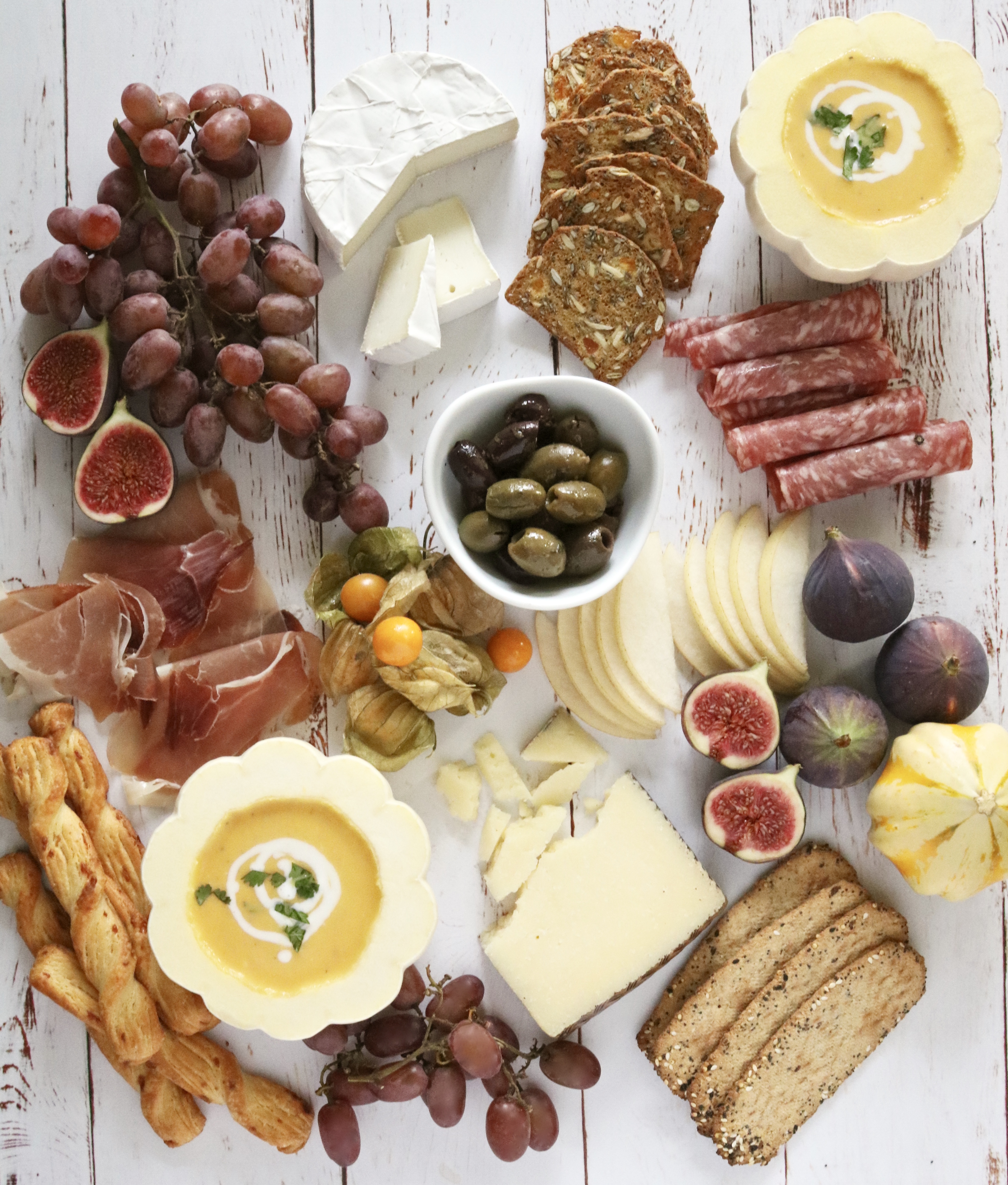 While there is much to dislike about this time of year – shorter days and cooler temps – what makes it enjoyable for me is the entertaining and gatherings that happen. The festive spirit and gaiety of getting together with family and friends over shadows winters arrival.  And there is simply nothing better than easy fall entertaining – the kind that can be thrown together in minutes, allowing plenty of time to sit and enjoy the company of family and friends.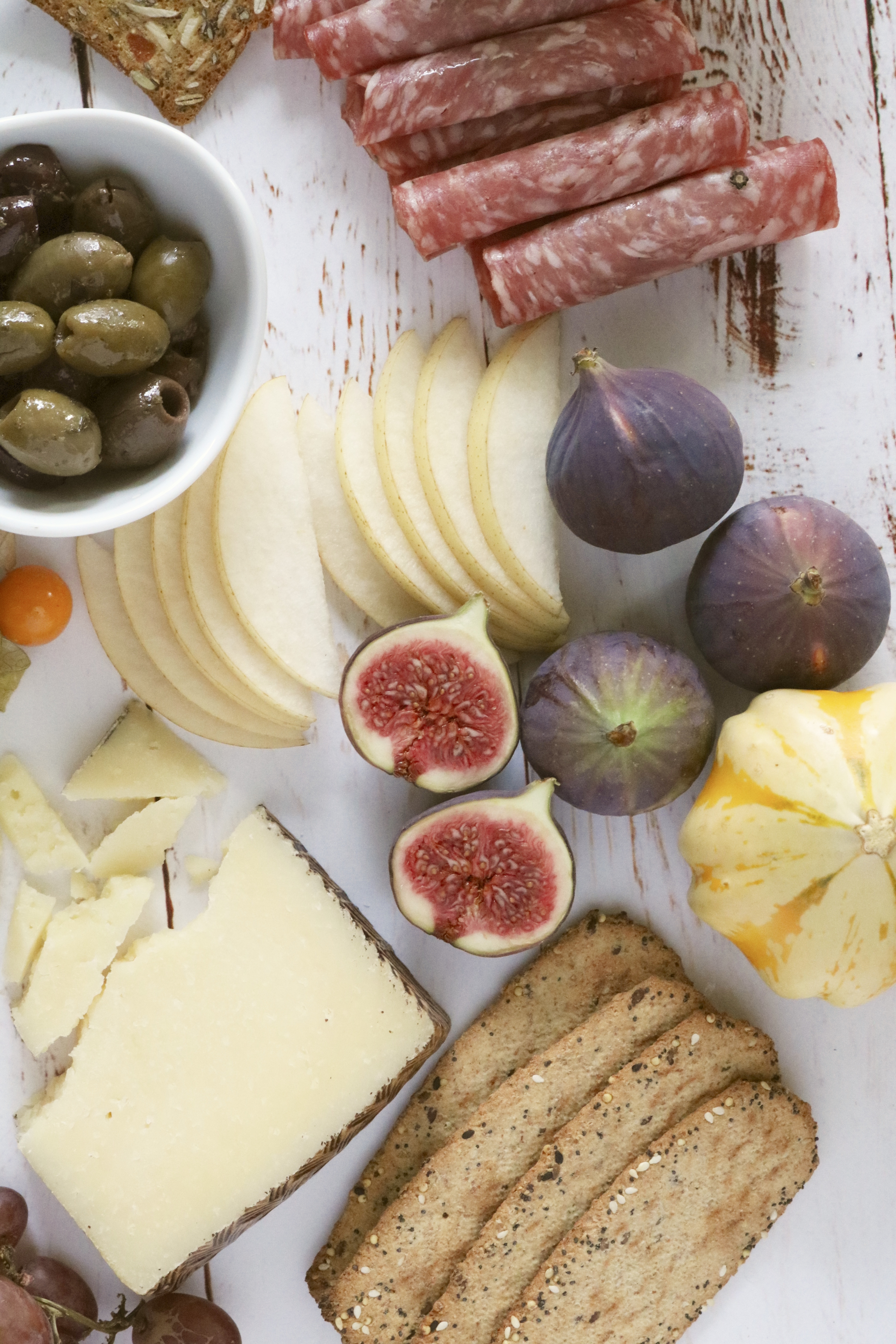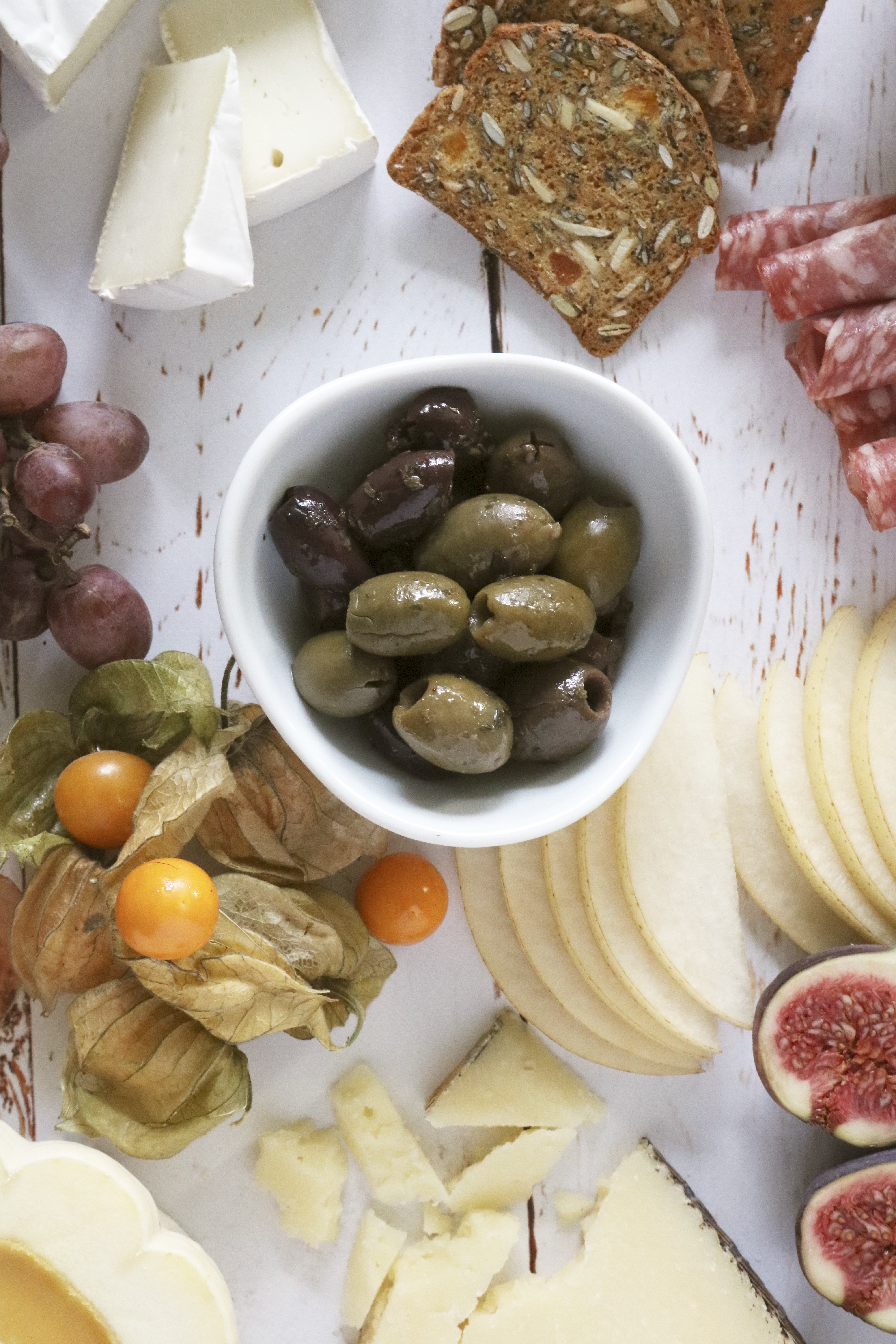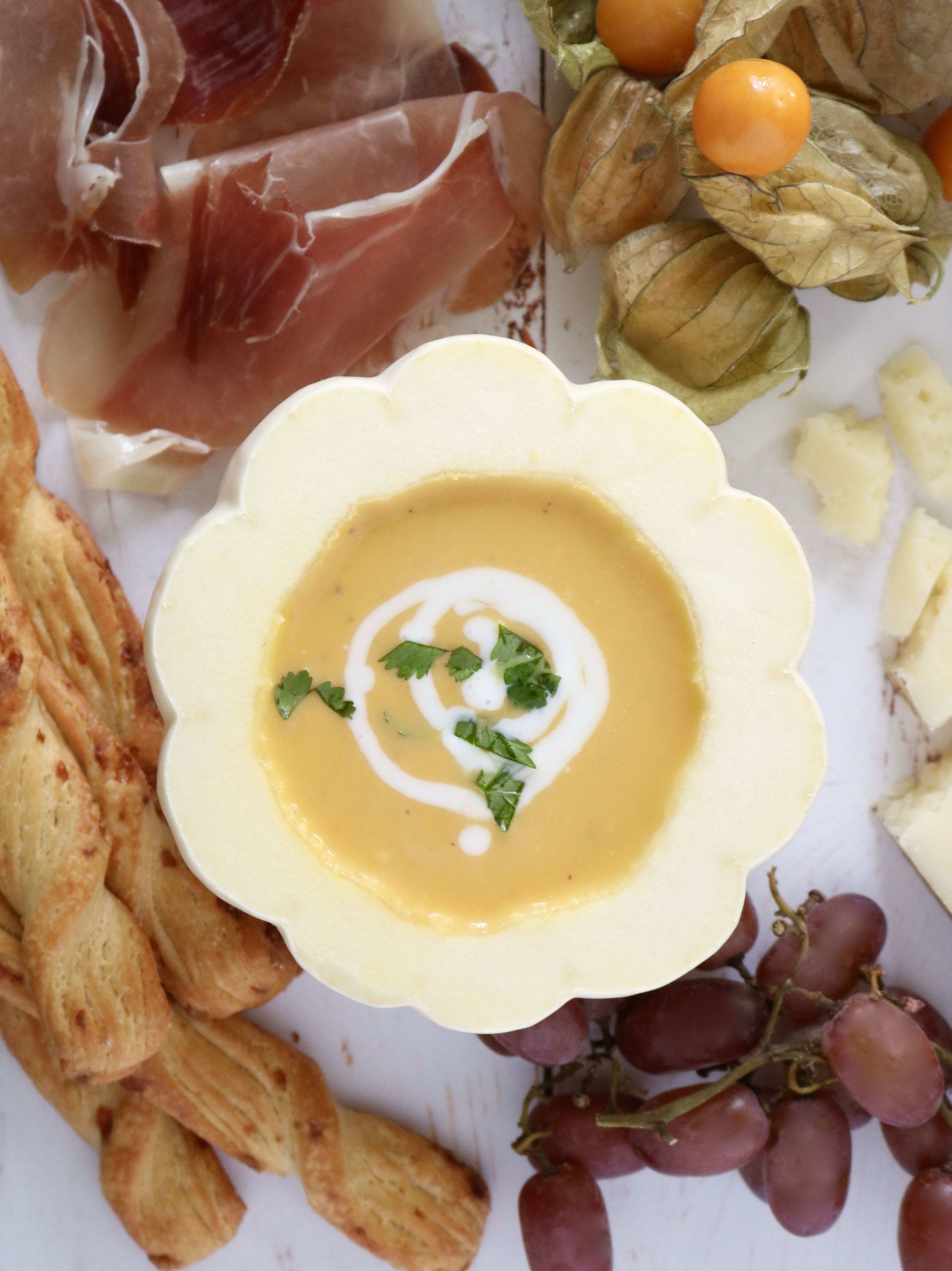 Lately my go to for easy entertaining is a charcuterie board.  A selection of meats, cheese, crackers and seasonal accompaniments piled onto an oversized board creates a beautiful and effortless way to entertain.  I wrote a whole post on how to choose meats and cheeses for a charcuterie here. To give this charcuterie a fall twist I added in figs, gooseberries and a delicious Curried Butternut Squash Soup.  While a soup may be a bit unconventional for a causal gathering, I just loved the idea of including a warm and hearty soup in the mix of meat and cheese.  And this curried butternut squash soup is the perfect decadent winter treat, pairing the heat of chili paste and earthiness of curry with the creamy smoothness of coconut milk, it is divine and your guests are sure to love it!
Do you have a go to recipe or trick for easy fall entertaining? I'd love to know! Please feel free to share in the comments below.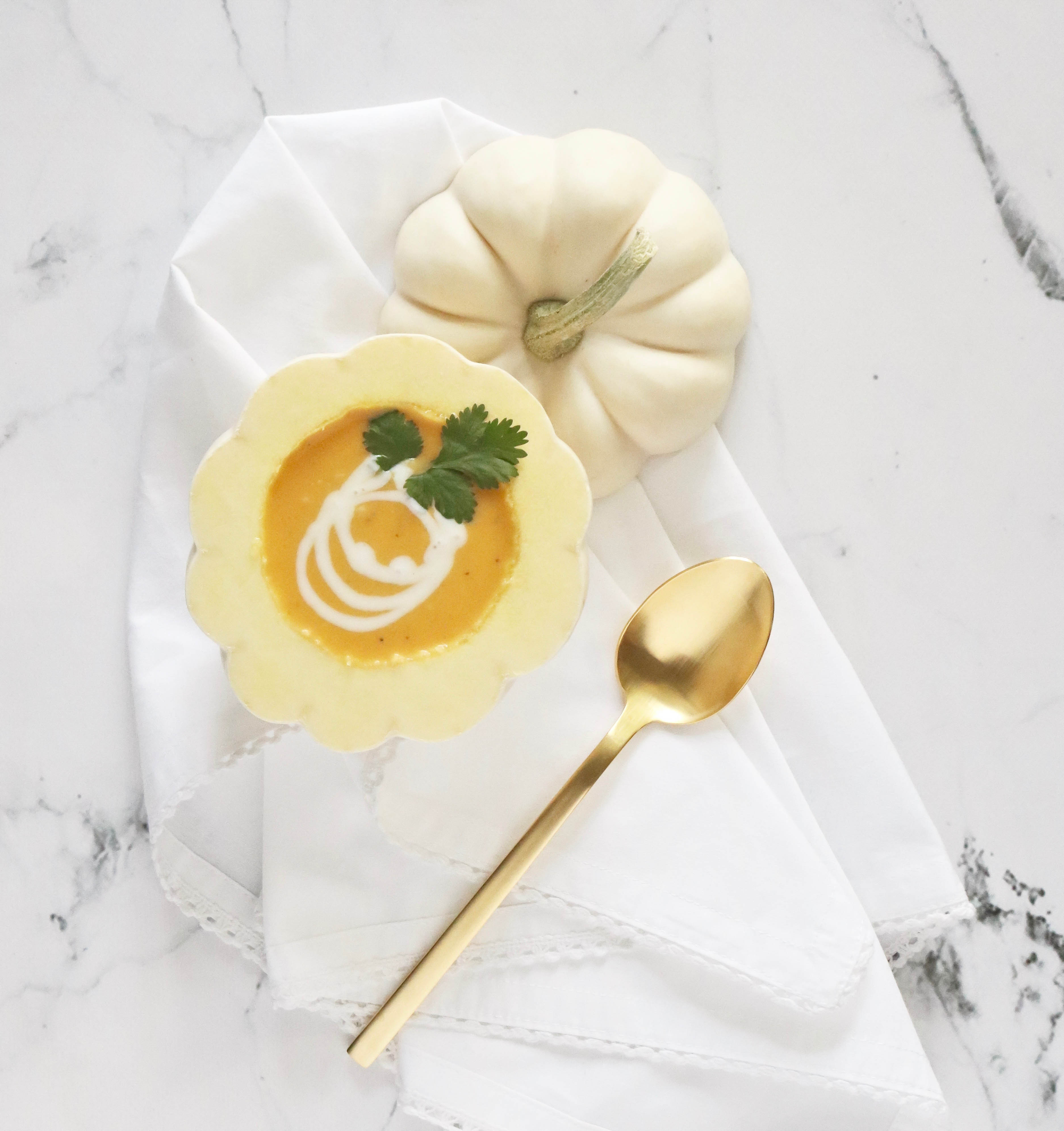 Ingredients
1 tbsp coconut oil
1 small onion, diced
3 cloves garlic, minced
6 cups butternut squash (approximately 1 small butternut squash)
Pinch each sea salt + black pepper, to taste
1 1/2 tbsp curry powder
1/4 tsp ground cinnamon
1 14-ounce can light coconut milk
2 cups vegetable broth
optional: 1-2 tsp chili paste
Garnish
Coconut milk
Cilantro
Roasted pumpkin seeds
Directions
Heat coconut oil in a large pot over medium heat.  Once hot, add the onion and saute for 2 minutes, stirring frequently.  Add the garlic and stir for a few seconds before adding the butternut squash.  Season with a pinch each salt and pepper, curry powder, and ground cinnamon. Stir to coat. Then cover and cook for 5 minutes, stirring occasionally.
Add coconut milk, vegetable broth, and chili paste if using.
Bring to a low boil over medium heat and then reduce heat to low, cover, and simmer for 15 minutes or until butternut squash is fork tender.
Use an immersion blender, or transfer soup to a blender, and purée on high until creamy and smooth. If using a blender, return soup back to pot.  Taste and adjust seasonings, adding more curry powder or salt as needed. Continue cooking for a few more minutes over medium heat.
Serve as is or with garnish of your choice. Leftovers may be stored covered in the refrigerator for 3-4 days or in the freezer up to 1 month.