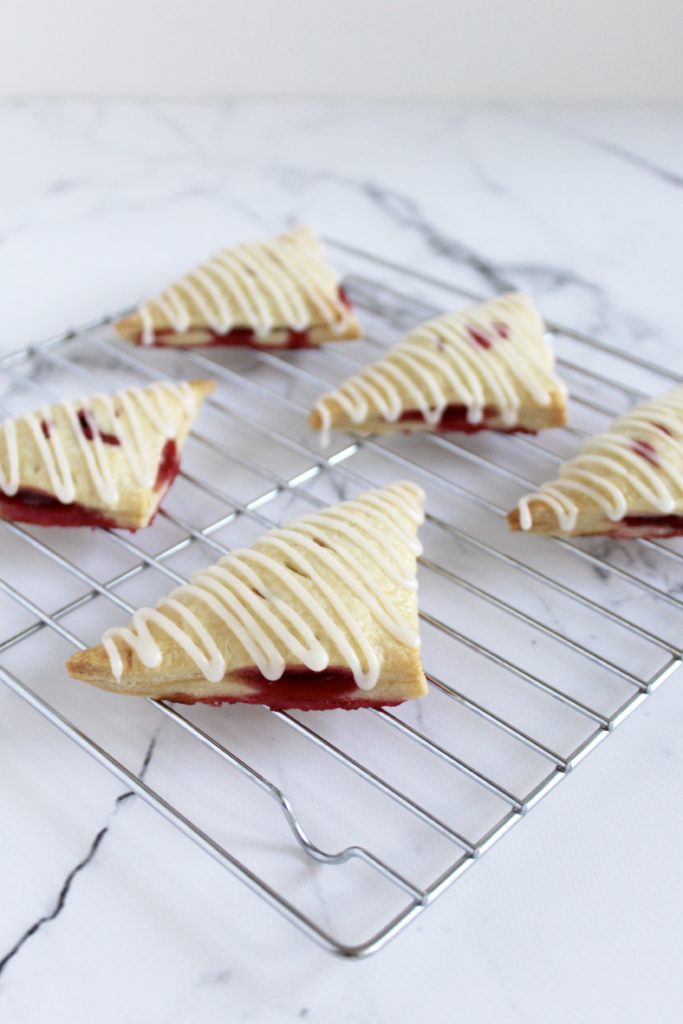 Left overs are always my favorite part of Thanksgiving – turkey sandwiches, the next day – are the best!  As our friends south of the border get over their turkey hanger-overs I thought I would share one of my favorite Thanksgiving leftover recipes – Cranberry Turnovers.
Most of us probably find ourselves with leftover cranberry sauce the morning after the big turkey dinner.  This year I had some leftover pie dough as well and thought what better to use both up than super easy and festive cranberry turnovers.  Light and flaky, I bet you can't have just one ;-) If unlike me you weren't left with extra pie dough, not to worry, puff pastry works really well too.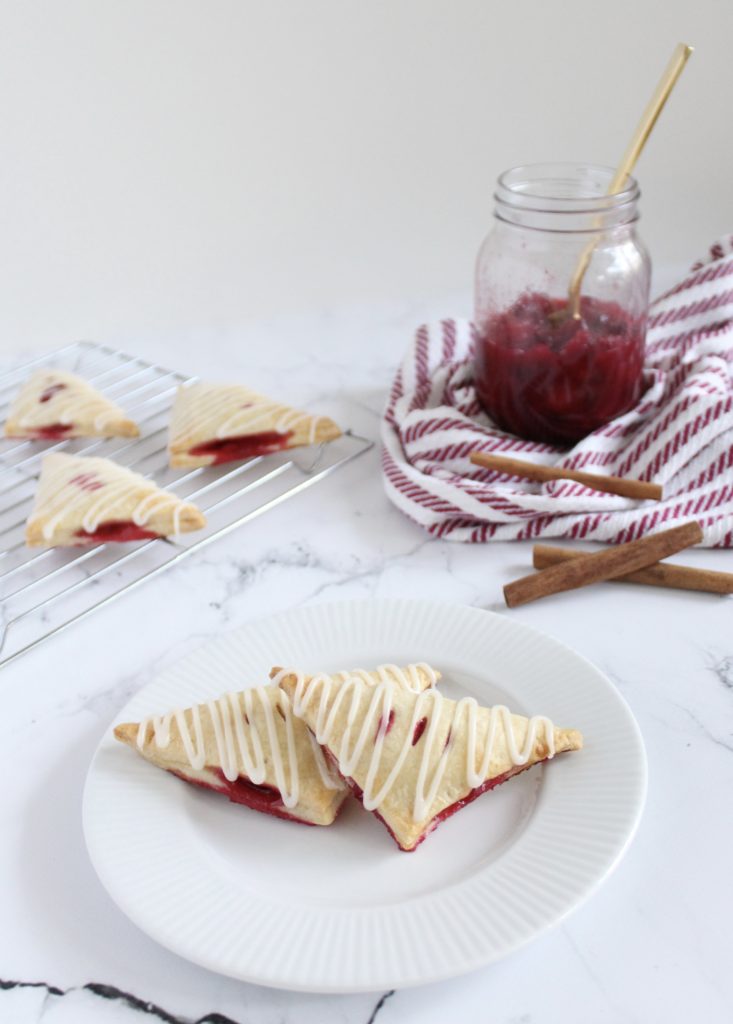 Ingredients
1 cup chilled cranberry sauce
Leftover pie dough or 2 sheets puff pastry, thawed
1 egg beaten
1/3 cup heavy cream
1 cups powdered sugar
1/2 teaspoon lemon juice
1/2 to 1 tablespoon milk
Directions
Preheat the oven to 375 degrees F.
On a lightly floured surface, roll out dough to a square or rectangle roughly 8″ x 8″ or 8″ x 12″, so that 4″ x 4″ squares can be cut out.  If using puff pastry, unfold the pastry sheets and cut each sheet into 4 squares.
Place the squares on a parchment lined baking sheet (use two baking sheets if you need to).  Spoon 1 tablespoon of the cranberry sauce in the center of each pastry square. Fold the pastry over the filling to form a triangle.  Seal the edges with egg wash and by pressing with a fork.
Brush the tops of the triangles with the heavy cream and use a sharp paring knife to cut 3 slits in the top of each turnover.  Bake the turnovers until they are puffy and golden brown, about 10-12 minutes.
While the turnovers are baking, combine the ingredients for the icing, in a small bowl and stir until smooth and set aside.
Remove the turnovers from the oven and let cool slightly.  Transfer the turnovers to a cooling rack set over a foil lined baking sheet.  Using a fork or spoon drizzle the turnovers with icing, allow them to cool for another 5-10 minutes before enjoying!