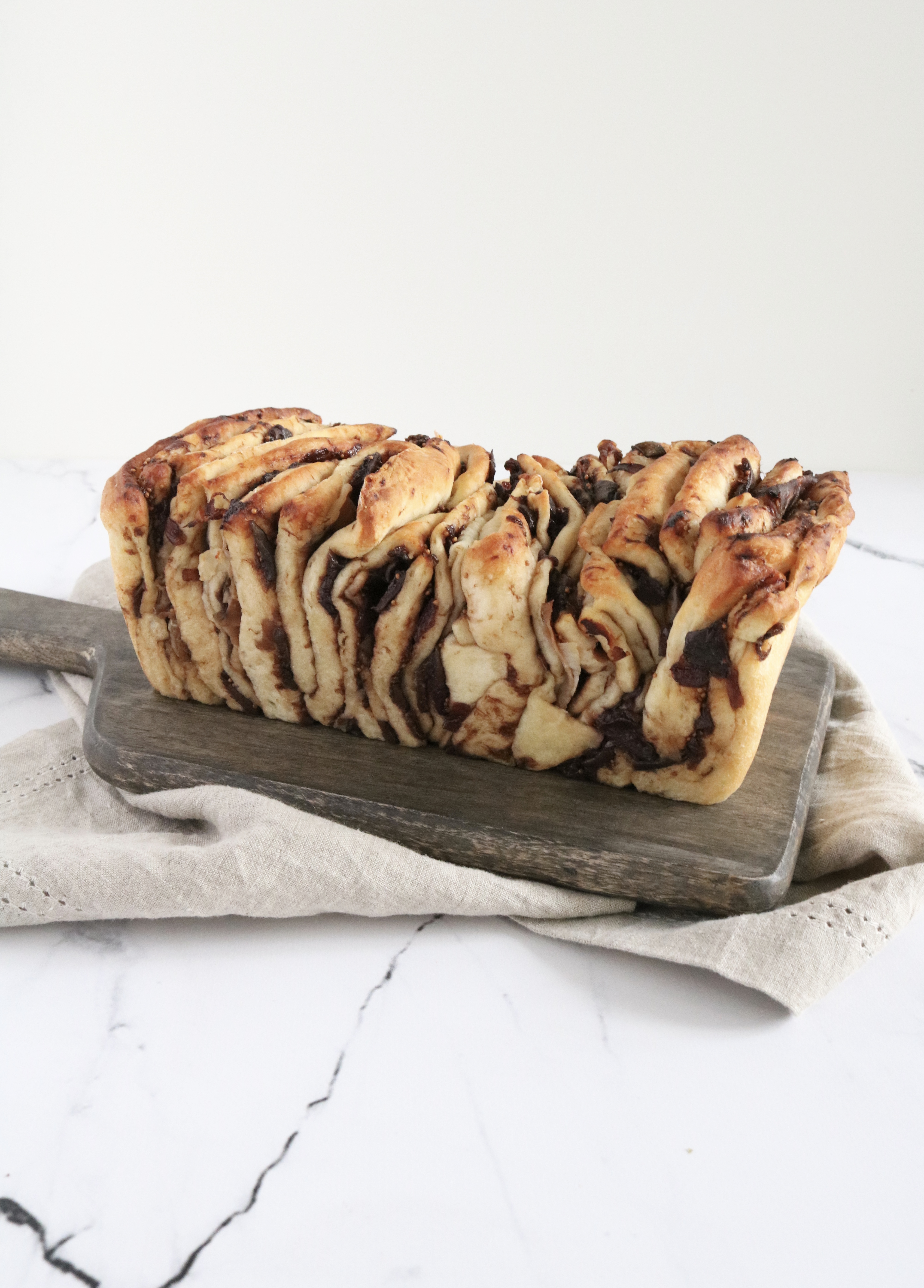 With the festive season in full swing, that inevitably means festive entertaining. And around here it's about easy entertaining. If you read my post on easy fall entertaining, you know my go to for informal entertaining is charcuterie boards. Today's recipe wraps two of my favorite elements of a charcuterie board into one delicious way to start a party – a Fig and Prosciutto Pull Apart Bread.
Say wha?! Yes, you read that right! The salty goodness of prosciutto paired with a sweet fig and onion jam layered between delicious flaky bread.  I know I say this a lot, but truly, I am in love with this recipe. So much so, that I had to make a second loaf to photograph, because I had eaten so much of the first!
I chose to make the jam (I've included the recipe below), but you could easily purchase a fig jam. Saving yourself some time and energy. I realize this may sound and look complicated, but I promise you it isn't.  It's actually kinda fun, and the messier it looks, the better – so pressures off!
I really hope you give this recipe a go and if you do I'd love to hear what you think!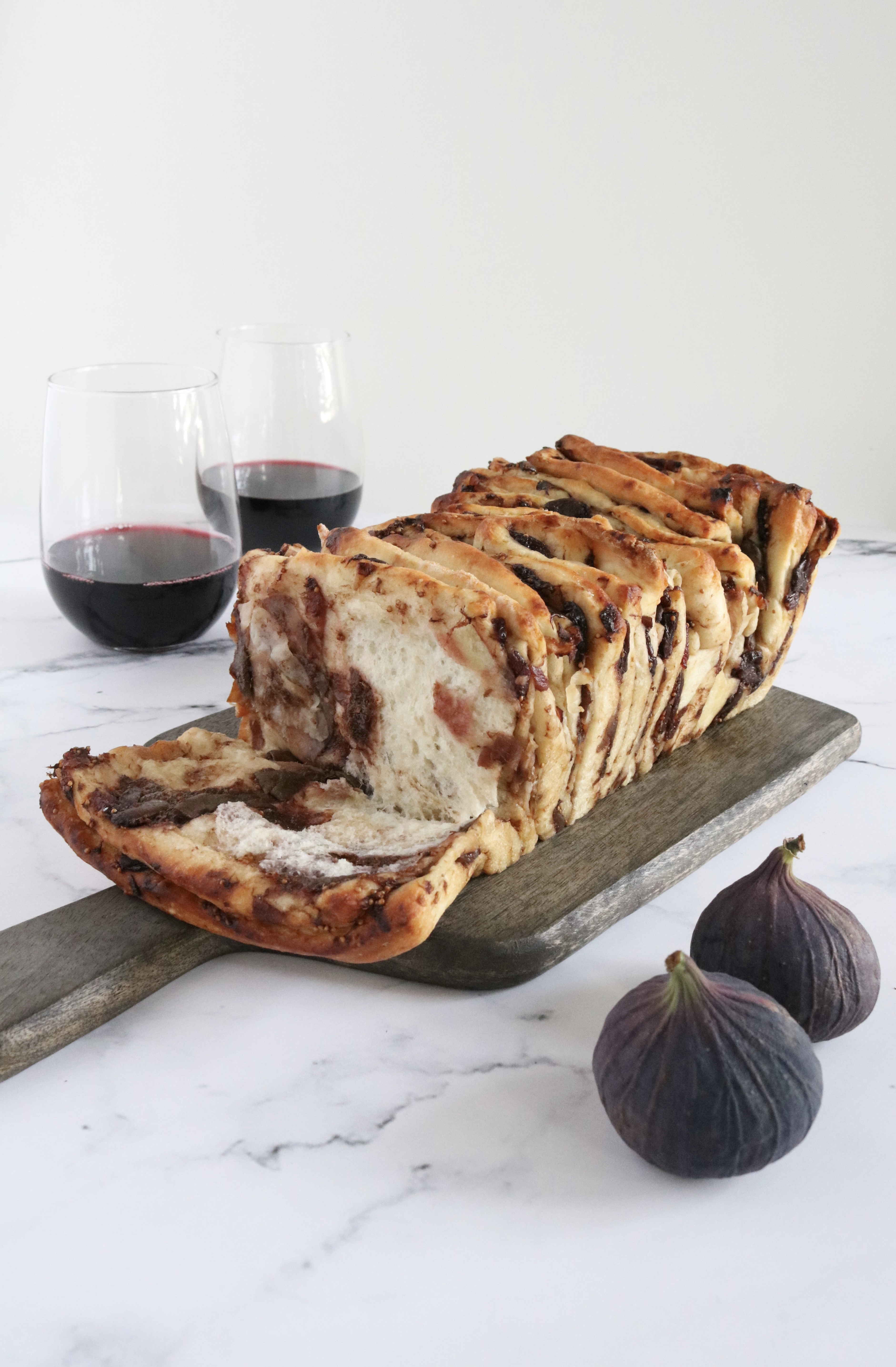 Fig and Prosciutto Pull Apart Bread
Ingredients
1/2 cup plain Greek yogurt
1 large egg, at room temperature
3 tbsp olive oil
2 tsp dried instant yeast
3 cups plain (all-purpose) flour, plus extra for dusting
1 tbsp raw sugar
½ tsp salt
Fig and Onion Jam (see recipe below)
1 package of Prosciutto
Directions
Mix the yogurt, egg and olive oil together in a bowl 2/3 cup of water until well combined. Stir in the instant yeast to dissolve.
Gradually add the flours, sugar and salt and mix everything together to form an elastic dough, then tip onto a clean floured work surface and knead for 2–3 minutes until smooth. Transfer the dough to a lightly greased bowl, cover with a clean tea towel and leave to rise for 30 minutes.
After 30 minutes punch the dough down and turn it out on a floured surface. Roll it into a large rectangle, about 12×20 inches if possible. Spread the fig and onion jam over the dough and top with prosciutto. Use a pizza cutter to slice the dough into 5 strips from top to bottom – lengthwise. Stack the 5 strips together, then cut them into 6 sets of squares.
Brush a 9×5 loaf pan liberally with melted butter. Place the dough, cut side down, into the loaf pan, pressing it together. Cover with plastic wrap and let rise in a warm place again for 30 minutes.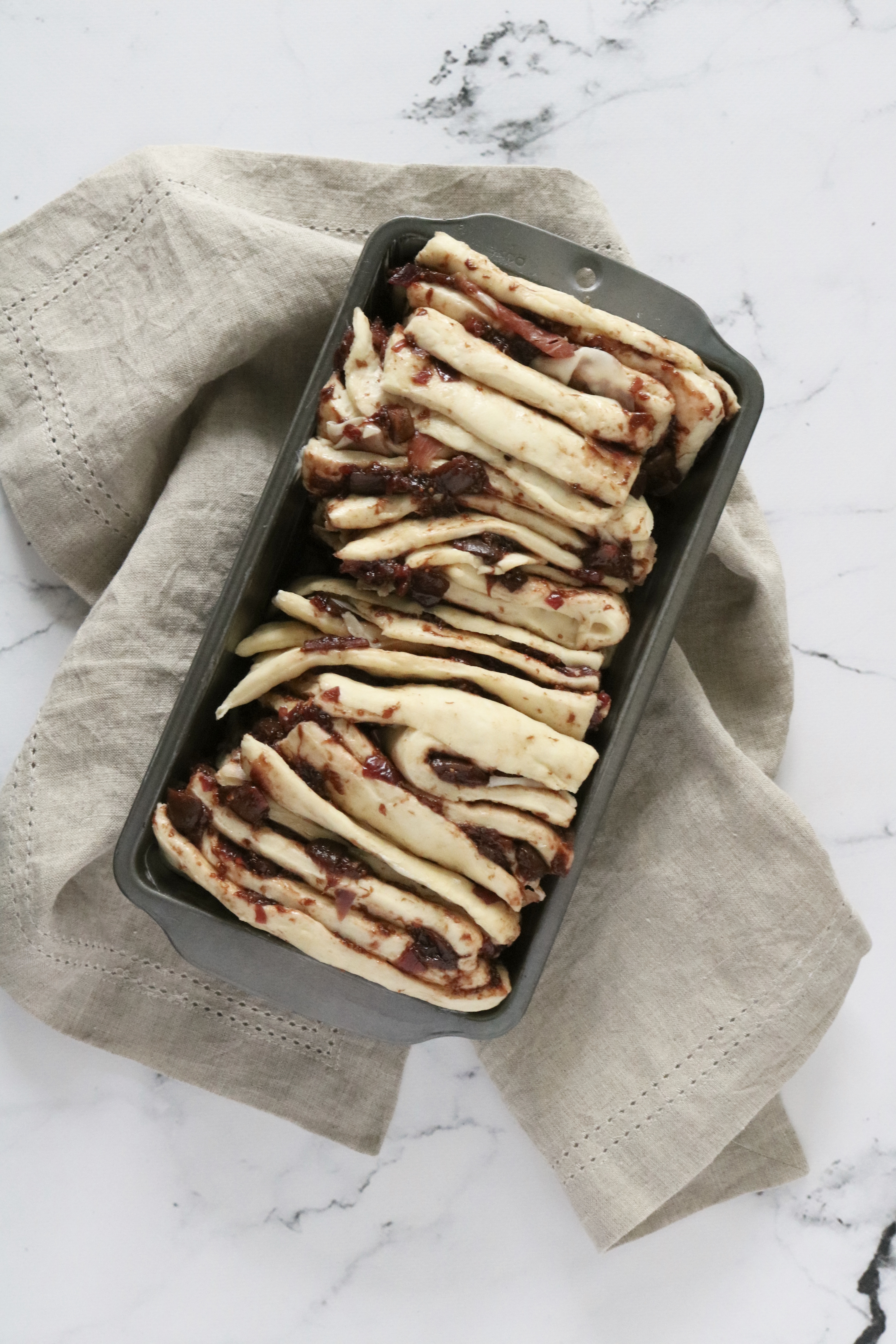 Preheat the oven to 350 degrees F. Place the pan in the oven and bake the bread for 35 to 40 minutes, until the top is golden brown and set. Remove and let cool for 10 minutes, then gently turn the bread out onto a flat surface and enjoy!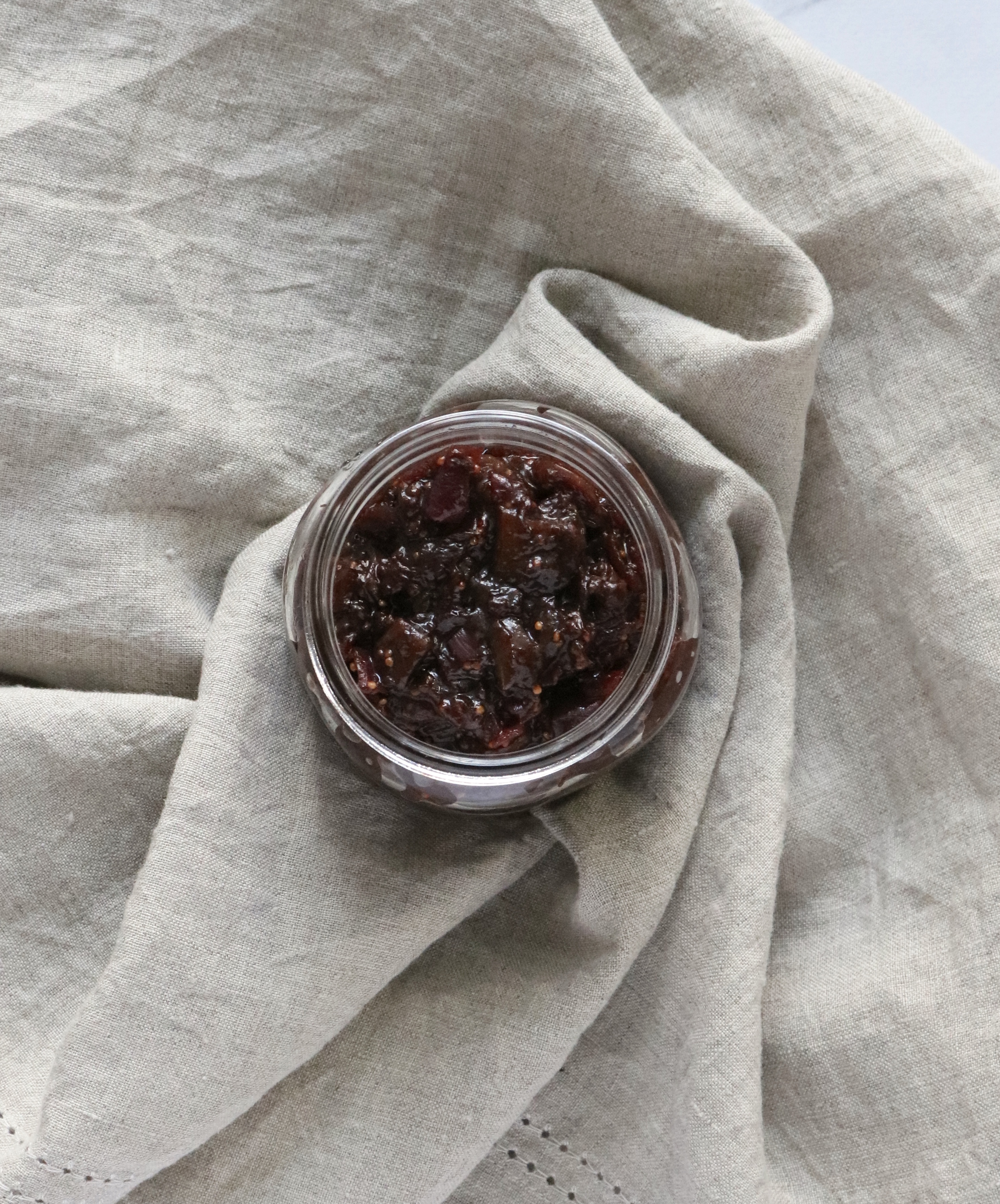 Fig and Onion Jam
Ingredients
1/4 cup olive oil
1 large red onion, chopped
2 cups chopped fresh Black Mission figs
1/4 cup aged balsamic vinegar
2 tablespoons white sugar, or to taste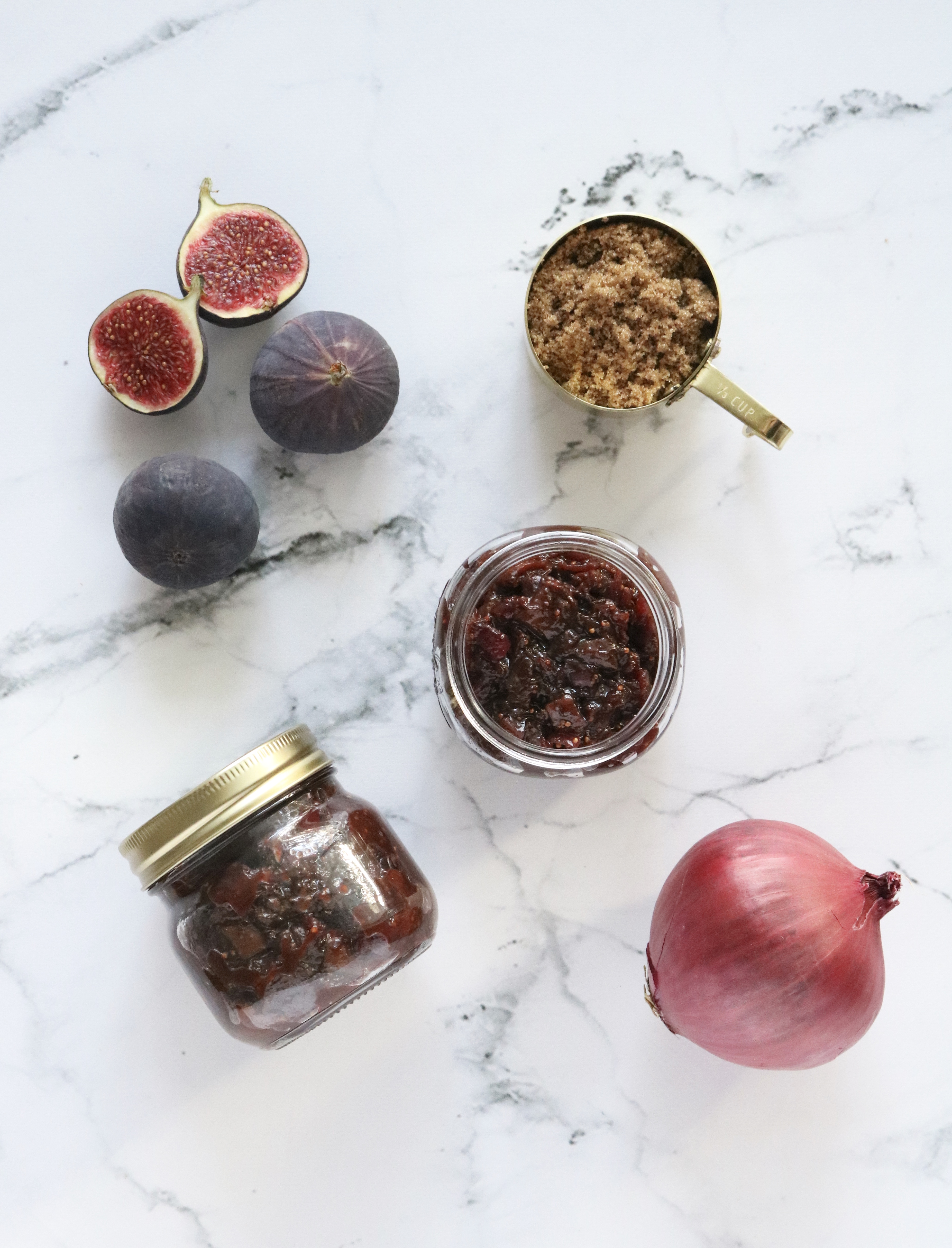 Directions
Heat olive oil in a saucepan over medium heat; stir onion in the hot oil. Reduce heat to medium-low, cover saucepan, and cook, stirring occasionally, until onion is softened and caramel-colored, 20 to 25 minutes.
Stir figs into onion; cook and stir until figs begin to lose their shape and have softened into onion, 10 to 15 minutes. Pour balsamic vinegar into fig-onion mixture; cook until all the liquid has evaporated, 5 to 10 minutes. Stir sugar, 1 tablespoon at a time, into fig-onion mixture until desired sweetness is reached. Serve warm or chilled.