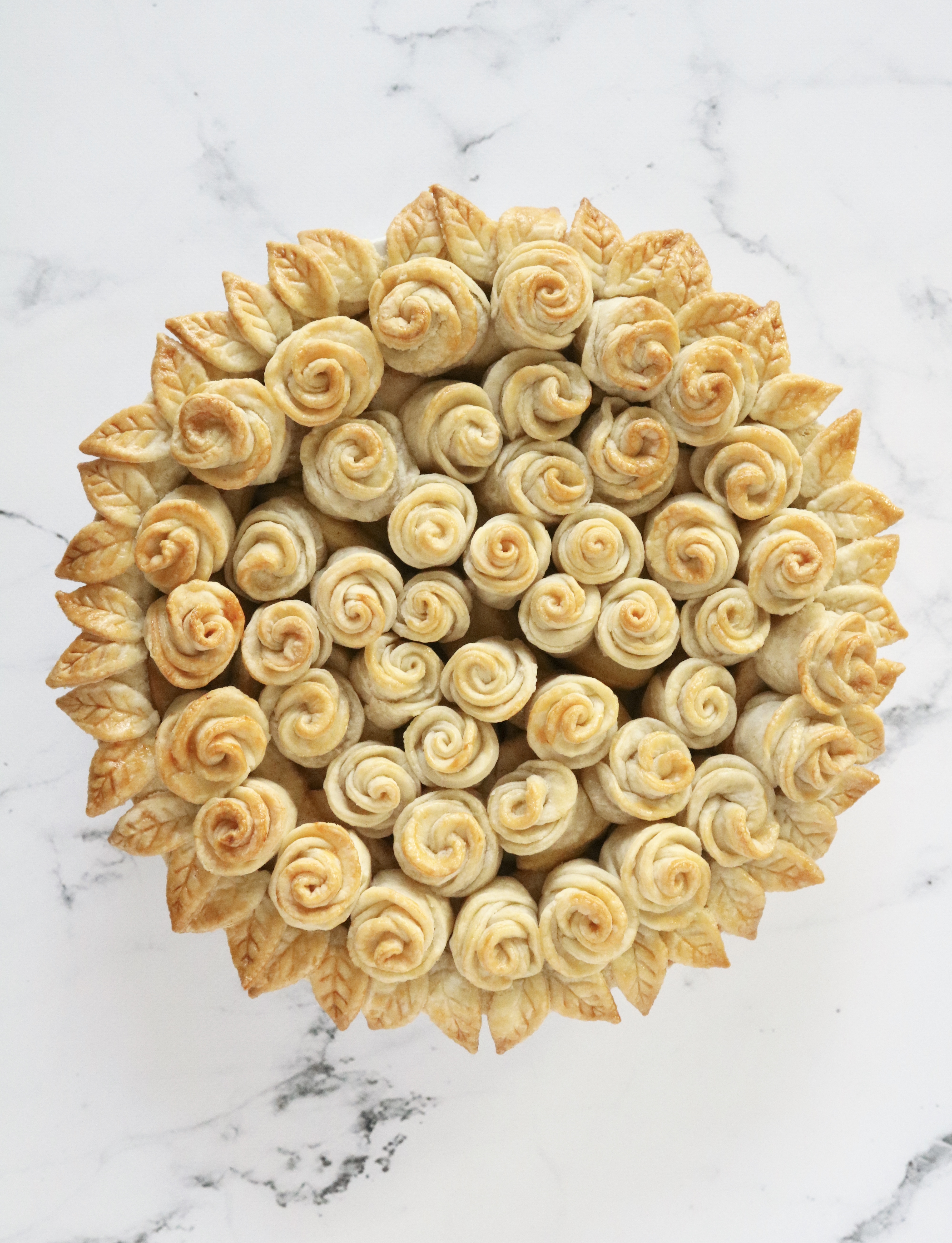 We're days away from Thanksgiving here in Canada, which only means one thing for me – pie!  Year after year, I am in charge of the pie for Thanksgiving dinner, which if you've followed along for any amount of time, probably won't come as a surprise.  A quick search of the word 'pie' on the blog brings up many options – this pumpkin pie with a twist and the prettiest peach pie, are probably two of my favorites. And while I love all things pumpkin at this time of year, inspired by my peach pie, I decided to go with a Maple Bourbon Apple Rose Pie for this years Thanksgiving dinner. Try saying that three times fast!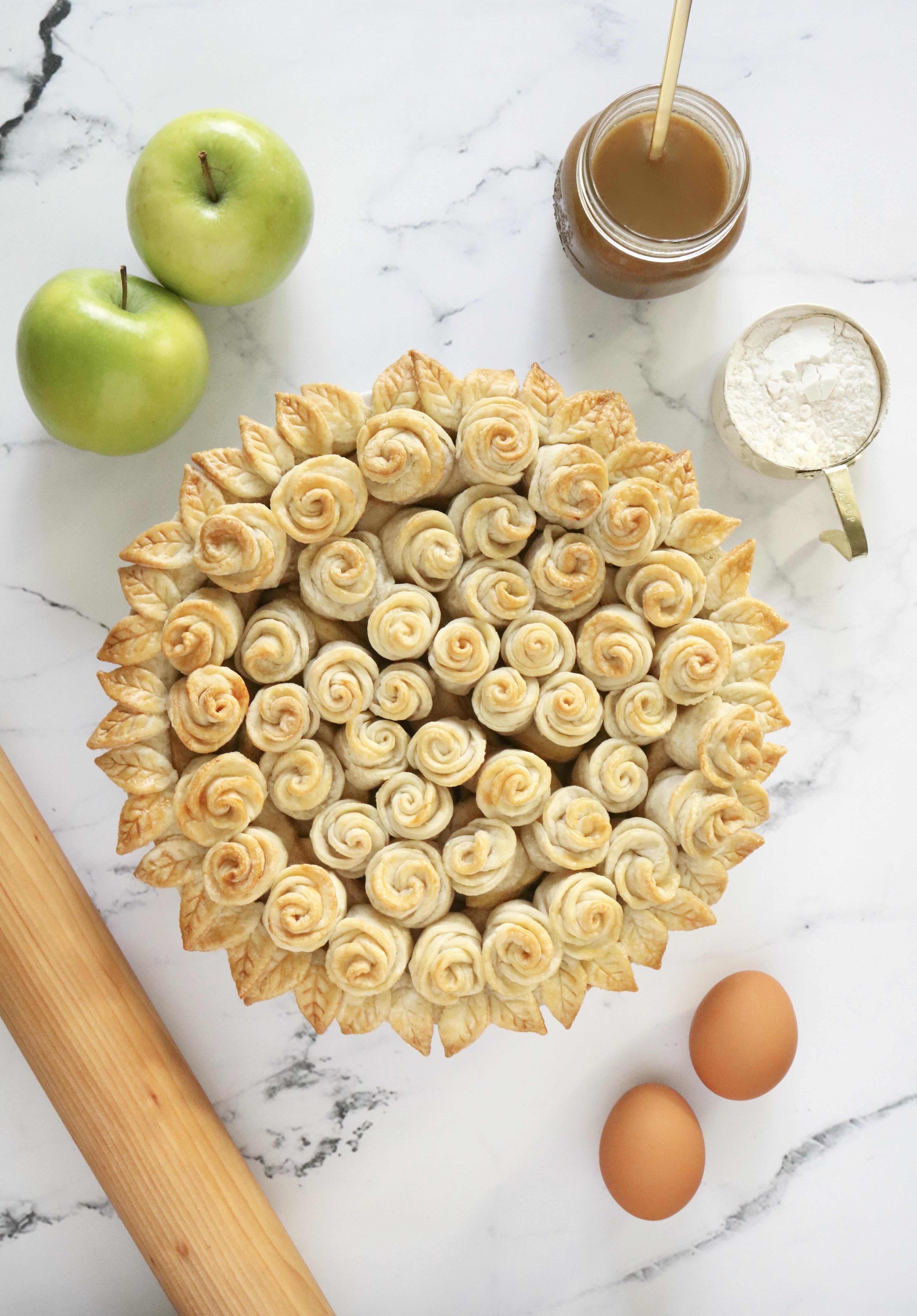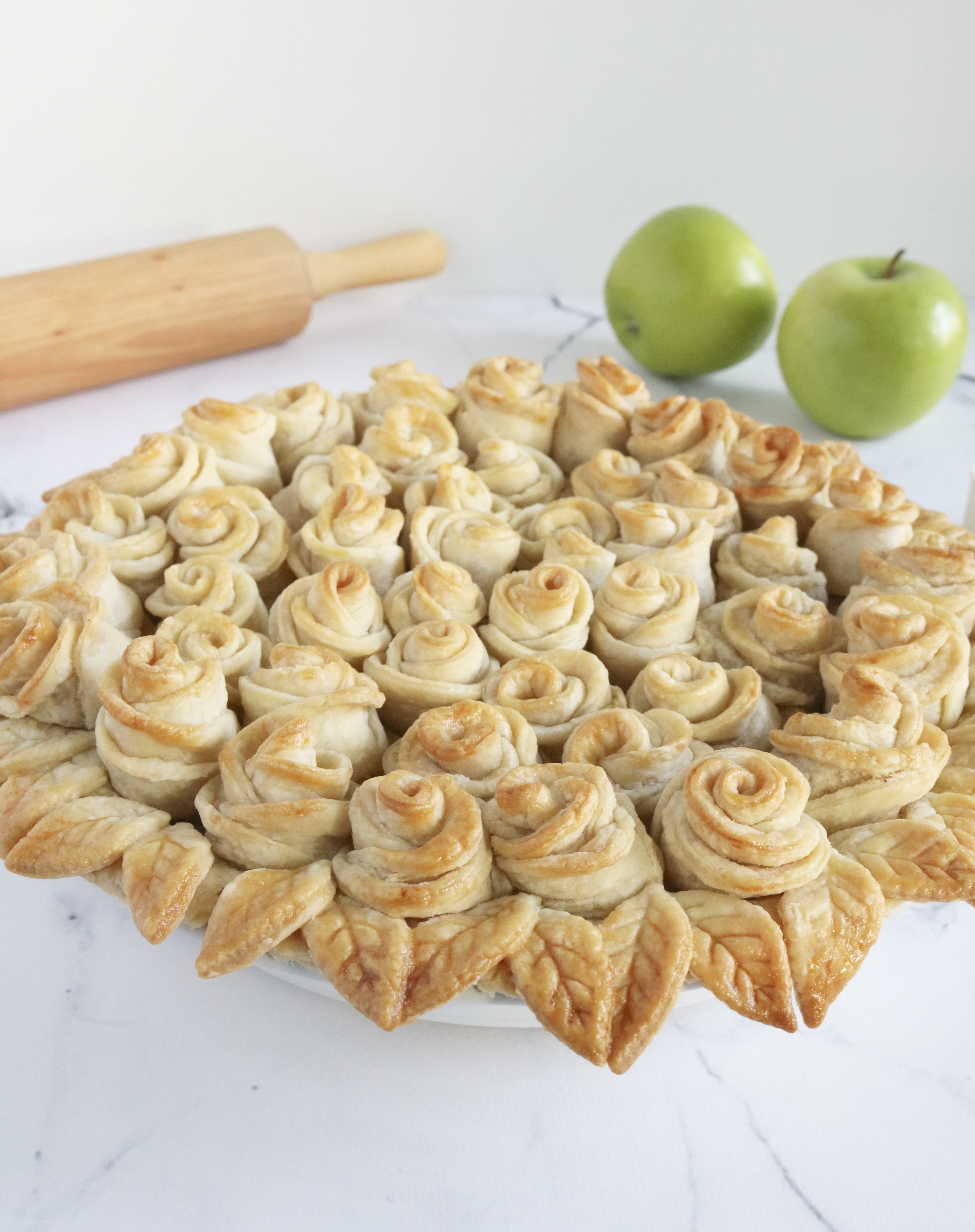 Maple and bourbon go together like wine and cheese. The toffee flavours of maple syrup and caramel and vanilla notes of bourbon come together like a fall dream.  Making them the perfect (Canadian) addition to elevate a humble apple pie. And since I rarely do simple, I decided to cover the entire top with roses, because why not!  I fell in love with making pastry roses when I first tried them on my peach pie.  It took far more roses than I thought it would, I actually ran a few short which left the visible gaps.  But despite running a few short, I absolutely love how the pie turned out. Topped with leftover maple glaze, it is Thanksgiving perfection!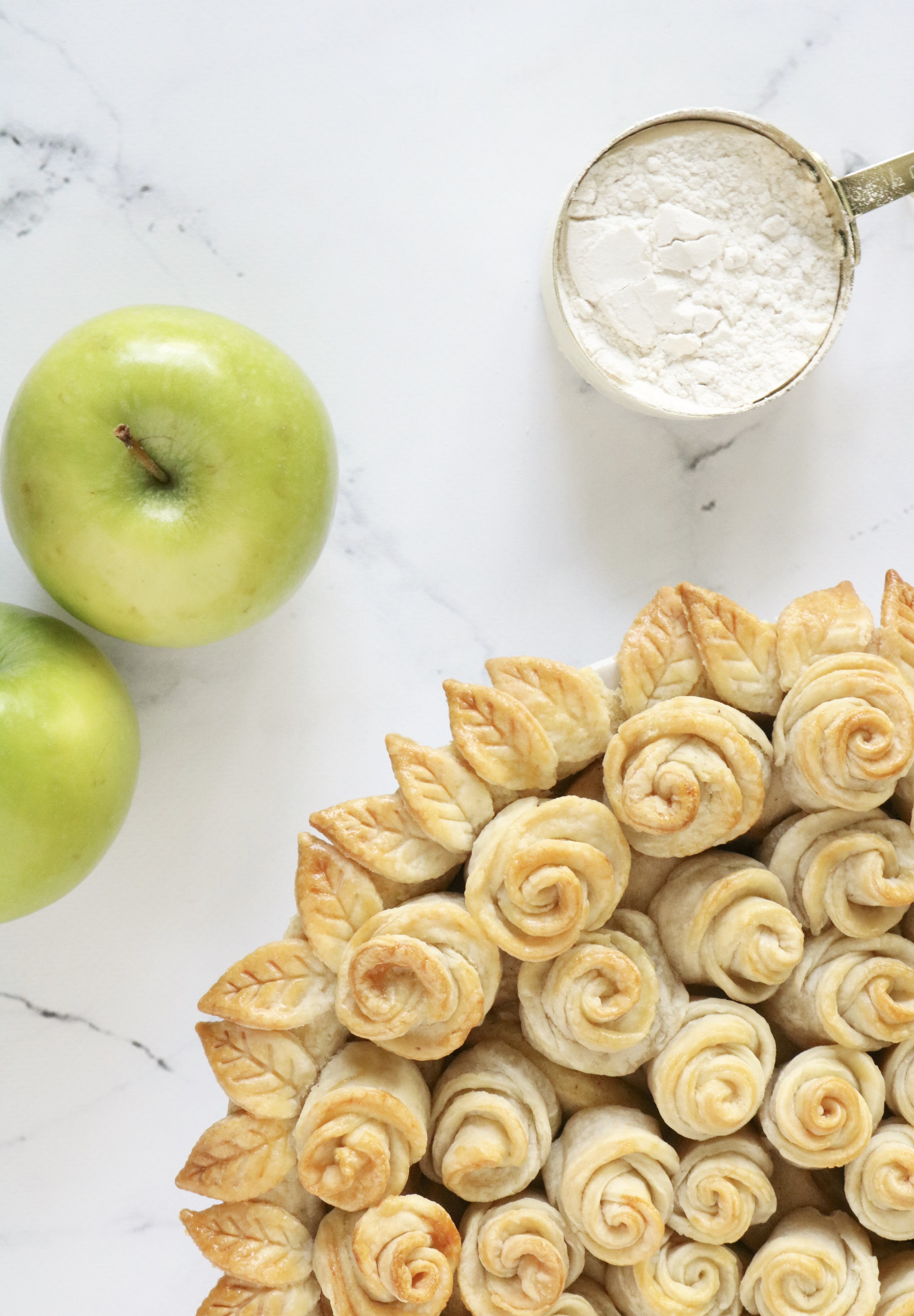 Ingredients
Crust
3 3/4 cups all-purpose flour
3/4 teaspoon salt
1 1/2 cup butter, chilled and diced
1/2 – 2/3 cup ice water
Filling
10 to 12 Apples (I used Granny Smith)
1/4 cup butter
1 teaspoon salt
1 teaspoon cinnamon
2 ounces bourbon
Juice of 1 lemon
1/4 cup maple syrup
1/2 cup dark brown sugar
1 tablespoon flour
Directions
Crust
In a large bowl, combine flour and salt. Cut in butter until mixture resembles coarse crumbs. Stir in water, a tablespoon at a time, until mixture forms a ball.  Divide the ball into one-third and two-thirds.  Place the one third of the dough on a piece of parchment paper, place a second piece of parchment paper on top and flatten.  Roll out the dough into a circle 1-2 inches larger than your pie dish.  Carefully remove the top piece of parchment, flip the crust over and fit into pie dish.  Trim the edges, be sure to leave a bit of an overhang as the crust will shrink as it bakes.  Chill the pie dish for 4 hours or overnight.
Roll out the two thirds of dough in to a flat disk.  Wrap in plastic and refrigerate for 4 hours or overnight.
Filling
Peel the apples. Quarter them, cut out the core and then quarter the sections into slices.
Heat a large saute pan over high heat. Add the butter. Once melted, toss in the apples and season with salt and cinnamon. Saute for a few minutes until apples are soft but still firm, about 6-8 minutes. Carefully add in the shot of bourbon. Once the liquid evaporates, add in the lemon juice, maple syrup and dark brown sugar. Let the mixture cook until sugar is dissolved. Sprinkle the flour over the top and mix it in. Cook the mixture for a few more minutes until thickened.
Place a strainer over a bowl. Pour the apples into a strainer and reserve the extra liquid. Place apples into fridge and let cool. Place the liquid into an airtight container and save for serving.
Assembly
Roll the remaining dough to 1/8 inch thickness, using a 3 inch round cookie cutter, cut out four circles.  Place the four circles in a row, slightly overlapping each other.  Roll up the circles into a log, then cut the log in half.  Pinch the cut side of the log inwards to hold it together.  Turn the cut side down and use your fingers to press the folds of dough out to create petals of a rose. Chill the roses to ensure they keep their shape as they bake.  And that's it!  Continue to make roses until you have enough to cover the entire top of the pie.  There's a great video that walks you through the process, here.  With the remaining dough, use a leaf cookie cutter to cut out enough leaves to surround the roses.
Bake at 375F for 60-75 minutes. Let the pie rest for at least an hour before serving.
When you're ready to serve, heat the leftover apple liquid in a small pot over a low heat. Plate the pie and drizzle with the warm sauce.
Happy Thanksgiving Friends!
xx
Neelam